Sultry Southern soul slow burner from Texan Charley Crockett, "I Need Your Love", taken from his imminent new album, "Music City USA", which drops in September 2021.
Crockett's 10th full-length album release in the last six years, and his second full-length release of 2021; the former being a tribute to Texan country great James Hand.
"Music City USA" was recorded in Georgia, produced by Mark Neill, who also produced Crockett's 2020 album "Welcome to Hard Times", and will be released via Son of Davy/Thirty Tigers.
Today (9th July 2021), Charley releases the first single from Music City USA, "I Need Your Love", along with a striking video for the song, directed by Bobby Cochran.
Crockett spent a decade busking on the streets of New York and New Orleans, and it is only two years since he life-saving open-heart surgery. He crafts his self-proclaimed "Gulf & Western" sound by synthesizing country, blues, soul, cajun, western swing, r&b and other pieces of American roots music into his own sound.
Crockett is a part of the Country Music Hall of Fame and Museum's (based in Nashville) latest exhibit, "American Currents" alongside acts like Eric Church, The Chicks, Luke Combs, Mickey Guyton and Maren Morris.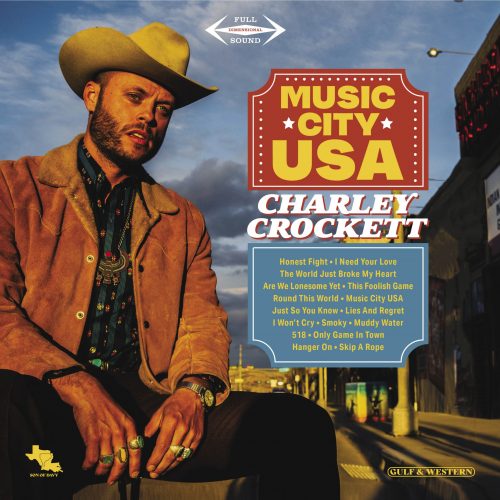 The San Benito, Texas native donated the custom Fort Lonesome suit he wore during his Newport Folk Festival debut in 2019, to the exhibit, and he's currently featured on a larger-than-life billboard outside the museum in Nashville alongside one of his heroes, fellow San Benito, TX native Freddy Fender.
---
Main photo: Credit: Bobby Cochran