Canadian artist Theo Tams has crafted a real banger in "Quit U Love". To us all here in the UK at Music Republic magazine, this track is a smash hit waiting to happen. Surely?
A smooth, chilled, soulful slice of laid back r&b, Theo's vocal is well on point and the song is top notch. The hook is as infectious as heck. You gonna be humming, singing or whistling this mutha after one listen!
Check out the track here, via this 'in the studio' video from Theo – then read on to find out more about this cool and talented dude….
Fabulous, isn't it? We told ya'll! The even better news is; this cut is taken from a brand new EP from Theo: the three-tracker, "Trilogy II", out now on most streaming platforms, on Hidden Pony Records.
The opener, "Jekyll Hyde Love" is another BIG winner. Killer vocal and great hook. Gob smacked this guy is not a global star. Yet! Check it out, via the official video
Second track, "The Feeling (Hate 2 Love)", slows the pace a tad, for a classy mid-tempo r&b cut. Like all three tracks; beautifully produced and no fat overegging the pudding. Nods to retro r&b, but the production values keep it on-trend for 2021 and beyond.
If a major label and major league management don't pick this guy up and give him wings to fly to the sun, it'll be a major injustice. As a writer, any major publishing house should be throwing mucho $$$ at him, right now. His 'Kerchiiing' potential is huuuugggeeee. As a writer for other artists and for his own solo career.
Over to Theo to reveal more about his latest set of songs and the battle he overcame to inspire the lyrical idea to the new single, "Quit U Love". "Trilogy II is a collection of songs that are each unapologetically me.
Addiction…
"The EP includes 'Quit U Love,' one of the most personal songs I have ever written. This was the song that really started my journey into sobriety, which is where I am now. I was at the height of my alcohol addiction when I wrote this track. Drinking constantly, I reached a moment of clarity where I started to see my addiction for what it was – an abusive relationship that I just didn't know how to leave.
"The next morning, I woke up early, packed my laptop and microphone, then walked to a lookout point on a hill where you can see for miles. 'I know that it hurts so good, but baby if I could I would leave and save myself'.
"It was important for me to be honest lyrically because 'Quit U Love' was written during active addiction, not afterwards when the mess was cleaned up. There is a really chill ease to the music – I wanted the melody and the production to completely juxtapose the subject matter. I hope that you can find your own meaning in the songs on 'Trilogy II.' To me, this project is about vulnerability while still creating music you can catch a vibe to.
Identity…
"I chose to record the demo at this spot – a place where I could see into the distance – because so many areas of my life felt like they had come to a standstill."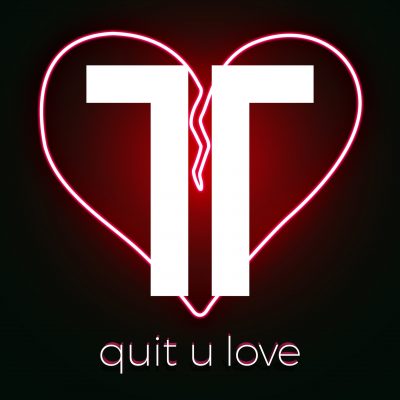 Theo Tams is rediscovering his identity as an artist. Two years since his last record, 2018's "Call the Doctor", his new sound is, as he outs it, "…an exercise in the spirit of saying yes to new things,". 
Growing up in a fairly strict reformed Christian household in Alberta, Canada, Theo discovered a natural inclination towards music while attending church. Towards the end of the 2000s, Tams' life changed, first through coming out to his parents and then by competing in "Canadian Idol" and winning that year's competition.
Having released his debut album in 2009, as well as several EPs in recent years, Theo struggled navigating a post-Idol image and harboured a desire to branch out in his work. Now, he stands in a new kind of spotlight. Tams is now a step-father, a joyful responsibility that has given him a new lease on life and inspired him in his music.
He recalls a recent conversation with his step-daughter: "I had this eye opening moment where I thought, 'It's hypocritical of me to be encouraging her to do all of these things and be comfortable with herself when I am not.' It was a very quick shift for me."
"Trilogy II! is available now from most streaming platforms, here: 
https://theo-tams.lnk.to/QuitULove