Madrid-based Alejandro Agudín Arribas, a.k.a. XEINN, a young, rising r&B/ trap/ hip hop-influenced artist, has just ( 25th June 2021) dropped his debut album "Pride Of The Weak" and its lead single/video, "Runaway".
XEINN started uploading covers a few years ago on YouTube which won him many fans globally. His cover of "Changes" by XXXTENTACION, went nuclear – attracting 12 million views and thousands of subscribers!
After writing his own material, that spawned debut EP "Diversity", a melting pot of r&b, soul, funk and hip hop. The next three years were spent composing brand new music and fine-tuning his sound, for this 11-track debut album.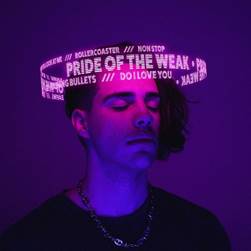 XEINN was inspired and influenced by his grandmother and mother, both singers, but also by many eclectic high-profile artists from different genres. He listened to English and American music since he was a child via his father's extensive record collection; rock & roll, blues, hip-hop, electronic, funk and soul.
Justin Bieber was his first really big influence and started him on the path to becoming an artist. It was r&b and soul singer Bryson Tiller who taught the fledging XEINN a lot, but his biggest influence is the Weeknd. He also cites NBDY, Anders and hip hop and trap luminaries such as Drake, Post Malone and Travis Scott.