One of the best songs of 2020,  and the vocal's not too shabby, either. Anna Krantz: "Blessed Are The Free" – which could make a pretty apt anthem for those locked down for a second time because of the pandemic…
Watch the official video for the track, below.
Music Republic Magazine already tipped Anna for success, when we bigged up her excellent last single, "We Could Be High" back in August this year, but the new one really is a glorious effort.
The second song in her 'new moon new tune' series of singles, "Blessed Are The Free" was co-written with  Jessica Sharman, who co-wrote the Ward Thomas number one hit "Cartwheels" – and it features some of Nashville's top musicians. "Blessed Are The Free" is self-released and out now.
At a time when the world was in a state of uncertainty and relative stillness, Anna began to reflect on the concept of freedom: "I wasn't allowed to fly to London and see my family or show my masked smile to a stranger. I wasn't allowed to go out for a meal with my boyfriend or grab a coffee with a girlfriend.
"I wasn't even allowed to be in the same room with Jessica to write the song. Like everyone else, so much of my freedom had been removed. Yet I felt free in my spirit and happy in my heart. This me made wonder what freedom actually means and how it can be accessed from within as opposed to without."
After sharing past stories and new insights, Ms. Sharman and Ms. Krantz created this uplifting, feel-good track which perhaps nods to the likes of Fleetwood Mac, The Dixie Chicks, The Corrs and Lady Antebellum.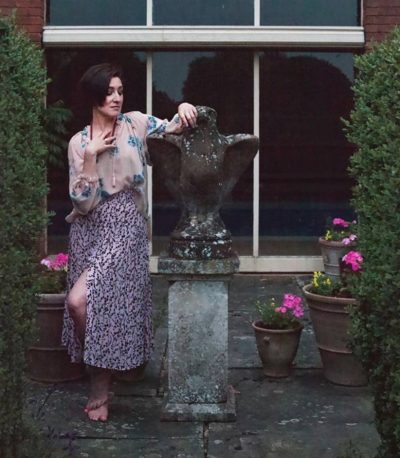 Anna's crystal clear voice and superb range soars high above the bouncy shuffle, as she serves the song and proves that a great singer can make a good song into a great song. The harmonies add huge value.
The track was mixed by Craig Alvin, who mixed and engineered Kacey Musgrave's multi-Grammy winning album, "Golden Hour".
We say….this is a hit waiting to happen, and a shoo-in for some big star to pick it up for a cover…surely bound to attract a few sync' deals for movie and TV soundtrack use too.
Anna has a home studio in Ireland. She is heavily influenced by the three years she lived in Nashville – where she calls her "second home" and visits often – where she wrote and recorded her 2016  album "Connected".
Though London-born, and stints based in Nashville and New York, Anna has a penchant for timeless American melodies and has been praised by old friend Ed Sheeran (who she has written with, opened for in the US and he's kipped on her sofa!) for her sound, on record and live
She is a trained pianist, writing her first song when was eight-years-old. Anna learned guitar when she lived in Nashville. Inspired to be a singer when she went to a Mary Black concert at the Royal Albert Hall in London with her parents, when Anna was eight or nine.
In 2009, she was signed as a songwriter by EMI Music Publishing. She released her first solo album, "Precious Time With you" in 2006 and then "Connected" in 2016. Two EPs, "Foundation" in 2012 and "Homework" in 2019, plus a bunch of singles.
She has extensive experience in writing with and for other artists, (and production duties), such as Ed Sheeran, Jason Donovan, Cliff Richard, Andreya Triana and others.