The Go West frontman tells Lucy Boulter why virtual gigs are not on his radar, lifts the lid on the recording of their timeless hit, "We Close Our Eyes", and previews two tours and a new solo record…
However much you may be missing live music in these strange and distanced times, just know this: Peter Cox is missing YOU even more.
The singer, songwriter and Go West frontman is painfully aware that he should just have finished a UK tour with his bandmate, Richard Drummie, and fellow '80s icon, Paul Young – but, along with a whole host of dates and plans he had in his schedule for 2020, the pandemic put paid to that.
That's not all bad news; this space in his calendar has lent itself to a new kind of creativity – and we can reveal a new solo album is in the offing.
But it has forced some major changes in the way Peter works – a shift he might reasonably have not expected 35 years after Go West burst so triumphantly onto the '80s scene.
"Normally I'd be in a room with other people, and now I'm not – so to some extent I'm bound by my own limitations as a player," Peter tells me, with an early nod to the self-deprecation that forms something of a theme throughout our conversation.
"I'm disappointed, obviously, not to be playing the shows that we had scheduled – but it's the same for everyone in the industry. We are very hard hit, and if you make your living primarily by live performance, these are tough times.
"You just have to adapt to survive, I guess, so I've been reaching out and working with people remotely, and being as positive as I can be. You have to take the opportunity, if you can be positive about the circumstances, to do things you might not be doing otherwise – so I'm wrestling with technology here at home, and trying to write and record and be creative."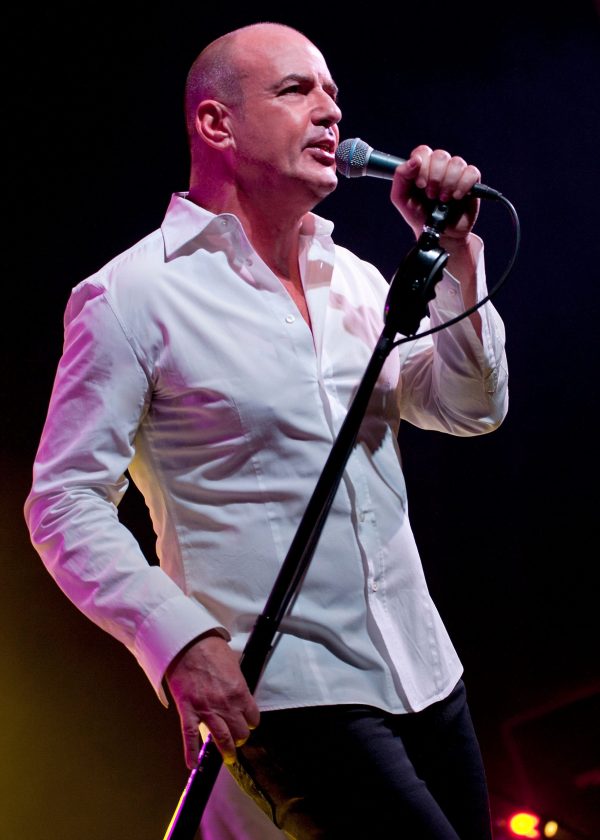 I find it hard to imagine that someone who wrote a good number of hit singles that endure to this day, should need an enforced lockdown to get creative.
"Well, I've realised with hindsight how long we spent working on songs for our first album," Peter explains. "We must have recorded three different versions of it before we arrived at the one you might be familiar with. In 1984, we were only a small crew – but it was five people in a room, and we leant heavily on the other players to do the things I might hear in my head, but which I can't manifest with my hands.
"And now it is very different. My current process is to come up with a skeleton of a song…a chord progression perhaps, and particularly a melody and lyrics…and then I send digital files to some musician friends and ask them to contribute.
Struggle
"What's interesting about this approach is that I'm asking them to contribute without giving them too much of a set framework. And I've got some good results, which is pleasing. On the other hand, one thing about working in a room with other people is that they might encourage you to accept that something is good enough – and that's definitely something I struggle with.
"A lyric is never good enough, and so on. But I'm trying to be patient with myself and understand that it's a process…that a song I'm not completely satisfied with on a Tuesday might develop into something I'm happy with by Wednesday!"
Having suggested that perhaps Peter might reframe what he earlier called "limitations" and think of them as "creative freedoms" instead, I'm keen to explore the recording history of "We Close Our Eyes" – especially as Go West are now preparing a 2021 tour to celebrate its 35th anniversary. It turns out that the changes the chart-topping duo made to this track may have changed their fortunes as well as their debut hit.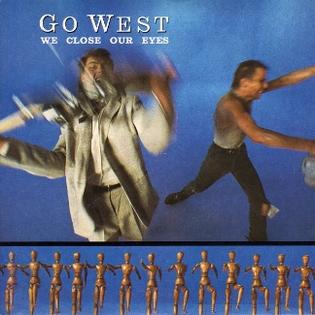 "The first version of 'We Close Our Eyes' was dramatically different. Richard and I were listening to West Coast American music…The Doobie Brothers, Steely Dan, that kind of thing. Here in England, it was the end of the punk movement, so we were really out of step musically – but those West Coast bands were our heroes, and the songs we were writing had that sort of flavour about them.
"When Gary Stevenson agreed to get involved in our project as producer, he encouraged us to speed up all the songs, creating an additional energy we had never really considered.
"And trying to write commercial songs mattered, because we wanted to make a record, we wanted to go into the studio with some sort of financial backing. Putting together a record deal was a particularly tricky process for us because we were a duo and we didn't have a live band.
"In those days, when you presented a label with your demos, their first reaction would be: when can we see you live? And we couldn't offer that. So instead we focused on the other thing they constantly talked about: do we hear a single?
"And that change to the style and tempo of our songs has really helped us over the years, to this day. In a festival setting, for example, artists rely entirely on their hit songs – and if those hit songs are ballads, you cannot contrive the energy that we can when we hit the stage."
"We Close Our Eyes" kicked off a run of hits and plaudits for Go West, followed rapidly by chart-toppers such as "Call Me", "Don't Look Down", "Goodbye Girl" and "Faithful". In 1986 they won the Best British Newcomer BRIT – the award many artists covet because it's the category voted for by the public. Their eponymously titled debut album sold more than one and half million copies and stayed on the UK chart for 83 weeks.
In 1990 their place in cinema history was assured when "The King of Wishful Thinking" was chosen for the soundtrack of the all-time blockbusting film "Pretty Woman", and then racking up awards as one of the most-played songs on American radio. It made it to # 8 in the US chart and sold more than 10 million copies worldwide.
Of course, what looked like overnight success was in fact – as most overnight successes are – the result of a good decade of hard slog for Cox and Drummie, who'd been collaborating in different guises since 1974. But giving up was never an option.
"I had a string of jobs when I was much younger, and lost interest in each of them after about six months. I might have had a future academically, but I had pushed that aside, like lots of other teenage boys, when I discovered girls and football. So there was no Plan B for me. Fortunately, I have a decent ear and singing is something that comes reasonably naturally to me."
Our second album was a disappointment…
That decent ear and natural singing voice led to enormous success very quickly. And then Go West was struck by the curse of the so-called 'difficult second album'.
"In the early days, we didn't have much of a plan and so we had all the time in the world to write the songs that made the first album – time to go back and revisit and tinker with them endlessly, which we did. But then, if you're lucky enough to be successful, you're required to come up with the follow-up in a matter of months. We obviously found that very difficult, and our second album was a disappointment, at least financially, from the record company's point of view."
A third studio album and a hits compilation followed, before Peter relocated to LA in 1994 – he's Surrey-based today – to pursue his solo recording career. He has released nine solo albums, three EPs, three singles and an album with Spandau Ballet's Tony Hadley.
There must have been a time when the duo could have been forgiven for thinking their journey was over; who could have predicted that 35 years on, Go West would still be together?
"Oh, if you'd asked me back in the day, I probably would have laughed…no, I didn't expect it to last as long as this," Peter reminisces. "But honestly, modest as it sounds, all we wanted was to get into the studio and make an album, and then when we'd made that record, we wanted to make another one. Our ambition was really that simple.
"So, yes, in some ways it's surprising to think we are touring our first hit single to celebrate its 35th anniversary. But I would like to hope it reflects the fact there was enough good song-writing going on 35 years ago, that those songs have stood the test of time.
"And, of course, we need to be able to deliver a performance on stage. We're not in a place where we have a big light show and digital video production. We're a band on a stage, playing those songs – and if we weren't doing that at a decent level, people wouldn't pay for tickets."
So what's the secret to those great live performances? One answer is the reason why Peter Cox is missing you right now. It's the buzz of the crowd.
Virtual gigs in an empty room…."It just was not listenable"….
"We get a huge lift from the reaction of the people in the room. We get an injection of energy from the crowd, and that really boosts our adrenalin. And, honestly, that's why I find this whole lockdown thing of doing live shows from your bedroom so challenging.
"Do you know, right at the start of this situation, I was offered a live gig, with a backing track, for a Zoom party. I could see the potential advantages of doing it (the party was for a very powerful music agent in the States), but I just couldn't make it happen. I need the stage, the crowd, the band around me for me to make recognisable sounds!  I just can't generate it in an empty room. It just was not listenable."
I can't help wonder if some of his professional longevity is down to his personal demeanour too. After all, people buy people – and who's to say you have to be a bad boy to make it in the music industry?
Later in 2021, Go West will reprise their joint tour with Paul Young which was re-scheduled due to the pandemic. I was lucky enough to chat to Paul about this very tour earlier this year, and struck by something he said about touring with Go West.
Paul was talking about the potential tension that can result from the close proximity of touring with someone else, but said that he knew that wouldn't be the case with Cox and Drummie, because it's easy to tour with a duo he described as: "…nice people, they're easy-going guys."
Peter strikes me as rather gentlemanly in our conversation; might this seem like an insult to a veteran of the notoriously hardened music business? "Oh no, I definitely come from that era – that's how my parents raised me! I firmly believe that a bit of grace goes a long way.
"It was kind of Paul to say that about us – and I agree with him. Along with your ability to do what you do, it's important to be able to get along with others. As Paul said, you need to get along with everyone when you're cooped up in a confined group of people for a period of time.
"Ultimately, my attitude is simple: I think I'm very lucky and I'm thankful for it. And also, I understand how much our livelihood has depended upon the support and the constancy of our fans, who come and see us play time after time. I'm grateful for that, and I respect that."
With all this in mind, it comes as no surprise to hear Peter reveal his single burning ambition right now. At the age of 64, and after 45 years of honing and delivering his craft, he simply can't wait to get back out on the road – and appreciate that fan loyalty again.
Retiring…
"I feel fortunate that I am still doing this. I just hope circumstances allow us to get back to some kind of normality soon – get back to making records and playing live – because I hadn't planned on retiring any time soon! I still get such a buzz out of playing, and we do seem still to be drawing an audience."
It's certainly true that we hold the '80s music scene in great affection in the UK, giving rise to tours, revivals and festivals. But, as an '80s girl myself, I hope that doesn't give a free pass to artists who shouldn't even attempt the big notes any more. For those of us who are now of a certain age, that back catalogue is the soundtrack to our coming of age, and a pale imitation of those songs would feel like an insult to such important memories and rites of passage.
Happily, Peter agrees – and it's something he takes great care about. "It's all about the voice, especially if you're playing a full set, or doing back-to-back dates.
"I was just reading an interview with Paul McCartney the other day, talking about the early days of The Beatles. He said they would do a show of about 20 or 30 minutes – and of course, John Lennon would be taking some of the vocals, George Harrison would be doing some too. And, of course, over the years McCartney has become the frontman of his own show and those shows are invariably two-hour sets. Even he finds it quite extraordinary that he can sing live for two hours.
"I remember touring with fellow '80s band, Hue and Cry, a few years ago – and I asked them about this, because they had retired from the industry for five or six years previously, when singer Pat Kane lost his voice completely. And here he was, sharing the stage with us, with a voice as powerful as ever. Pat gave me lots of tips and advice, including a particular vocal coach, and leaning more on the band and the backing vocals…even the crowd.
"Back in 1985, I sang the background vocals on our hit single 'Call Me', and the falsetto vocals on that go up into the stratosphere! I can't make those sounds any more, no matter how much I might try – but my full voice is largely the same as it ever was.
"And you just have to look after yourself. My own experience is that I can't join the band in the bar after the show – that's a drag, but I accept that I have to go to bed, that's just the way it is. I drink plenty of water, I keep myself in reasonable health."
Talking about touring brings us nicely back to Go West's plans for their "We Close Our Eyes" anniversary tour next year (2021), when Cutting Crew will join them as special guests.  Peter tells me that the song is about to get yet another radical treatment…
Touring with strings attached…
"We're touring with an orchestra, the first time I've ever done that. It's going to be interesting and challenging in lots of ways, and even I don't know quite how the orchestra is going to sound in the context of our songs. Of course, we've chosen songs from our back catalogue that we feel might be suited to orchestral accompaniment, which means we may have some slightly left-field choices. It's going to be interesting for everybody – ourselves included!"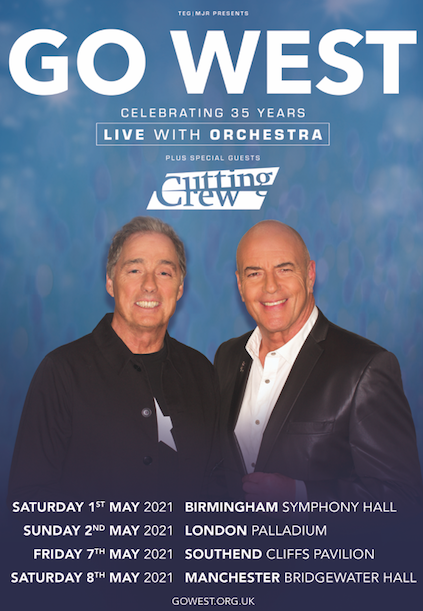 And what of the original versions of "We Close Our Eyes"? Will we ever hear the relaxed, mid-tempo version that was so influenced by the West Coast music scene?
"Personally, I prefer that no one ever heard it! That said, we are planning an anniversary boxset of the first album, which includes some demos and rough mixes from making the album in 1984."
All told, for a man who has evidently had to work very hard to keep a positive mindset in 2020, next year looks jam-packed. But Peter is keeping his cards close to his chest where the new solo album is concerned. He explains why.
"My creative process these days is much slower than the young artists you see, who seem to complete an album from start to finish in about three months! I don't want to talk too much about it until I'm closer to completion, so that people aren't waiting for two-and-a-half years after I announced it!"
Until then, Peter's clear about one thing. He'll keep working hard to adopt that positive mental attitude – while currently counting the days until he can get back out on the stage and do what he does best.
https://bit.ly/GoWestTicketek21
                                                                                        By Lucy Boulter