Andrew Roachford's brand new album, "Twice In A Lifetime", is a stunning vocal masterclass. His best songwriting of a career, across the 13 soul and r&b-drenched tracks on offer.
Some 32 years after his smash hit single "Cuddly Toy", the 55-year-old Londoner is sounding at the top of his game – as a singer, songwriter and musician.
Raised in south-east London, Andrew comes from a musical family. His father a drummer, his uncle a saxophonist. Andrew was on the road with his uncle from the age of 14, and by 15 he was working in a studio with The Clash.
In his early 20s, he signed a seven-album deal with Columbia, and scored a string of hit singles and international success – including in America.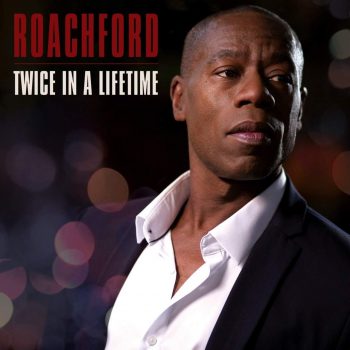 "Cuddly Toy" peaked at # four in the UK chart in '88, and among his other hits are "Family Man" and "Only To Be With You".
Andrew has released 10 solo albums and a greatest hits collection, and he's penned songs for Chaka Khan, Michael Jackson, Joss Stone and others.
For the last nine years Andrew has sung with ex-Genesis man Mike Rutherford's band Mike and the Mechanics.
Andrew was awarded an MBE in 2019 for services to music. He duets with fellow MBE recipient, Brit' soul queen Beverley Knight, on one track on his new album – which is due for release by BMG in September.
His UK tour dates have been re-scheduled to next year due to the Covid-19 pandemic, and start in May through to August 2021.
Andrew Roachford's Track Record:
First song you heard as a child? Stevie Wonder: My Cherie Amour   2. First single you owned? Althea & Donna: Uptpown Top Ranking
3. First LP/album you owned? Jimi Hendrix: Smash Hits 4. First CD you owned? Sly and the Family Stone: Greatest Hits
5. Last music you bought and in what format (CD/vinyl/digital download)? Adele: 21 (Download)6. Which album would be on your wish list as a birthday or Christmas gift? Aretha Franklin: Masterpiece
7. Absolute favourite album? Marvin Gaye: What's Going On 8. Best record ever made (can be single/album/EP)? Sly and the Family Stone: Family Affair
9. Guilty secret in your music collection? The Bee Gees: Best Of…..10. What does music mean to you and how does it make you feel? Music is absolutely everything to me. Just as essential as air. It makes me feel in touch and awake.
Which song or album is a guaranteed mood booster?Al Green: Let's Stay Together 12. Which song or album would be the soundtrack to a film about your life? He Aint Heavy, He's My Brother 13. Your favourite driving track – or music to exercise-to? Dua Lipa: Be The One
14. Best song or album for a romantic moment? Almost any song by The Isley Brothers 15. Which song was played for the "First Dance" at your wedding (if married) or which song would you choose if you did get married? I would choose Al Green: Let's Stay Together16. Your choice of song to sing at karaoke?Over My Shoulder by Mike and the Mechanics 17. Which song takes you back to your childhood – and to which specific memory? Merry Xmas Everybody by Slade. It just reminds me of looking forward to school breaking up at Christmas! 18. Favourite band?Bob Marley and the Wailers 19.  Favourite singer? Stevie Wonder

20. Which song would you like to be played at your funeral? I won't tempt fate – That's not a song, by way!
---
---