This isolation lockdown mallarkey may have kept us out of the pubs and concerts, messed up summer vacations and halted every festival this year.
But for a lot of the musical sector it seems to have ignited the creative juices, pushing people towards technology to "carry on and make music" at home – even collaborating with people around the globe.
One such example is the beautiful new single from talented singer, songwriter and producer Anna Krantz, "We Could Be High". She penned the song on a 'Zoom' call from her Dublin home during lockdown, despite reservations about making music across the internet.
Simon Johnson co-produced the song and recorded his guitar parts at his home studio in the UK's New Forest. Nashville-based drummer Adam Box (Brothers Osborne) and Nashville-based keyboards player Dave Cohen (Carrie Underwood, Steven Tyler, Reba McEntire) laid down their parts at their individual US home studios.
Anna recorded her vocals at her new home studio in Ireland. She painted the artwork for the single herself, on a canvas delivered by Amazon and an easel handmade by her boyfriend out of scrap wood from the shed, because during lockdown, no trips to buy art supplies were possible.  
Mixed by Richie Biggs (The Civil Wars, The Lone Bellow) at his studio in LA., the track is self-released and comes out today – 21st August 2020. 
Heavily influenced by the three years she lived in Nashville – where she calls her "second home" and visits often – where she wrote and recorded her 2016  album "Connected", Anna has captured elements of Americana, country and folk on the new track. A seamless blend of Bonnie Raitt and Emmylou Harris territory. 
Though London-born, and stints based in Nashville and New York, Anna has a penchant for timeless American melodies and has been praised by old friend Ed Sheeran (who she has written with, opened for in the US and he's kipped on her sofa!) for her sound, on record and live.
The ginger genius says: "Anna was one of the first ever people I collaborated with, and I'm still playing the songs we wrote together today. She's an amazing songwriter and performer and it's always a pleasure to play shows with her. Just really good music coming from that lass.
Other admirers include Bob Harris and Richard Madeley, who Anna has recorded BBC Radio 2 sessions for. James Corden digs her stuff too.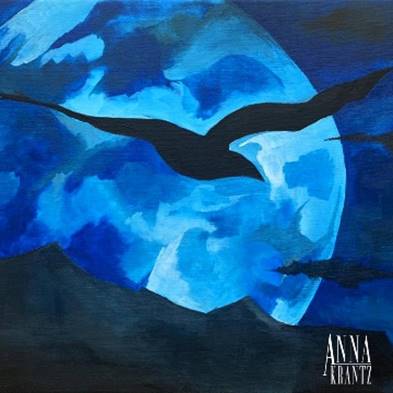 She is a trained pianist, writing her first song when was eight-years-old. Anna learned guitar when she lived in Nashville. Inspired to be a singer when she went to a Mary Black concert at the Royal Albert Hall in London with her parents, when Anna was eight or nine.
She also cites Joni Mitchell and Carole King as major influences, and needs her weekly "fix" of Van Morrison's musical gifts, without fail!
Anna became much involved with the Chicken Shed Theatre Company, after its outreach programme came to Anna's school. They asked her to skip the waiting list and join. She went on to become musical director of their youth band.
When she was 18 and performing at a London venue, she was spotted by producer Peter Van Hooke who took her under his wing and made a record with her at famed Abbey Road Studios. It helped secure the support slot on Will Young's tour and a spot on the BBC Radio 2 playlist, championed by the late Sir Terry Wogan.
In 2009, she was signed as a songwriter by EMI Music Publishing. She released her first solo album, "Precious Time With you" in 2006 and then "Connected" in 2016. Two EPs, "Foundation" in 2012 and "Homework" in 2019, plus a bunch of singles.
She has extensive experience in writing with and for other artists, (and production duties), such as Ed Sheeran, Jason Donovan, Cliff Richard, Andreya Triana and others.
The first in a new series of tracks, "We Could Be High" is a song about taking a leap of faith in the hopes of finding the ultimate high.
Anna explains: "Be it love for another, love for oneself or simply inner calm and connection. Life favours the brave and this song is a reminder to be the bravest version of ourselves, no matter how high the risk".
"I couldn't write about the experience of being separated from my family and friends, in a city I had only recently moved to and had barely begun to call home when the world shut down.
"I wasn't ready to tap into those layered and conflicting emotions. I wanted… no, I needed to write a song which gave me hope. A song which lifted my spirits when I sang it."
Also check out Anna's fabulous soul-drenched vocal on her June 2020 cover of  "Tennessee Whiskey" (via YouTube). It is quite something.

Written by Dean Dillon and Linda Hargrove in 1981, a hit single for George Jones in 1983, but first cut by David Allan Coe in 1981. Covered by Chris Stapleton in 2015 for a solo album, and then a show-stopping duet version with Justin Timberlake. Anna's version stands up against all of 'em….