That so-called 'difficult second album' wasn't so difficult for US-based folk artist Ondara, whose lockdown time was spent writing and recording a bunch of new songs that were not intended to be a new album project – just a creative outlet while stuck at home during the Covid-19 pandemic to, in his words, "save my sanity".
But the end result was far too good to keep to himself…So "Folk N' Roll Vol 1: Tales of Isolation" was born and is out now on Verve Forecast. Music Republic Magazine's "Album of the Month" for June 2020.
A majorly impressive body of work that will surely elevate Ondara's global profile and credibility by miles. It's the follow-up to his acclaimed debut album, 2019's "Tales Of America". That attracted a Grammy nomination and a nod for "Best Emerging Act" at the 2019 Americana awards.
We say this new album could well do much better and be the start to Ondara's future collection of Grammy awards and other trophies. It really is very special….not one duff track on the record and Ondara's innate passion for his vocation shines through.
There's almost certainly going to be comparisons to Bob Dylan's work, but that's no bad thing. Ondara make no secret of Mr Zimmerman's influence since discovering the legend's music when he was 17 – but there's a lot more to him than the Dylan thing. This is a hugely accomplished work and a fine example of the craft of songwriting and story telling.
His soulful and emotion-soaked vocal delivery is addictive. He must be heard…His falsetto is mesmerising. But the strength of the material is five star. There's an intimacy about the production, like he's sat in your front room singing just for you.
If you dig the likes of Neil Young, Jeff Buckley, Paul Simon, Nick Drake and the previously mentioned Mr Dylan, this guy is for you. But he's no imitator; very much his own man as an artist. Such a breath of fresh air on the folk, singer songwriter and Americana scene. A big future ahead….
J.S. Ondara grew up in Nairobi, Kenya listening to American alt-rock and making up his own songs for as long as he can remember. At an early age he fell in love with the music of Bob Dylan and moved to Minneapolis in 2013 to pursue a career as a singer and songwriter.
He began making his way in the local music scene, continually writing songs about what he saw, felt and experienced in a place far different from home.
Since then, he has toured extensively including a sold out London Bush Hall show, a completely sold out US headline tour, appearances at prestigious festivals including The Great Escape, Xponential Festival, Newport Folk Festival and Edmonton Folk Festival.
Ondara has opened for the likes of The Lumineers, First Aid Kit, Neil Young, The Head & The Heart and more.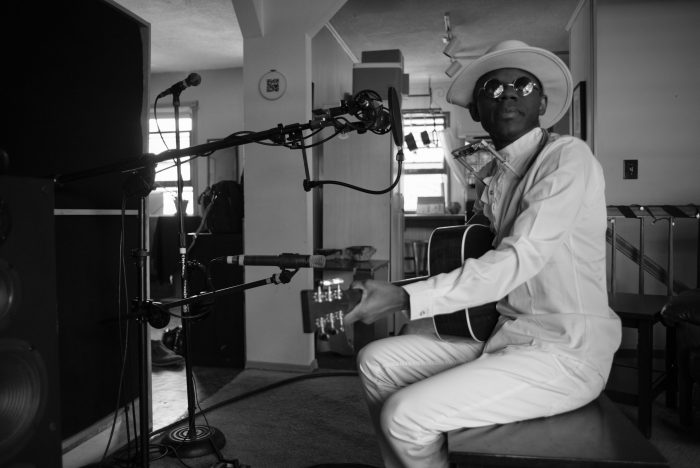 The 11 songs on the new stripped back acoustic album – vocal, acoustic guitar and harmonica – were composed and produced by Ondara while in lockdown in Minneapolis over the course of a week, and came out of a deep need to create, as a form of therapy during this incredibly uncertain time.
"As I'm sure it has for all of us, I found the period of isolation to be wearing down the equilibrium of my sanity. After being stuck in a mental rut for four weeks, I woke up one morning and spent three days writing these songs and three more days recording them in a friend's living room in Minneapolis. It was a kind of vomit of words and melodies, compulsive and without any control or forethought.
"I wasn't trying to make a record, I wasn't trying to do anything really, I was only trying to provide myself with some kind of therapy, a desperate attempt at preserving my sanity. They are stories about the ramifications of a whole population isolating; about the personal, political and economical scars that will linger for the rest of our lives long after we have found our way past this.
"In crisis, the human spirit is laid bare, its volatility preyed upon and its resilience tested. This record is hence not only a portrait of the bizarre times we have unknowingly fallen into, but also a collective tale of the human spirit navigating uncertainty," explains Ondara.
No uncertainty here at all. Ondara: Future star. "Folk N' Roll Vol 1: Tales of Isolation" one of the best albums of 2020 so far – destined to put this talented young guy on the global map with a big bang. Bravo… (Listen to "Lockdown On Date Night Tuesday" below…)
Ondara's Track Record:
First song you can remember hearing as a child? Forget Her by Jeff Buckley
First single that you owned? I have never purchased a single, now that I'm thinking about it
First LP/album that you owned?Freewheelin' Bob Dylan by Bob Dylan

4. First CD that you owned? Harvest by Neil Young
5. Last music you bought and in what format (CD/vinyl/digital download)? Album II by Loudon Wainwright III (Vinyl)
Which album would be on your wish list as a birthday or Christmas gift? Been looking for Tim Buckley's 'Starsailor'.
Absolute favourite ever album? A tough question. I can't say with any amount of confidence that I have one particular favourite. That said, Dylan's Freewheelin' was an important record for me, since it was my gateway drug into folk music.
Best record ever made (can be single/album/EP)? Another tough question. I can't say I have an answer here, but I'll say that I've always found Van Morrison's Astral Weeks to be very intriguing.
Guilty secret in your music collection? I recently learned that Seth McFarlane has a jazz album out through Verve. I ordered it a few days ago.
What does music mean to you and how does it make you feel? When I was a kid, music was like a spaceship to me. It took me to a different world, where everything was drastically different. People looked different, they spoke a different language, they ate different foods. It was in a way, an escape from the suffering of my world, into a fantasy land. That land at the time being the western world.
What one song or album is a guaranteed mood booster? Dylan's 'Like A Rollingstone'
Which song or album would be the soundtrack to a film about your life? Great question. I need to give that some thought…
Your favourite driving track – or music to exercise to?  I often exercise to Dylan's 'Highway 61 Revisited'
Best song or album for a romantic moment? Sweet Thing by Van Morrison
What song was played for the "First Dance" at your wedding (if married) or which song would you choose if you did get married? Probably"Sweet Thing" by Van Morrison
Your choice of song to sing at karaoke? Last time time I was at karaoke, I sang "I Miss You" by Blink 102
Which song takes you back to your childhood – and to which specific memory? I have a memory of being about eight years old and getting accidentally inebriated, then singing gibberish words to the melody of 'Smells Like Teen Spirit'!
All-time favourite band? Can't say I have one. Perhaps if you put a gun to my head, I might say The Band. But I prefer staying away from guns!
All-time favourite singer?That's hard. Can't say I have an answer here either. Some days Jeff Buckley, some days Nina Simone, some days Roy Orbison, some days Alison Kraus. There are so many lovely voices out there.
Which one song would you like to be played at your funeral – and why? Long May You Run by Neil Young.  To me, this song often invokes the idea of continuity. In the context of death, I see that as a continuity of spirit beyond the physical life. The idea that even after we are dead, our actions and their consequences will live on.
---