It's no joke that every musician and artist/band in the land, or rather, on the planet, is out of a job and income from concerts, tours and festival appearances right now and for the past four months or so. We all know why.
But for UK folk-punk artist Frank Turner, it is a time for action to help save a bunch of small UK venues on the brink of closure rather than put out the virtual begging bowl across his social media for himself and his band.
Frank has been busy during lockdown raising funds under the #IndependentVenueLove series of virtual fundraisers gigs, created to provide support to the UK's independent music venues during the current coronavirus crisis.
The series has helped to raise enough funds to save Southampton's Joiners Arms from closure, and has also provided over £10,000 in donations for London's beloved Nambucca venue.
The last in the series of these on-line fund raising performances is scheduled for next week, on Thursday 2nd July, the 14th and final #IndependentVenueLove show, a benefit for The Cobblestones in Bridgewater, Somerset. There will be sets from Frank and from Jess Guise, kicking off at 8.30pm UK-time. Be there! (See the flyer, below, for details).
Having been forced to cancel his own recent 2020 tour dates due to the pandemic, Frank marked what would have been the Nottingham gig by hosting a viewing party for his 'Show 2000 – Nottingham Rock City – 15/12/2016' DVD release.
The DVD was filmed at his 2000th solo show four years ago. More than 6,000 fans tuned into Frank's YouTube channel for the screening and a live Q&A.
But it's not been all cancellations and career on hold for Frank lately, with the recent release and success of the latest album, Frank Turner "Live In Newcastle", on Xtra Mile Recordings/Polydor.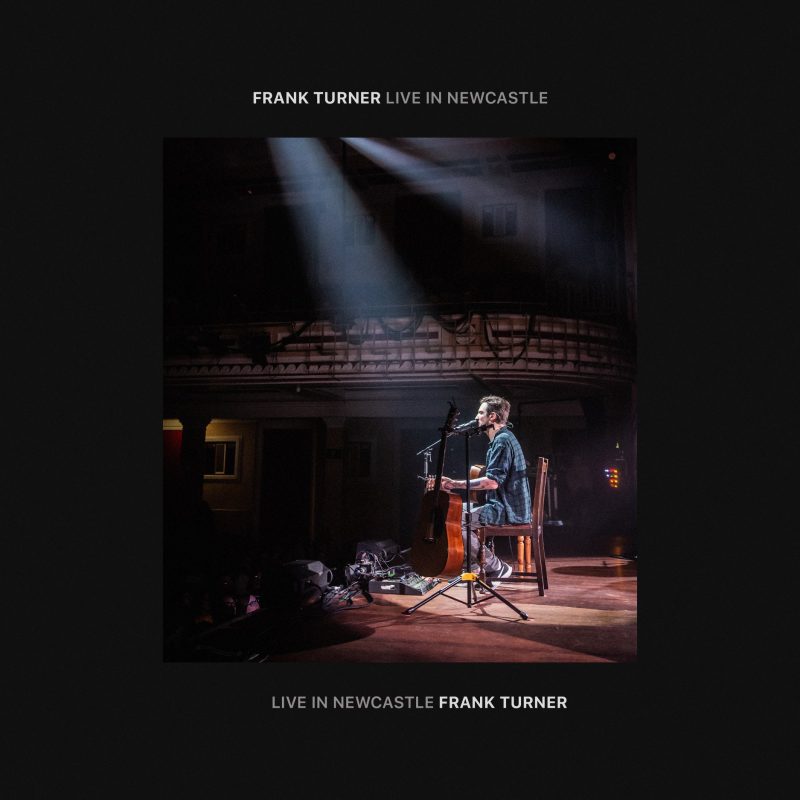 Captured at O2 City Hall Newcastle last November, the 20-track live recording was made during Frank's 2019 headline tour in support of his latest studio album, "No Man's Land", his fourth consecutive UK Top three album.
"Live In Newcastle" snapshots a shake-up of Turner's live set up, featuring unplugged versions from his extensive back catalogue performed with The Sleeping Souls, uncharacteristically for Frank, to seated audiences.
Speaking about this alternate approach to his 2019 shows (across which the full-band sets followed up a solo acoustic opener from Frank), he notes: "The story-telling set that I put together with the Sleeping Souls last year was a new venture, an experiment, a risk, and in the end a huge success.
"I couldn't be more proud of the way we found a new angle on my songs and my live show. I'm excited that we managed to capture the magic and get it out there for everyone to enjoy."
Frank's unique folk songwriting, catchy melodies and punk passion have captivated his fans globally since his debut album in 2007 – his star still very much on the ascent (he's headlined Wembley Arena!) – 13 years later…
Lots more good stuff to come from the man, including a new album he recorded with NOFX, "West Coast vs Wessex", which drops on 31st July.
Frank Turner "Live In Newcastle" is out now. 
Frank Turner's Track Record: 
1.    First song you can remember hearing as a child?
Probably a nursery rhyme of some kind, or maybe something by Flanders & Swann.
2.    First single that you owned?
I wasn't that into singles to be honest, but I had some Counting Crows cassette singles.
3.    First LP/album that you owned?
I had "Killers" by Iron Maiden on cassette. Didn't get a vinyl player until much later in life.
4.    First CD that you owned?
Pretty sure it was "Transfusion" by Apes Pigs & Spacemen.
5.    Last music you bought?
I bought the new Homeless Gospel Choir record. What a masterpiece.
6.    Which album would be on your wish list as a birthday or Christmas gift?
Some of the recorded but unreleased Bill Withers records that are rumoured to exist. A boy can dream!
7.    Absolute favourite ever album?
Impossible to pick just one…I guess "Reconstruction Site" by The Weakerthans is up there.
8.    Best record ever made (can be single/album/EP)?
The Last Waltz soundtrack seems like a good fit here.
9.    Guilty secret in your music collection?
I don't feel guilty about my taste. Couldn't give a toss what anyone thinks of my music collection.
10. What does music mean to you and how does it make you feel?
Music is my life, my passion, my hobby and my job. It makes me feel all manner of things, which is part of why it is so great.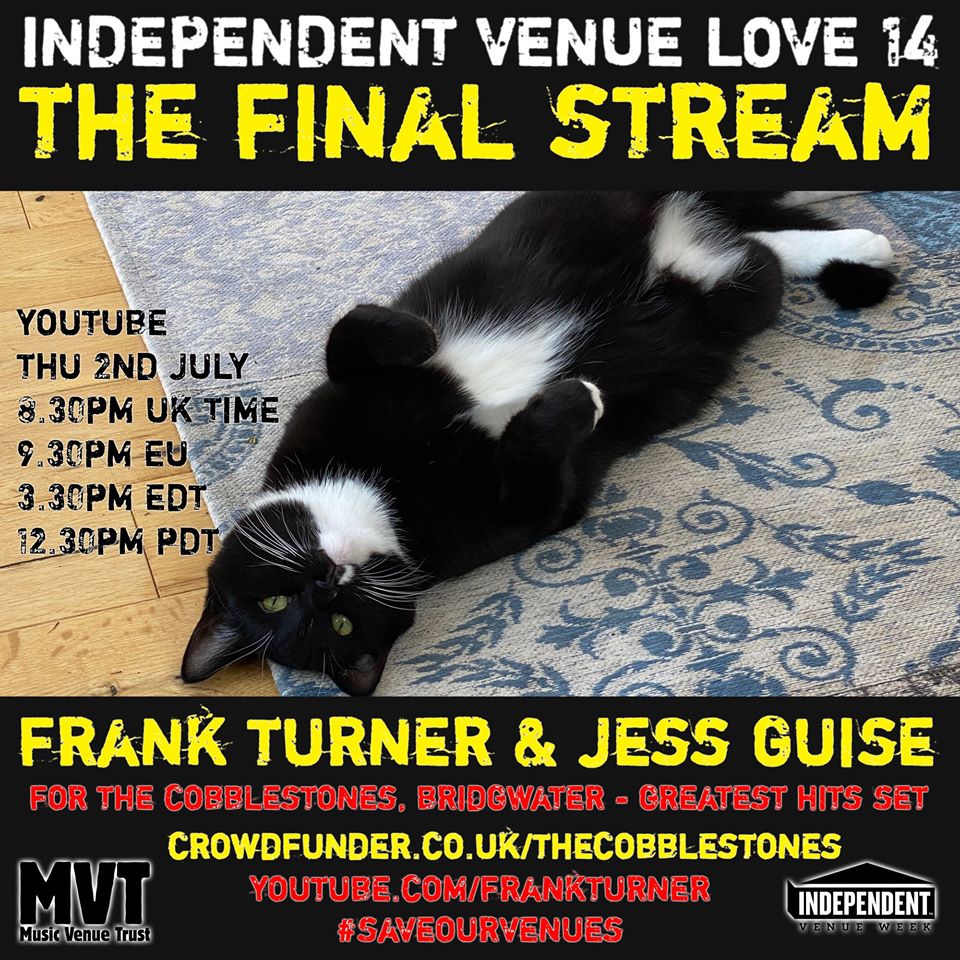 11. What one song or album is a guaranteed mood booster?
Anything by Nina Simone.
12. Which song or album would be the soundtrack to a film about your life?
I mean, arguably one of mine. The new live record we just put out. Or I suppose, "Winners Never Quit" by Pedro The Lion.
13. Your favourite driving track – or music to exercise to?
Driving: Anything by Tom Petty. I tend to exercise to pretty extreme metal, grind, death, black or thrash.
14. Best song or album for a romantic moment?
69 Love Songs by The Magnetic Fields.
15. What song did you have played for the "First Dance" at your wedding? 
Our first dance was "Crazy Little Thing Called Love" by Queen.
16.  Your choice of song to sing at karaoke?
Meat Loaf, "Bat Out Of Hell" – the full nine minute version.
17.  Which song takes you back to your childhood – and to which specific memory?
Flanders and Swann make me think of driving with my parents. I do love their records.
18. All-time favourite band?
The Weakerthans or maybe The Hold Steady. Or Rancid. Tough question!
19. All-time favourite singer?
Sam Cooke (probably).
20. Which one song would you like to be played at your funeral – and why?
"Sheep Go To Heaven" by Cake. It's a banger!
---