Tuuuunnnneeee…………..Brand new RED HOT single from Waze & Odyssey, featuring George Michael, Mary J.Blige and Tommy Theo.

Following its recent BBC Radio 1 playlist add, the video drops today (6th May 2020) , via Ministry Of Sound, comes with the addition of the late George Michael and Mary J.Blige, both credited artists on the rework of their 1999 single "Always".
"Always" is a thumping piano house tune built around the iconic vocals from George Michael and Mary J Blige's 1999 cover of the timeless Stevie Wonder classic.
The new video, directed by Nelson De Castro (George Ezra, Carly Rae Jepsen), has been masterfully created to bring the original concept of the 1999 hit to a new generation of music lovers.
The kaleidoscopic, high-energy, choreography-based visual is inspired by and celebrating the original's complex visual effects, which were used to fill a club with hundreds of versions of George Michael and Mary J. Blige.
London based Waze & Odyssey are the long-time house champions who have been turning out a variety of vital grooves for many years on their own label, as well as Hottrax, Edible and Relief, no strangers to reworking Pop classics.
They burst onto the scene with early releases on Wolf Music, Tsuba, Disco Bloodbath and first bookings at world renowned Panorama Bar in Berlin.
The British duo of Serge Santiago and Firas Waez draw on anything from disco to techno, to make for colourful club tracks with a sense of soul and drive.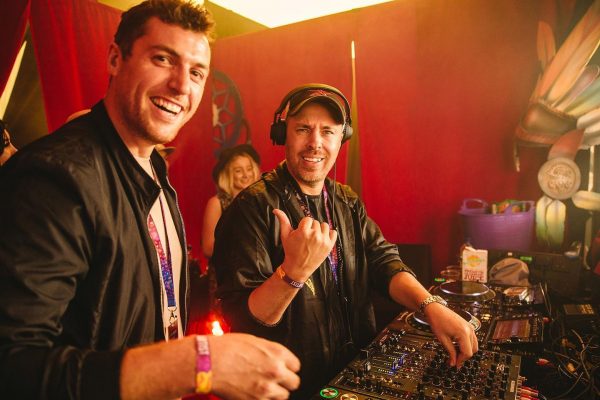 Releasing on cultured labels like Edible for Eats Everything, Relief for Green Velvet and Jamie Jones' Hottrax, the pair have done everything from rock solid basement jams to low key groovers, delicious deep house via intricate and stripped back tech.
A similarly broad and tasteful sound defines their DJ sets: this energetic duo draw on a rich history of digging deep into dance music's vast reserves, as well as serving up plenty of the freshest new beats.
Regulars in the world's best clubs and festivals, touring worldwide from Beirut to Brisbane, Los Angeles to Lisbon, Medellin to Manchester.
Since 2012, their own label W&O Street Tracks has launched new talents like Mella Dee, Ejeca, OC&Verde, Kill Frenzy and Will Easton.
Tommy Theo was behind the cracking festival anthem "Ain't He Bad" in 2016 – he is one of Amsterdam's hottest exports.
"Always", this brilliantly delivered Waze & Odyssey killer cut is surely destined to be a big summer banger – even if we all end up confined to the garden! 'Ave it!!!!!