Lady Bird. UK band we tip for big things….
Raucous new single "WWW" is out today (14th May 2020).  Our opinion: Infectious summer banger.
See the single's inventive video, below…
The Kent trio of Don Bird on vocals, guitar and organ, Alex Deadman on guitar and Joe Walker on drums, also announce upcoming EP, "Brainwash Machine Setting", due on 26th June 2020, via Purple Stains/JägerMusik.
The new single "WWW" captures the band at their powerful, energetic best. Full of attitude and swagger on a punk-tinged, incendiary, in-yer-face, brash anthem that has shades of Slaves, The Ruts and even a bit like Blur on amphetamines!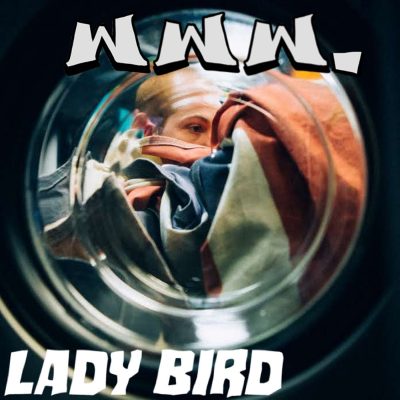 Previous single "Spoons" was a strong track too, with tales from inside their local Wetherspoons' boozer, and like this latest cut, a very English "lads" approach to the vocal from Don Bird.
The band's debut recording, EP "Social Potions", came out on Slaves' label Girl Fight Records in early 2018. Lady Bird have had some support from BBC Radio 1 and BBC6 Music.
The "WWW" in the single's title refers to "Wicked War Of The West", apparently, says the band: "What does a war and a web have in common? Who wants to be caught in one? Why ask?
"This song likes to tickle the Queen bee's feet whilst sharing thoughts and observations about her beautiful hive and obedient colony. The Wicked War of the West tells "slippery stories and…tales" of familiar and somewhat fictional concepts via a punk pop rock rock banger".
Lady Bird have been together since 21016, and have stormed stages on sold-out tours alongside Sports Team, Walt Disco and GURU, and are due to set out on their own headline tour at the end of this year, all being well.
10 re-scheduled shows across the UK, kicking off on 9th Dec in Surrey and the last date of the tour, on 19th Dec in London, Home-town show slated for 18th Dec in Tunbridge Wells. Full tour list, below.
Live Dates
9th Dec – The Boileroom, Guildford
10th Dec – Rescue Rooms, Nottingham
11th Dec – The Polar Bar, Hull
12th Dec – Exchange, Bristol
14th Dec – Old Fire Station, Carlisle
15th Dec – King Tut's Wah Wah Hut, Glasgow
16th Dec – Think Tank?, Newcastle
17th Dec – Band on the Wall, Manchester
18th Dec – Tunbridge Wells Forum, Tunbridge Wells
19th Dec – Omeara, London