Today (19th May 2020), IDLES have returned with head-banging new track – "Mr. Motivator" – the first preview of their highly anticipated third LP due out later this year.
The song doubles down on the (self-admitted) sloganeering and social commentary that's become the band's signature, yet they're able to take clichés and turn them into music that's deeply complex and brutally relevant.
Watch the accompanying self-directed music video, below, which features fan-sourced exercise footage and the band members themselves.
Frontman Joe Talbot says of the song: "We want to start this journey with a means to not only encapsulate the album's sentiment, but to encourage our audience to dance like no one is watching and plough through these dark times with a two tonne machete of a song, and the most beautiful community of scumbags ever assembled. Let's go. All is love."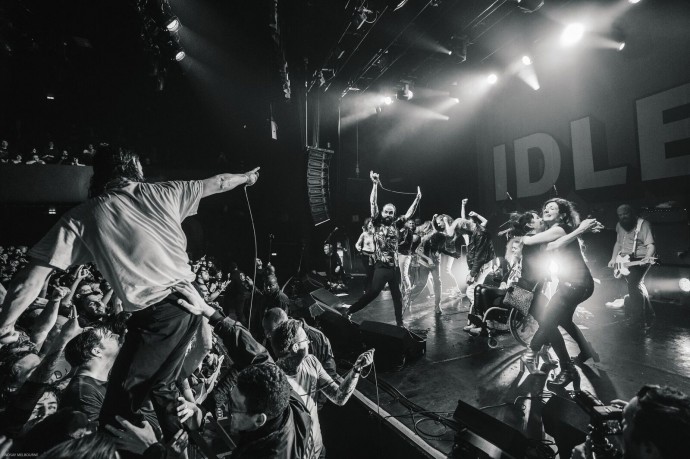 IDLES last album "Joy As An Act Of Resistance" was one of the best reviewed rock records of 2018, debuting Top 5 on the UK album chart. They gave legendary performances at Glastonbury Festival, on Jools Holland's BBC TV show and sold out tours across the world.
They won the coveted Ivor Novello Award for "Best Album" and were nominated for the Mercury Prize and BRIT Awards. All 10,000 tickets to the band's Dec 2019 headline performance at London's Alexandra Palace sold out in under 24 hours.
More info on LP3 coming shortly and if it is as strong as this first track, then brace yourselves….Can't wait!