Canadian eight-piece funk/soul collective Busty & The Bass today (6th may 2020) drop ice cool tune "Kids" for their fourth single.
Lifted from their incoming second album slated for July release – produced by Grammy-winning Neal Pogue, who has previously worked his magic for the likes of Anderson .Paak, OutKast, Tyler The Creator, Dram and Kaytranada. 
Previous Busty and the Bass singles, include "
Baggy Eyed Dopeman", featuring George Clinton and  "Clouds" featuring Moonchild's Amber Navran. The band, who met studying in the jazz programme at Montreal's McGill University in 2011, are advocates for strong musical and cultural education in schools.
While on tour they make a point of stopping at schools in each market to conduct music workshops and assemblies, with students ranging from elementary to high school age. Busty's vocal/alto sax player, Nick Ferraro, has written an op-ed for the Hechinger Report, a nonprofit news organisation named in honour of the famed New York Times education reporter.
He says, "For the past few years through dozens of school visits, the band and I have been trying to engage students musically within the simplest context of social play. If the arts teach children that the act of creating is enough in its own right, then intuitively they will feel like they can be enough in their own right. I have so much confidence and hope for how music education can look systemically in the near future."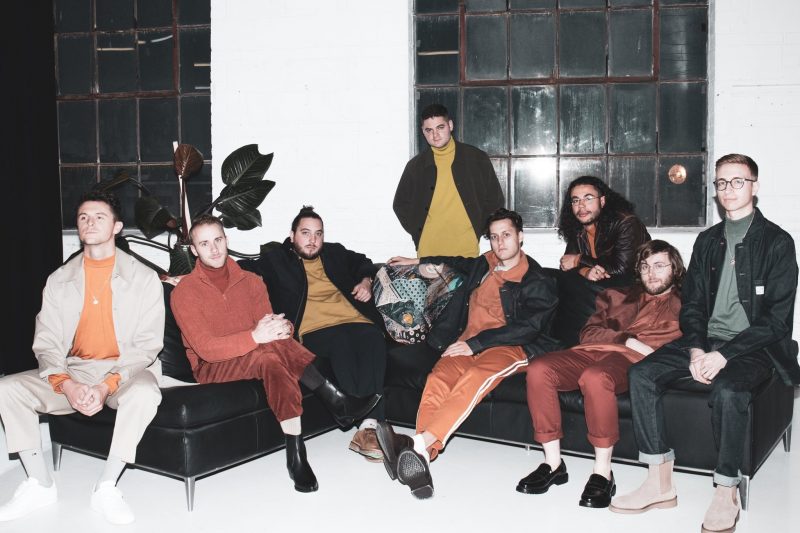 Busty and the Bass have signed to indie record label, Arts & Crafts, home to Broken Social Scene, Andy Shauf, Liza Anne, and more. Since joining the vibrant label,  they have released three tracks, "Clouds", "Summer" and "Baggy Eyed Dopeman".  (ft. George Clinton), all produced by Neal Pogue.
The band are: Nick Ferraro [vocals, alto sax], Evan Crofton a.k.a. Alistair Blu [vocals, keys, synths], Scott Bevins [trumpet], Chris Vincent [trombone], Louis Stein [guitar], Milo Johnson [bass], Eric Haynes [keys, piano], and Julian Trivers [drums]. They ably blend soul, funk, rock, hip-hop and artful R&B to create a sound of their own. 
They started out as an instrumental act, grabbing any gig they were offered, taking $100 for a three-hour set or exchanging tunes for wine and hors d'oeuvres at a cocktail party! They dropped a pair of EPs—"Glam" in 2015 and "Lift" in 2016, before 2017's full-length debut, "Uncommon Good".
They have made many new friends with their own headline tours, many sold out shows and appearances at international festivals such as Made in America, Osheaga, Pinkpop, Montreal International Jazz Festival, The Great Escape, Ottawa Bluesfest and Rifflandia – playing alongside the likes of Radiohead, Anderson .Paak, and Lana Del Rey.
Hear the new single "kids" here – And see the mini documentary at bottom of page…
Watch the mini-documentary here: