Soulful singing star Paul Young chats to Lucy Boulter about his amazing career highs, and the ambitions he still has left after five decades in the business – ahead of a UK tour with his pals Go West…
Every so often, we are reminded via social media that this song or that film is now 10, 20 or even 30 years old – and we are dutifully horrified – convinced that time could not have passed so quickly.
A similar shock came my way this week, as I prepared to chat with the ever-soulful singing superstar, Paul Young.
Fond memories of his solo debut release "No Parlez" –  the very first album I owned on vinyl – were thrown into sharp focus as I realised this triple-platinum disc is 37-years-old this summer.
Almost a whole lifetime has passed since then, but one thing has stood the test of time: Paul Young is still delighting his fans on stages across the UK and beyond these shores.
Indeed, he shows no sign of slowing down. The man who blew out 64 candles on his birthday cake last month is still in great demand, performing so constantly he could only find time to ride his beloved Harley Davidson just once last year.
Together we ponder the reasons for such longevity, and I dare to suggest that he might now have become an official national treasure. Is it just that women like me – a certain age and hugely nostalgic – want to revisit the promise of youth and the tragedy of teenage heartbreak, that we lived out against a Paul Young soundtrack?
I don't think so…I mean, tell that to all the men of varying ages packing out performances of Paul's Tex-Mex band, Los Pacaminos.
Mercurial?
Or is it just that the 1980s was a golden age, endowing its pop royalty with a Midas touch that will outlive them? Actually, Paul thinks we might be on to something there.
"I was very lucky, I think, being an artist in the '80s. I think now it seems to be a lot more…is mercurial the right word? Fame seems to come and go a lot faster, and I find that it's more fleeting.
"You have to manage your career very well and go into other lines. It can't be just music. Back in my day, you know, it was the be all and end all. That's all we did, and there was a lot of music that still stands the test of time."
Of course, talent must play a part in a global career that has spanned five decades. Not for nothing does Paul Young boast three consecutive number one albums, UK singles chart domination, a US Billboard number one, and Brit awards for Best Breakthrough, Best Male Solo Artist, and Best Video.
Adorning his walls are gold, platinum, double platinum and triple platinum discs. All of that achieved in just seven years.
But I think maybe there's a fourth reason for Paul's enduring appeal: he's a good guy, and you'd be hard-pushed to hear a bad word said about him.
Fares please!
It feels like he's been around forever – in a good way, of course. If you happened to be a lucky top-deck passenger on a double decker bus in Luton around about 1960, you might have caught one of his very first public performances. The four-year-old Paul stood up, singing Perry Como's "Magic Moments", taking a bow in response to the loud applause.
And if you frequented Luton's finest drinking establishments in the mid-70s, you'd have seen an ambitious young man outgrowing his role as bass player and backing vocalist with Kat Kool & The Kool Kats, winning front-man duties through a mix of talent and sheer persistence.
In 1978, Paul made his debut on BBC TV's Top of the Pops as the lead singer with Streetband – performing their single's novelty B-side, "Toast", not least because the late and great Kenny Everett had been giving it airtime on his radio show.
His next move to the band Q-Tips in 1979 introduced Paul to musicians he would continue working with for many years and, crucially, gave him the exposure he needed to sign a solo deal with CBS in 1982. The rest, as they say, is not so much history as the stuff of pop legends.
Paul went on to be front-and-centre of some of the 1980s' biggest music moments, such as The Prince's Trust Rock Gala in 1986 where, in addition to his own solo set, Paul performed "Every Time You Go Away" as a duet with George Michael, backed by a stellar band line-up that included Elton John, Eric Clapton, Mark Knopfler and Phil Collins.
The Nelson Mandela 70th Birthday Concert in 1988, performing "Don't Dream It's Over".  The Freddie Mercury Tribute Concert in 1992, where he stepped into some pretty enormous boots to sing "Radio GaGa" with Queen.
But undoubtedly the biggest of them all was Live Aid in 1985, at which Paul performed a three-song set at Wembley Stadium.  This unprecedented concert, with its worldwide audience estimated at some 1.9 billion, was the sequel to one of the most well-known songs in the world – Band Aid's "Do They Know It's Christmas?"
Live Aid
As a member of Band Aid, Paul Young was chosen to sing the opening lines of the mega hit – a job that even its curator, (now Sir) Bob Geldof, described as "a hideous task".
But at Live Aid the following summer, those first lines were performed by David Bowie – just five months after he and Paul were both nominated for Best Male Solo Artist at the Brit awards. Paul went on to win it.
Rumours abounded about this switch between artists but, in truth, Paul was picked on merit and nothing else, for such a starring role.
"I was quite chuffed to be chosen for that – in fact, at the time I wasn't quite sure they'd picked the right person, as I was the new guy on the block. Maybe they thought that they couldn't get one of the biggest UK stars, so get the one who's freshest in people's minds instead!
"But then I found out from Midge (Ure, Band Aid co-founder and trustee) that actually they tried three or four different people and he said they liked mine the best. So, I think they chose it purely for aesthetics, to make the record work."
Being at the heart of pop royalty at one of the most seminal times in music history was nicely tempered, according to Paul, by a balance that new artists might struggle to find nowadays.
"Today they never stop. It's a hard slog – I am aware of that, and I don't think it's easy for them. Instead of what we used to do – just form a band, get on the road, live in very cheap accommodation and drive very cheap vans – they'll go and busk, put stuff on the internet, they never stop."
Have a little patience…
It's clear that Paul has kept his sanity largely thanks to his level-headed attitude, but I wonder if he developed this mindset to deal with fame, or if he has managed fame well because of it?
"I'd say I already had the mindset. What I got from my parents was patience. And you need a sense of humour, I think. It's a funny business – funny as in strange – so you have to be able to laugh at what happens to you sometimes.
"I think the problem is that this business gets you very tired, with the travel and the amount of work you have to do – and there is always a chance you could lose your temper. But I work with my friends as much as I can. It helps me to keep a level head.
"I've always had the same people around me, or people of a similar ilk, who will make a joke about something." That sense of humour has been evident throughout Paul's career, if you peel back the pin-up façade.
Prankster
"We used to prank each other on the road. I remember when I was in Streetband and we were staying in a hotel, the drummer had gone off somewhere, maybe to see a friend, and we moved everything into the bathroom – the bed, the chest of drawers, the chairs, all the furniture – and then super-glued his underpants, along with various other bits of clothing, to the ceiling!"
I can't help but think nowadays they'd put that in the Tate Modern and call it art; Paul laughs at the idea, but is anxious to point out that he's actually been a model hotel guest – not least to avoid the hefty charges that could be brought about by chucking TVs out of windows and other such rock 'n' roll shenanigans…
"I remember on a gig with the Q-Tips, we'd booked into a hotel and partied a bit – and somebody fell backwards onto a table and it broke. We managed to piece it together. Then the next time we got in the van, Steve Farr (who was the baritone sax player) said: right, I've got a toolkit this time guys, because we can't afford to pay for any breakages!"
As is so often the case, you can't out-prank the prankster – especially having established already his exceedingly high levels of patience – as TV's king of the jokers, Noel Edmonds, found out when he tried to subject Paul to a 'Gotcha' on his BBC House Party in the 1990s.
"We were doing some filming in Florida, and ridiculous things kept happening that were stopping me filming – and I guess they thought I would lose my rag after a while, but I was like: don't worry, that's okay, we'll just take it again. They kept this going all day, but it was boiling, and the crew were burning up in the sun – and in the end they said: can we just tell him it was a joke now, it's too hot!"
I return to Paul's point about working with the same people over a long period of time. Of course, it's one thing to attract people into your life…and let's face it, fame and fortune aren't exactly hindrances for doing that. But Paul Young clearly is a man who keeps people in his life.
This is the man who former Spandau Ballet frontman Tony Hadley calls "a perfect gentleman", and about whom pop veteran Sir Bob Geldof says, "just a good guy, and I'm glad I'm [his] mate". This is the man whose career is built on solid threads of lasting professional relationships – and sometimes these cross into friendship.
Zucchero and me…
Take Italian musician, Zucchero, for example – Paul's collaborator on the chart-topping 1987 duet "Senza Una Donna (Without A Woman)". A working relationship rooted in a shared musical style became a lasting friendship, such that Zucchero is Paul's daughter Layla's godfather. Paul talks about the very roots of their friendship.
"Back in the '80s, Zucchero got a publishing deal as a writer, but he couldn't get a record deal because, he was told, R&B music – the kind of stuff I like and he likes – was dead in the water.
"But then 'No Parlez' was massive in Italy – and, of course, 'Love Of the Common People' and 'Come Back And Stay' are kind of R&B, and the way I sing is R&B. And then he got the record deal!
"Not long after, I was recording in Italy, and he thought – I'd like to meet this guy. We met a couple of times, and then a couple of years later he got back in touch with me and said: I'd really like to do something with you. And the duet came about that way."
Later this year, Paul will join forces with a couple of old buddies, Peter Cox and Richard Drummie, for the double-bill Go West and Paul Young UK Tour.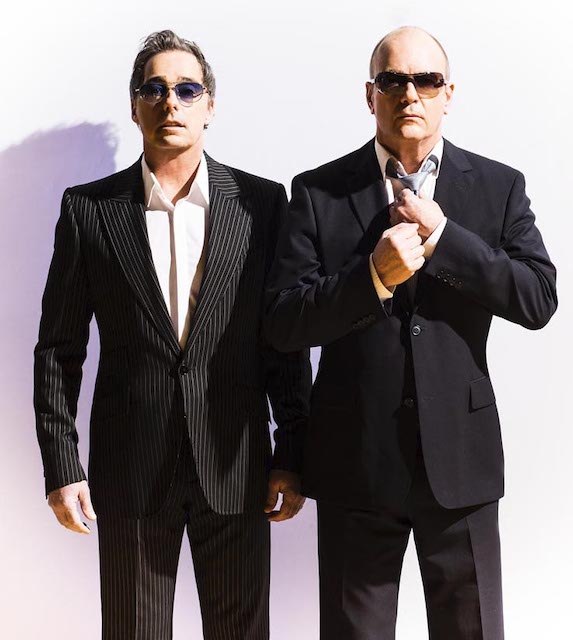 "We know each other really well, we've worked together before, and there's a long-standing relationship between my manager and Go West's manager – they were working together in the '70s – and that's how the idea came up.
"And we know we can go long distances in a van and not wind each other up. To be in close proximity with people – well, that patience comes in handy again!  But they're nice people, they're easy-going guys, so I won't really have to use it."
Yes chef!
Even the most patient of men need to kick back sometimes, and one of Paul's favourite ways to relax is through his other great passion – cooking. In a long-term hobby-turned-career, he has appeared on BBC's Celebrity Masterchef and ITV's Hell's Kitchen, served a six-month 'residency' as guest chef at a popular North London restaurant, and even released a cookbook called "On My Travels".
For him, cooking is about both relaxing and nourishing others, as he explains. "Mixing spices, bringing together different flavours – it's like when I listen to music and I'll pluck an idea from something I've heard. You put all the little pieces together and you have a song. Food is the same.
"And you've still got an audience of a sort, that you hope to please. The other thing about cooking is that it's a little bit zen-like. You really get in the moment. And if you've been working all day on music, it stops your brain from having the songs incessantly running through your head.
"I put myself up for auction once, cooking for people in their own home, and we raised five or six grand for charity! It went down so well that I said I'd do it again. I invited [TV chef] James Martin to the auction, but then I couldn't make it because of a work commitment in Japan.
"I felt bad about that, but my wife, Stacey, looked after him at the table, and I think he had a few glasses of something…and then he stood up and said: if you keep bidding for Paul, I'll do it with him! So, James came on board – he's a nice guy! – and I think we raised about 13 grand this time."
But for all he loves cooking, perhaps the subject that most makes Paul light up throughout our conversation is his band with his "best buddies", Los Pacaminos. In fact, he says if you ever want to see pure joy on musicians' faces – go and see them!
Expected just to be a stopgap between other projects, Los Pacaminos has been together for more than 25 years now. Rather wonderfully, the band once opened for a Paul Young gig. Like his career, friendships and popularity, this is another thing in Paul Young's life that can be described as enduring.
I wish I could fly…
I bring our conversation to a close by asking Paul what one burning desire he has yet to achieve? His reply is surprisingly modest – not least, perhaps, given the period of intense loss that Paul has faced recently.
His wife, Stacey, died of brain cancer two years ago, at the age of just 52. She and Paul met in 1983, filming the video for his hit "Come Back And Stay", and were married in Lake Tahoe, California, four years later.
And then, almost exactly two years later, Paul lost his father, Tony – the man he describes as "rocksteady" – just a few weeks ago.
"So, that's a hard question, you know – just because I know there are certain things I wouldn't be able to do.  My Dad passed away just before Christmas, and I'm aware that I'm not getting any younger myself.
"I'd like to get very fit again. I'd like to get back into playing tennis. But something exciting, something to really get me out of bed in the morning…well, I'd love to learn to fly a light aircraft. Is there an age limit on that?"
By Lucy Boulter
Paul Young portrait photos: James Hole
---
https://nvite.com/community/gowestandpaulyoung