American singer songwriter and actress Grace Potter left her fans wanting more after her last show in St Petersburg – for some seven years…
But her welcome return in January 2020, more than proved she was well worth waiting for…
Just two dates into her mammoth 45-date coast to coast North American tour to promote  current album "Daylight" – which kicked off in Charleston, South Carolina and closes at the end of March in Denver, Colorado – box office is looking uber-healthy, with many shows already sold out.
Tonight's concert in this trendy 2,000 capacity outdoor courtyard venue, located in the middle of a block of bars, restaurants and apartments, pulled in circa 1600 fans to the same venue Grace played with her former band The Nocturnals in February 2013. Back then supported by The Futurebirds from Georgia, with GP and her band delivering a 16-song set and three encore tracks
This time, the 36-year-old is here as a solo star backed by her crack four-piece band, which includes  Benny Yurco, guitarist from The Nocturnals. Grace released "Daylight" (on the famed Fantasy label), her fourth solo album, in October last year (2019).
A collection of songs she calls "deeply personal". Produced by her husband Eric Valentine, who has produced for the likes of Queens of the Stone Age, The Wombats, Slash, Third Eye Blind and Smash Mouth.
The material covers a period of highs – including marriage and childbirth. Grace and Eric have a son, Sagan, who will be two tomorrow (Sunday). And the lows – including divorce from her first husband and the break up of The Nocturnals.
A broad church of genres from rock, pop, folk, country and blues across the album, but it all fits together snugly like a musical jigsaw puzzle. Widely hailed as a career-defining album. No argument from me on that score.
Grace began her musical career in 2002, forming Grace Potter and the Nocturnals. They were responsible for four studio albums, three live albums and nine singles between 2005 and 2012, with Grace knocking it on the head in 2015 to go solo.
She dipped toes in the water of a solo life in 2002 with the release of her album "Red Shoe Rebel". But it was 2004's solo effort "Original Soul" which put her on the map as one to watch. A lengthy gap before her next solo album, "Midnight" in 2015, which peaked at # four in the US Rock chart. Produced by Eric Valentine.
She also has a long standing collaborative partnership with country star Kenny Chesney, and their duets have charted and won Grace her first Grammy nomination, for the duet "You And Tequila"." She has also collaborated with the band The Flaming Lips on various projects.
Opening tonight was Philly-born and raised and now Nashville-based Devon Gilfillian, a very promising artist signed to Capitol Records, who dropped his new album "Black Hole Rainbow" today (10th January 2020).
A classy nod to gospel and Southern soul, and more…..with digital age relevance (rap and hip-hop included)  and not at all a purely retro project. He appeals to a young audience, but will also be dug by those who were around for the original soul and gospel cool cats, such as Al Green and Ray Charles.
Following his 2016 debut EP and upbeat singles like "High" and "Troublemaker", Devon signed to Capitol Records in 2018 and hit the road with the likes of Keith Urban, Gladys Knight, Kaleo, Mavis Staples and more.
Early last year (2019), he travelled to Africa to find inspiration, before headlining a tour in Scandinavia and opening for Brothers Osborne on their spring tour. The single "Unchained" from his new album was released late last year and is getting him noticed.
The talented young singer came out with the obvious intention to exploit every last second of his tight set, to win new friends and not hold anything back.
With an undeniable soul-drenched delivery on the rootsy, mixed bag material that defies categorisation (a good thing!), it is no surprise he has cut tracks inside the hallowed walls of the legendary Muscle Shoals studios.
This is an artist who clearly aims for the stars and has a lot to give. Good stage craft and presence. To make his voice heard, literally, he used a megaphone set to speak to the audience between songs. Telling the crowd today was his birthday, sharing the date with Grace's guitar man Benny.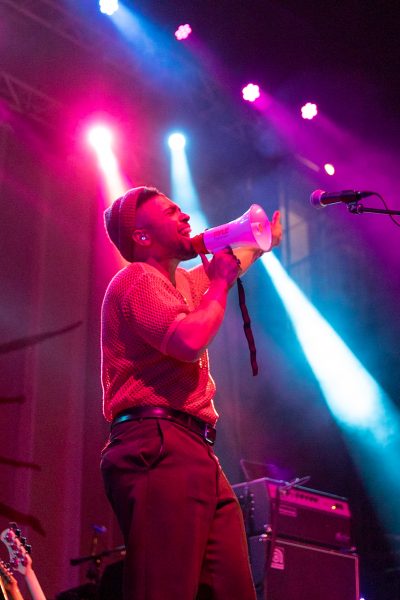 Definitely not heard the last of this guy and he will probably be headlining his own show here in a year or two, based on how his set went down tonight. The volume of the roaring applause as he left the stage telling its own story.
But this crowd – mainly 40-years-old and upwards, and pretty much equal numbers of  men and women – were nicely warmed up in the low 70s temperature at this outdoor gig, for the main reason we have come together. There was a palpable electricity in the air before Grace graced the stage (see what I did there?),  in anticipation of what she would bring to the party. And bring it she most certainly did….
As did her band mates: bassist Kurtis Keber, drummer Jordan West, guitarist Benny Yurco  and guitarist and keyboardist Eliza Hardy Jones, who are far more than just a backing band. There is absolute chemistry between these guys and Grace. They feed off each other's energy and the audience feed off that.
With a Gibson Flying V slung over her shoulder, Grace appeared to loud roars from the fans, and got stuck into some heavy power chords to accompany her raunchy vocal.
She has the ability to belt it out and call upon the throaty rasp and sheer power, and then take it down a few notches to her sweet spot soul style, which taps into innate emotion. There are music writers who liken Ms Grace to other singers, but not this writer. Grace sings Grace. Period!
She swapped guitar for keyboard for part of the set and for some songs, it was just Grace and a microphone or a tambourine in hand too. But I am pretty sure that the focus of all circa 1600 pairs of ears here tonight, was always on that stunning vocal ability.
She often interacted with Benny when they were both playing guitar, and the rest of the band joined in too at times around the drum riser,  which added to the visual excitement of the night.
The moon shone like a bright spotlight, which also added to the atmosphere. When the band launched into "On My Way", one of the best tracks on her new album, it was the cue for most of the crowd to throw some shapes and dance their socks off.
Some gigs can be spoiled by poor sound, but not tonight. Sound quality and balance was perfect throughout the two hour set. For the song "Instigators" from the album "Midnight", Grace had recruited well over a thousand backup singers for the chorus.
In the middle of the set she gave us the three singles, "I Want Something That I Want", "Alive Tonight", "Empty Heart", and all sounding just like the records.
Later it was time for some of her more more laid back, deeper cuts, the most notable being "Release", from the new album. Prompting a sea of flickering lights from cell phones held aloft in the crowd.
At the end of the main set, Grace thanked her fans for showing so much love and appreciation. After a brief exit, they came back to deliver three Nocturnals tracks for their well deserved encore: the tile track from The Nocturnals album "The Lion, The Beast, The Beat", "Paris (Ooh La La)" and "Stars". Then they were gone…..120 brilliant minutes (plus Devon's time too, of course)…
Not so much a concert as a bit of a spiritual experience.  You could say it really was Amazing Grace…..I just did.
Grace Potter is included in our "Best of 2019" round-up, which we published in December. We voted her a "Hot Contender" for "Best Female Artist". Check it out in our Features Zone.
Words: Chandler Culotta
Photos: Dan Schuman
* Hear tracks by Devon Gilfillian and Grace Potter, below……………. 
---
---
---