If you hear an artist on the radio or a streaming service, buy the album and go see them in concert, it's a good bet that you will want to hear as many of the songs you know, as possible. Right?
Well, fans going to see Norwegian pop Queen Sigrid on her current UK tour, more than get their wish, with all dozen songs from her debut album "Sucker Punch", in the set every night.
That of course, includes a slew of hit singles, including "Don't Kill My Vibe", the banger that launched the 23-year-old artist into global collective consciousness in 2017, and helped her to win the BBC's prestigious Sound of Poll for 2018, the annual launch pad for such stars as Adele, Ellie Goulding, Jessie J, Sam Smith and Jack Garratt.
Sigrid has performed at Glastonbury, appeared on TV in The Royal Variety show, on Later…with Jools Holland and on The Graham Norton Show. Back in March this year, at last count, a staggering 570 million people around the world had streamed her music. Must be a lot more by now. Google it!
Back in late 2018, we gave Sigrid the "Best EP of 2018" nod for "Raw" and "Best Female Artist Of 2018", and tipped her for much bigger success. In just two years, Sigrid has been nominated for an amazing 25 major awards, taking home six of them.
With the American and European legs of the "Sucker Punch Tour" in the bag and hailed a triumph, the vibe has reached the UK with a sold out nine-date tour through November, and into early December, plus a Dublin show – her very first headline arena date.
Ms Raabe's debut album "Sucker Punch" dropped in March this year, and here at Music Republic Magazine, we predicted a smash hit and top five chart action. We were spot on. The album peaked at number four here, topped the charts in Norway and reached the Top five in several countries.
Back in 2017, we predicted Sigrid was a future arena act, and Dublin's date on this tour makes us bang on the money with that suggestion too. Maybe she got a taste for the big stages as opening act for Maroon 5 and then George Ezra on their arena tours.
The opening act for this tour is London-based duo Ider. The chemistry between Megan Markwick and Lily Somerville is palpable, with perfect two-part harmonies marinated into their lush-material. A male drummer for company tonight, and the two women providing guitar and keyboards.
Offering tracks from their debut album "Emotional Education". It's good stuff and sounds like a good fit for both Radio 1 & Radio 2 playlists. They are due back in Nottingham in February at The Bodega after US, Canadian and European dates – by which time they may well be pop stars and having to move the gig to a bigger venue. See if I am right!
Tonight's star-turn bounded onto the Rock City stage to a loud welcome at dead on 9pm, for an 18-song set of mainly uplifting and sing-along tracks. Backed by drummer, keyboard player, guitarist and backing singer.
They kicked off with "Mine Right Now", the last single from "Sucker Punch", all of the lyrics sung back at her from the majority of this 2,000-strong capacity Sunday night crowd. The majority of whom are in their late teens and 20s, but up to 40s, to confirm this artist's wide appeal.
Sigrid is a bundle of energy and uses every inch of the stage, while grinning from ear to ear throughout the show. This is not work. This is not a contractual obligation. This is a labour of love, for sure.  Tonight wearing an XXL, baggy, tie-died colourful tee shirt and blue jeans, her hair loose and no sign of the usual pony tail.
She delivers another track from the album, "In Vain", before "Schedules", a cut from her 2018 EP "Raw," one of three from that release in the set tonight. We also get the title track and "High Five".
Then comes "Plot Twist", "Dynamite" and "Fake Friends" from the 2017 EP "Don't Kill My Vibe," (Dynamite is also on her album), as well as the title track (also on the album), which promoted the loudest response of the night, song # seven in the set.
So to add to the entire album, two from "Raw" and four from "Don't Kill My Vibe", there's one brand new song from 2019, "Home To You", taken from the soundtrack of the new movie "The Aeronauts", and released as her current single at the start of November.
The film stars Eddie Redmayne, Felicity Jones and Sir Tom Courtney and is in US cinemas on 6th December, before its release on Amazon Prime two weeks later. Sigrid sings the track on the film and she co-wrote it.
The set is 99% more bounce to the ounce, but two exceptions, when she slows things down with just her keyboard player for company for "Dynamite". A gentle, piano-tinkling, stripped back ballad. Nowhere to hide for her vocal and that's never an issue. Stunning control and soaring innate passion. (The other quieter song is "Home To You".)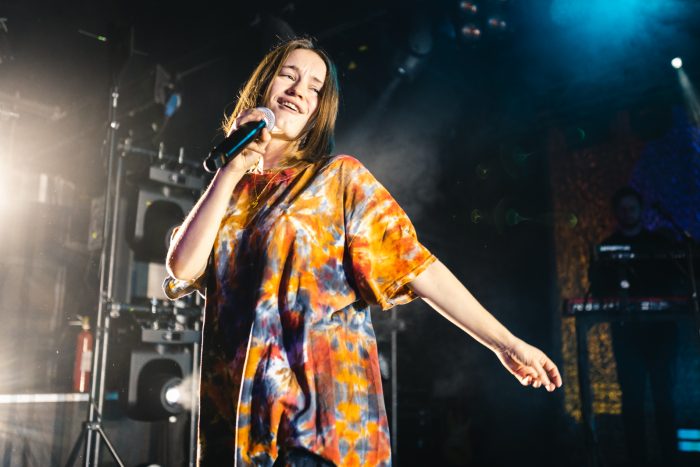 Big response to the Top 10 hit "Strangers" and then "Don't Feel Like Crying", when the heavens opened to send down a torrent of confetti to close a triumphant and faultless performance.
Sigrid is one of the hottest pop acts there is, and an artist who has massive potential still to exploit – and many years tin which to do so. I suspect we ain't seen nothin' yet! Her vibe is well and truly alive and kicking.
Words & photos: Andrea Bottino
---
Setlist:
"Mine Right Now"
"In Vain"
"Schedules"
"Plot Twist"
"Raw"
"Sight Of You"
"Don't Kill My Vibe"
"Level Up"
"High Five"
 "Fake Friends"
"Business Dinners"
"Sucker Punch"
"Dynamite"
"Home To You"
"Basic"
"Never Mine"
"Strangers"
"Don't Feel Like Crying"