He's red hot. He's sold out an entire 20-date tour, literally in minutes. He's only released one album thus far and it blasted straight into the chart in top spot. His name is Sam Fender.
Last night, Sam was in Nottingham as the fourth date of the "The Hypersonic Missiles Tour", named after his smash hit first album which dropped in September.
Rock City rammed with 2,000 hyper-fans and a clearly 'well-up-for-it' 25-year-old star ready to give them what they wanted: a great night out and all the tracks they could sing back to him at full volume.
This is his third visit to the city. He sold out the 220 capacity Bodega in February last year, and then in this very venue a year ago, but in the much smaller basement, now called Rock City Beta, in November 2018.
The latest tour kicked off in Manchester, before Liverpool, Glasgow and now this vibrant university city . The tour crisscrosses the country and also calls in to Dublin and Belfast, before closing with two nights in Newcastle on 21st and 22nd December, an early Christmas prezzie for his Toon Town fans, friends and family.
The demand for tickets was phenomenal, so much so, promoters had to add a second night for London and another three nights on home turf in Newcastle for the Geordie singer- songwriter who started out busking as a teenager, penning his own songs at 13.
He rocked up at all the open mic' nights and even performed in the same restaurant where he waited tables. But his luck would change dramatically when the stars aligned one night, when the bar manager at the restaurant recognised one of the diners, and grabbed Sam to get him to start his set early, so that VIP guest would see and hear him.
That diner was top music manager Owain Davies, who was celebrating his client Ben Howard's double win at the Brit Awards. When he heard Sam, that was the start of big things for the talented young artist from North Shields. I hope he bought that bar manager a big drink!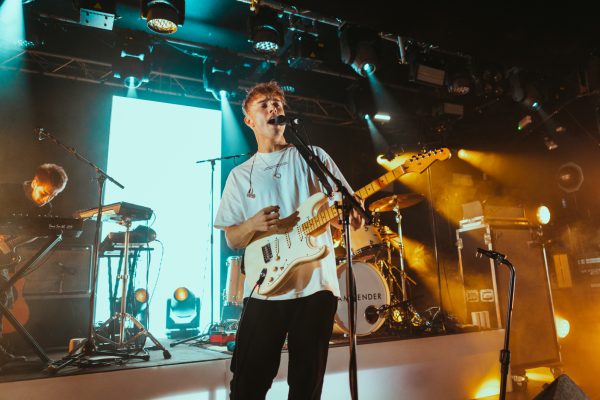 Since that life-changing night five years ago, Sam has been nominated for a slew of awards, including being shortlisted for the BBC Sound of 2018 (Sigrid was the winner), and lifting the coveted 'Critics' Choice' Brit Award in February this year.
His debut EP, "Dead Boys" made the Top 40 (# 37) and his debut album flew into the chart at number one, of course, a few weeks ago.
He is also an accomplished actor, and before he was snapped up for music, Sam appeared in the first episode of the British drama series Vera, as Luke Armstrong in 2011, as well as playing the character of Dean in season one, episode six of Wolfblood in 2012. His 2017 single "Play God" was featured in the FIFA 19 video game.
But his rise to success was stalled earlier this year, when after an extended tour, he had to cancel some shows including his appearance at the famed Glastonbury Festival, after a vocal cord haemorrhage. Following four-weeks of vocal rest, he performed in London's Hyde Park on the same Bill as rock icons Bob Dylan and Neil Young.
Quite an amazing career so far, considering he did not have a bunch of hit singles before the debut album smashed it for him. So, can this precocious young talent cut it live? Does he have the chops? We had to wait a wee bit to find out tonight, but his opening act was a worthy support.
Fellow Geordie Brooke Bentham, originally from North Shields and now living in London, is an old pal of Sam's, from their busking days together.
On this tour she is joined by drums, bass and on guitar, former The Coral guitarist Billy Ryder Jones, for a pleasant half hour set of unreleased material from her forthcoming (February 2020) debut album, "Everyday Nothing", and her recent singles "Perform for You" and "All My Friends Are Drunk".
The mainly laid back and slow tempo stuff unfortunately gave a platform for the folk at the bar to chatter loudly, and show disrespect to the artist and irritate those of us who wanted to hear her set.
But there were times when her moody rock would occasionally explode in all of its power, blasting away the background noise in its wake. But she held the attention of the majority of the audience for the full 30 minutes, who sang happy 24th birthday to her, after she shared the significance of the date.
Sam's turn: Opening his set with "Will We Talk?", the sixth single taken from his debut album. Sam on guitar (a Fender, of course!) and lead vocals,  ably accompanied by drums, guitar, bass, saxophone and keyboards, including his sixth form mate Joe Atkinson.
I was here on Sunday night for Sigrid, and she used every inch of this stage and hardly stayed in one spot for more than a second or two. Sam tonight, was the opposite, rooted to the spot behind his microphone stand for most of the set, a little more animated later on, but not that much. But of course, he's a singer and plays guitar, not a dancer or circus act!
The stage backdrop had sporadic moving images screened on it, like missiles exploding for the song "Hypersonic Missiles", and random cartoon-style drawings by Neal Fox. For the song "Spice", a drawing of Boris Johnson as a strange creature with the body of a bear and wings of a bat. For POTUS Trump, we got a red, fat, round blob – with thin arms and no legs. No comment!
On the opening night of the tour, Sam got political and urged the crowd to vote on December 12th, making it clear his tick would be for Labour. So the Boris and Trump references in the backdrop artwork were relevant, but tonight, no mention of politics. Today being the final day for people to register to vote, too.
They delivered the singles "Millennial", "Start Again" (both from 2017), songs from the "Dead Boys" EP – including the emotional title track about suicide among young males in his hometown after the death of two friends – plus, "Spice", and "That Sound". And of course, cuts from the new album.
The title track, "Hypersonic Missiles", was the highlight of the night. Arguably the strongest single he has released, prompting an eruption tonight; a deafening roar, unanimous jumping and many clambering on to shoulders, more expected for an Oasis or Kasabian gig than a young Geordie solo artist with just one album to his name.
How does he follow that? By sending his mates away, to leave him and his guitarist to perform one of the quieter songs of the album, "Leave Fast". Giving the set light and shade and enabling the fans to bring their BP down considerably.
Wrapping up the night was "Saturday", "That Sound" and a deft cover of his musical inspiration Bruce Springsteen's classic rock track, "Dancing In The Dark", (an artist he has been likened to as "The British Bruce") to close off a set that lasted just an hour.
But after a sterling performance of 14 songs, giving his fans all the songs they wanted to hear in that 60 minutes, it is doubtful anyone asked for their money back or will slag him off on social media any time soon. My bet, his next trip to this city will be to sell out the Motorpoint Arena in his own right. Tenner on it!
STOP PRESS: Sam has just announced a huge spring 2020 UK headline tour with nine dates, including London's Alexandra Palace, three arena dates and ending with a hometown show at Newcastle Arena on 3rd April. Also, look out for him next summer at huge outdoor shows with Kasabian and The Killers.
Words & photos: Andrea Bottino
---
---
Setlist:
"Will We Talk?"
"Millennial"
"Start Again"
"Greasy Spoon"
"All Is On My Side"
"The Borders"
"Dead Boys"
"Spice"
"Play God"
"Hypersonic Missiles"
"Leave Fast"
"Saturday"
"That Sound"
"Dancing In The Dark" (Bruce Springsteen cover)