Tonight was Gary Numan's 15th performance at this hallowed Midland's live music venue, since it opened its doors almost 40 years ago. The venue bosses privately presented him with a memento of a framed list of his shows there since 1996.
The good news: He shows no signs of slowing down or taking up pipe and slippers in his favourite comfy armchair just yet either, based on his stunning performance to a rammed to the rafters crowd of adoring fans here tonight.
This was London-born Gary Anthony James Webb's 19th show of his 23-date "(R)Evolution" UK tour to celebrate the 40th year of his career to date. The excited fans, collectively known as "Numanoids", began forming the queue to get in and bag a prime spot, well before doors opened.
The very first thing you'd notice upon entering the venue was the volunteers from The Soi Dog Foundation. Soi means "street" in Thai, by the way. These guys are a charity established in 2003 in Phuket, Thailand, to help stray dogs and cats over there.
Gary is a big supporter of their work, after they rescued Flake, who is now part of family, and he invited them along on this tour to publicise their work and collect donations.
Support act on this tour is KANGA, from L.A.  A composer, artist, and music programmer who has worked on films that include Nightmare, The Devils Carnival II, Insidious III, and The Conjuring II.
Standing alone on stage, singing to backing tracks and her keyboard. Performing songs from her album, "KANGA" released in 2016 and her self-released EP "Eternal Daughter", which dropped this year. Her sound could be described as a dark version of electro/dance music. She describes it as "Heavy Pop. Industrial but not."
Minimalist lighting and thick smoke added to the moody vibe of her material. A set-up that would work better in smaller venues perhaps. But she delivered what I felt was an extremely powerful set.
Most of the crowd didn't seem that engaged for much of her half hour set, to be honest. She is worth a listen. Gary thinks so too, as he told his fans last month on social media: "Kanga. Absolutely worth getting to a show early." Agreed.
Minutes before Gary appeared, most of the 2000 capacity crowd chanted his name in loud unison, and many of whom now in their 50s and 60s would have been fans since Gary started out four decades ago, and their support never waning.
About a quarter of an hour later than scheduled, the band and the main man took to the stage to loud roars. The whole band dressed in black; drums and keyboards at the back, bass and guitar at each side of the stage. Simplistic stage set, with just a video wall at the back and lots of flashing lights during the set.
Gary looks different to how he used to look like back in the day…..gone is the heavy makeup and pale skin which gave him that striking robot-like look. He has much longer hair today. Dressed casually in jeans paired with a long black vest.
They kicked off with the heavy synth-soaked "My Name Is Ruin", which lit the fuse in the crowd who clearly appreciated the choice of opener. The sole cut taken from his latest album "Savage (Songs from a broken world)", released in 2017.
The set delivered all the big hits. High spots of the night included "M.E." and "Metal", from his debut album "The Pleasure Principle". That peaked at # 1 in the UK album chart after its 1979 release.
Other special moments included "Down In The Park" and "Me, I Disconnect From You", from "Replicas". The second album from Tubeway Army, also released in 1979, the band Gary left to go solo.
The two undisputed most popular songs from the set were the timeless and infectious "Cars" (me and probably 1,999 others still humming or whistling that one throughout the weekend) and "Are 'Friends' Electric?".
Both songs sent the crowd to musical heaven and created a frenetic energy, on and off stage. Band and Gary feeding off the energy of the crowd, and vice versa. The bottom end of the bass through those PA speakers literally rattling the venue from floor to ceiling.
Both songs were released early in his career, shooting Gary's profile and career to the stars. Both tracks smash hits; both hit the number one spot in the UK singles chart. "Cars" was also # 1 in Canada and Top 10 in the US. "Are 'Friends' Electric?" was a chart hit in several other countries.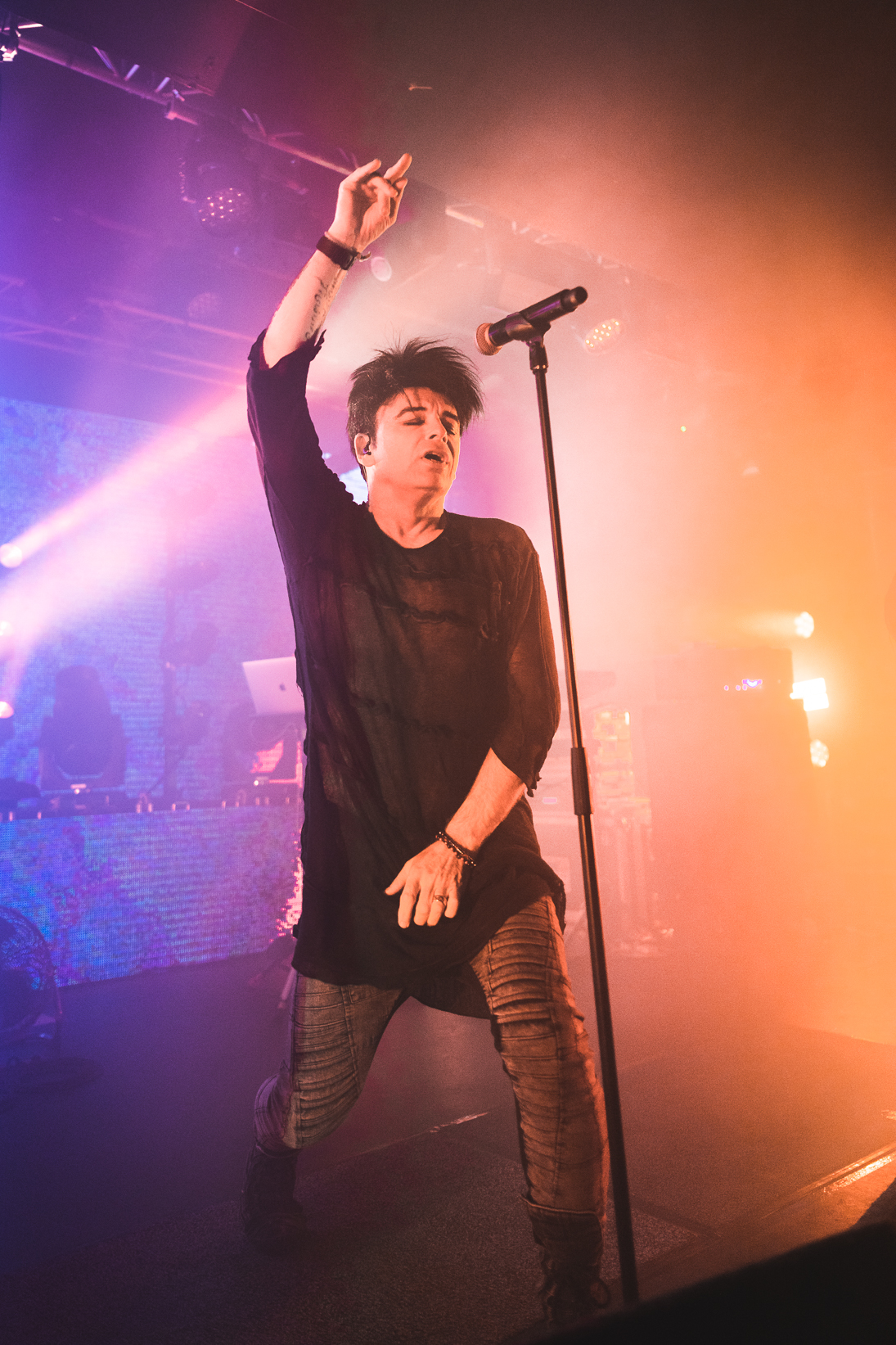 As any real fan knows, Gary is not the kind of guy that enjoys small talk, and most of the concert went by without him talking or interacting with the crowd. A machine gun delivery of song after song with no gaps. No complaints from me or anyone in the house tonight about that.
It was a real charged atmosphere, and a party vibe; the fans loudly singing along with their hero, clapping, dancing wildly and calling out his name in unison throughout the whole set.
Value for money with a total of 19 songs in the set, including a four-song encore, during which Gary broke his silence to thank the fans for their support. Telling us this was his 15th time at Rock City.
A bit of history: Rock City opened its doors for the first time in 1980. Iron Maiden were scheduled to be the first act on stage at the new venue, but that gig had to be cancelled when the electrics were not ready in the building.
The Undertones stepped in to replace them, and ended their set that night with the song that the late and great John Peel named as his favourite track ever of any band or artist: the timeless "Teenage Kicks".
Gary also took the opportunity to reveal he is currently recording the next album, "Intruder", slated for a September 2020 release and a world tour which he says will last two years. To a man (and a woman) tonight, we were all thinking, "Bring it on Gazza. Bring it on!"
Gary takes to acoustic guitar for the closer, "Jo The Waiter", before the rest of the band joined in. This impressive 90-minute set was pretty much faultless, and far removed from an artist past their sell-by date and their star on the ascendancy, just cashing in on the nostalgia market.
His energy for a man of 61-years-old saw him dancing full pelt and his voice still in tact, delivering every song to a high standard. A great showman, superb stage craft. My only slight criticism is that at times, the sound mix made the instruments a bit too loud which slightly buried his vocal.
When my editor asked me to cover this show tonight, it was not one on my radar and I had an open mind as to whether this would my cup of tea, or even if this guy would be anywhere near as good as he would have been in his heyday.
Hand on heart, I am really buzzing from this gig and gob smacked as to how good this guy is after a 40-year-career. Numan is a new man (see what I did there?)
The two nights at London's Roundhouse on this tour will be filmed and recorded.
Set list:
"My Name Is Ruin"
"M.E."
"That's Too Bad"
"Stories"
"Metal"
"Absolution"
"Dead Sun Rising"
"Down In The Park"
"The Promise"
"Cars"
"Here In The Black"
"Halo"
"Me, I Disconnect From You"
"A Prayer For The Unborn"
"Are 'Friends' Electric?"
Encore
"Replicas"
"My Shadow" In Vain
"Intruder"
"Jo The Waiter"
Words & Photos: Andrea Bottino