Earl Slick was David Bowie's guitarist on seven albums and several tours. Lennon's favoured sideman on a brace of albums.
A road-worn uber-cool dude from those mean streets of New York – now hanging tough with punk legend Glen Matlock.
Here, the Slick one swaps stage and studio for an armchair, 'phone and a fascinating dose of star-studded storytelling. Lucy Boulter is all ears…
If there is any truth in the old saying that success lies just outside of your comfort zone, then legendary guitarist and sideman Earl Slick is the walking, talking proof of it.
Whether it's stepping in at the last minute to keep the show on the road, pushing the way he plays to the point of "ridiculous", or just cutting it so fine on travel arrangements that getting to a major rock festival performance takes on the adrenalin of an extreme sport…Earl admits he likes living on the edge of uncertainty and deadlines.
It appears to have served him well – and might be particularly useful for his upcoming London date with former Sex Pistol, Glen Matlock – who, according to Earl, is entirely likely to throw out the set-list halfway through the show.
"What I like about what we're doing with Glen is that he'll have a set-list and then, all of a sudden and out of nowhere, half the songs are gone and he's on to something else," explains Earl, as he describes life onstage as a member of Glen Matlock (pictured below with Earl) and the Tough Cookies.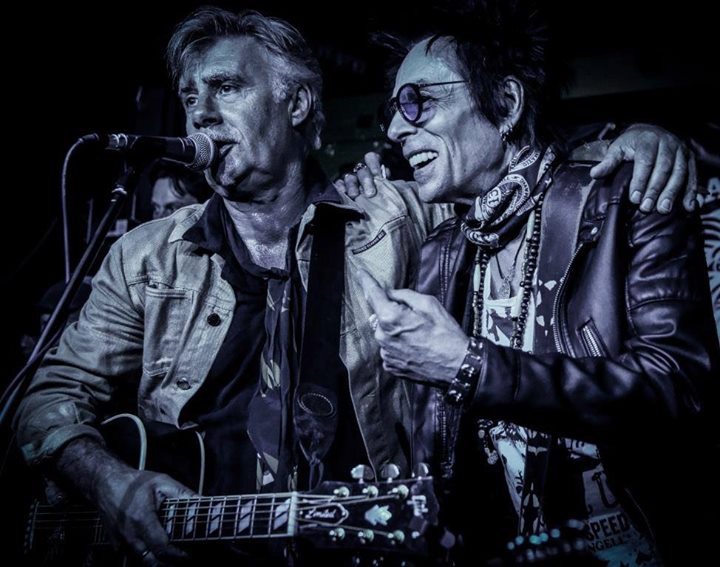 "I like that. I like having curve balls thrown at me. Just as I like being 'Johnny Last-Minute' when it comes to schedules and running for the plane!"
Earl is referring to a last-minute crisis with his travel papers, which could have cost him his place beside Matlock in front of a few thousand fans at the Fuji Rock Festival – and which kiboshed our first attempt at a conversation!
I first spoke to Earl on the 'phone at his New York home, literally as he was rushing out to get a new passport, after the Japanese Consulate had refused him a travel visa in the absence of any empty pages.
When we reconvened our chat, this time with Mr Slick safely ensconced in London for rehearsals with Matlock and the band, I asked him if this kind of crisis was just par for the course in the rock 'n' roll world, or if he found it personally stressful.
Terror…
"Yeah, I do the deadline thing. That terror you go through – it gives you some juice. I don't jump out of planes – I just wait for the last minute to get important things done!" Perhaps it's because the man is a blues player at heart, and lives in a world with musicians he describes as "loose cannons".
"Blues guys have a kind of structure, but often don't stick to it. I've worked with Buddy Guy for the last few years, and even his set-list doesn't mean anything. He'll write out a set-list, but if he sticks to it, it's a very rare occasion!
"And let me say that being a small band with the Tough Cookies, makes life really easy. We're dealing with four people, and none of the stuff is nearly as complicated as what I've been doing with, say, David [Bowie]. So we can do a lot more stuff that's spur-of-the-moment in a live show."
This makes me wonder how different it feels to be a band-member rather than a sideman, which is how Earl Slick has described himself many times over the years, in a career supporting stars such as David Bowie, John Lennon, Yoko Ono, Ian Hunter, David Coverdale and Robert Smith.
"When I get on a stage, it is no different to me. I'm not a lead singer, I'm a guitarist. The lead singer really is the guv', no matter how you look at it, because he's up front – you're not. He is really the focal point, and what you need to do is play your guitar and stage yourself.
"Even when I've had my own bands, it makes no difference to me when I'm on a stage. You make the lead singer's job as easy as you can, so he can perform at his best. He shouldn't have to think about what's behind him, ever. That's a big part of what I do, and probably why I've been able to do the sideman thing."
This apparent lack of ego is quite something for a guitarist who has released seven of his own solo albums – including 2003's "Zig Zag", for which luminaries such as Bowie, The Cure's Robert Smith and Def Leppard's Joe Elliott were lining up to appear as guests.
"It was a hell of an honour to have every one of them pretty much volunteering to do the record. It wasn't like I had to seek them out, and that was the best feeling. I guess that's how I know my ego is in check, because I look at that album and I think: wow, why would they do that for me?"
But for all his down-to-earth approach to his role on stage, Slick is equally clear that there is more to the job than simply turning up and following instructions. "When I talk about having no ego as a sideman, I mean that your first job is to do what's best for the artist or the record or the show.
"But then you have to bring YOU to the table. You can't just be up there playing what the guv' says you've got to play; you would be boring. Know your job description, then bring as much as you can to the table without stepping on people's toes. Then you've done a good job."
This willingness to bring himself to his role will have been a crucial factor in his long-standing professional relationship with Bowie – particularly given that his first job on the Bowie roster (as guitarist on the 1974 "Diamond Dogs" tour) required him to fill the pretty big boots of exiting Spider, Mick Ronson.
Holy shit – now what?
"Once I got the [Bowie] gig, I thought: holy shit! Now what? We have Mick Ronson, and then we've got me…and even though there were some similarities in the way we sounded, there were definitely more differences!
"I actually went to David and I said: look, how are we going to do this? I mean, do you want me to copy his stuff? And David said: no, no, no. I hired you because of how you play, so do what you do. And so I followed that advice – because I couldn't play like Mick anyway!
"I remember, before we did the first gig, I thought – man, after we do this, the press and the fans are going to really like me or they're going to kill me. I was shitting in my pants, but we did the first couple of gigs, and it all went well. Obviously I managed to squeak in under the wire!"
Slick went on to play on seven Bowie albums – "David Live" (recorded during the 1974 "Diamond Dogs" tour), "Young Americans" (1975), "Station to Station" (1976), "Heathen" (2002), "Reality" (2003), "A Reality Tour" (2010), and Bowie's penultimate album "The Next Day" (2013).
Between those albums, he toured several times with Bowie, including what was then Bowie's largest live tour – "Serious Moonlight", which showcased the commercially acclaimed "Let's Dance" album in 1983. Again stepping in right on deadline, this time to replace Stevie Ray Vaughan after a management disagreement.
I imagine it must be hard, looking at a musical canon like this, to pick a favourite? "Yes, there are a lot of songs I'm proud of. Looking at the entire body of work that I was involved with, I'd pick 'Station to Station', because that was the record I had most involvement with.
"You know, there are tracks here and there on all the records – like 'Win' on 'Young Americans', or the title track on 'Reality'. But 'Station' is the one. I look at that as a Bowie-Slick record!"
Bowie once famously said that most of the musicians he ever worked with had done their best work by far, with him. I ask Earl if this was justified, and if it was true for him. "I'd say that rings true! David had a way of pulling things out of , that you didn't think of or you weren't really sure that you could do.
"He was always pushing the envelope, to the point of being ridiculous. But after he recorded it, it didn't sound ridiculous! At the beginning, I'd be thinking: I don't do this! But then you learn how to do it.
"You push yourself into it. Even if this is way out of the box, you do it anyway. The thing about being uncomfortable is that it's something people don't like. But if you are willing to be uncomfortable, you'll get better."
Earl Slick, David Bowie and the heart attack moment…
 Slick was right by Bowie's side at what turned out to be his final tour date, when the legendary rock god suffered a heart attack on stage in June 2004. It was towards the end of the 100-show "Reality" world tour that had been attended by more than 700,000 fans over ten months.
"I was standing next to him on the stage when he had [the attack] in Prague. It was kind of surreal. They misdiagnosed him with something else, and we thought everything was cool.
"Then we did the 'Hurricane' gig a couple of days later (in Scheessel, in Germany). He did not look good. After we did the show, we went back to Hamburg and sat in the hotel for a couple of days. We postposed a few gigs, and I knew something was up.
"This was about a month before we should have finished the tour, but actually that was the end. I was watching a guy I'd known since I was in my 20s, and it was very strange and scary."
Bowie entered a kind of self-imposed purdah after his subsequent heart surgery, remaining almost silent for the best part of ten years. When he returned to the music scene and took us all by surprise with his top secret album, "The Next Day", who else was on guitar but his long-time sideman Earl Slick.
But this was not the first time that Bowie and Slick had experienced a professional comeback together. Previously, it was David's turn to accompany Earl back into the music scene.
"I hit a point…it started in the early '90s…when everything just seemed to be going wrong. I ended up taking a lot of gigs I really didn't want, only because you need to make a living to play music professionally. I got burned out, and I thought: wow, I'm not having a good time anymore.
"I remember thinking to myself, many times – when this becomes a job, like the same job a lot of people have that they dread going to every day and they can't wait to retire from, then I'm out of here. And that was it. I was happy as hell just disappearing for four years or so. And what brought me back was DB. It was David."
In fact, as Bowie was embracing the growing world of the internet, he'd tracked down Slick in his rural hideaway, and brought him back for a mini-tour – and then kept him back in the fold.
It's interesting that Slick calls out "Young Americans" as a Bowie album to highlight – not least as this offered a precursor to another of his major musical collaborations. The album contains the Beatles track "Across the Universe", and a  co-write with John Lennon (the enduring hit song "Fame").
Within five years or so, Earl would find himself back in the studio with the former Beatle, providing guitars on Lennon's final two studio albums – "Double Fantasy", released just days before Lennon's death in 1980, and "Milk and Honey", released posthumously in 1984.
Me and the Beatle – blows my mind…
Given that Slick has often cited The Beatles as an early influence, I asked him about the experience of working with a musical hero. He was far from disappointed."Working with Lennon was everything I dreamt it would be. Though you're right about it being dangerous to meet your heroes.
"I met a few of them that were assholes. It ruins it, and you can never get it back. Working with one of my heroes is something that blows my mind when I think about it."
I speculate that the collaboration must have taken on a whole new poignancy, given that within weeks of being in the studio, 40-year-old Lennon was dead. "Every year, December 8th is a weird day. When somebody gets ill and they die, it sucks – but when somebody is murdered, it's a different ballgame. It's been so long now, but still…it's something that stays with you.
"All of a sudden, out of nowhere, some asshole decides he's going to take this man away from everybody. It's very hard to process, if you ever really can."
This glimpse into the emotional core of a man who looks and sounds like one of the coolest guys in the industry intrigues me. With an entirely intentional nod to his upcoming gig with Matlock, I ask Earl if he is really a tough cookie, or actually a softie underneath.
It turns out that he's simply been giving us all what we want…"It depends on the situation; it can go either way! I would say I'm a fair person – I can be just as nice as I can be the other way, though it takes a bit to get me into the tough cookie realm.
"But I guess I have a reputation…and you know, in part it's the fans who've given me that, so if you guys think it's cool, I'll keep doing it!"
He sounds just like he looks, by the way. Cool as heck. The voice a bit gravelly, a bit sweary and a lot rock god.  He's definitely a New Yorker, for sure!
We hope he keeps giving us the moody looks for a long time yet, but there's no ignoring the fact that at the age of 66, Earl, aka Brooklyn-born Frank Madeloni, is now a bonafide veteran of the music industry.
He is so immersed in it that he has no clue what else he might have been ("A criminal? I really don't know. I could still be in jail, who knows!"), and he has a very experienced view of the business. What advice would he give his 20-year-old self, if starting out now?
"Everything is so different now. Social media, internet, iTunes, Spotify – all this stuff has devalued what we do, because if you give somebody something free or cheap, 24 hours a day, why would they go out and buy your record?
Making music that's actually worth a shit!
"The idea that you would go into a record store, pull out your wallet and spend x number of dollars buying music – it doesn't happen. Just look at the numbers now and compare them with, say, 25 years ago. It's a scary difference.
"To play music, you have to be paid. If you don't get paid, it means you've got to have a day job – and how do you make music that's actually worth a shit, and have a day job at the same time? It's a 24-hour job to do this! The best way for young guys now is just to play live as much as they can, until someone's willing to give them a fair wage."
Is this the same advice he gave his own son – the singer/songwriter Lee John Madeloni – when he started out in the music business? "He gets it, because he grew up with it. He saw it with his own two eyes. And he's got one foot in my world, and one foot in the new world."
It's clear that Mr Slick Senior is commercially shrewd. As well as giving pragmatic advice, he's developed a few business ventures over the years – not least creating a Slick brand with Guitar Fetish – a product range that includes hand-designed guitars, straps and pickups.
What can we expect to see in the next few months, beyond his two August gigs with Glen Matlock and the Tough Cookies (alongside fellow band members Jim Lowe on bass and Chris Musto on drums)?
"I've got a few things in the works, including me and Glen working on some stuff again. We may be going back in the studio, we'll be doing some writing, and I'm hoping – more than likely – we'll be doing some more gigs before the year is over.
"I've got a few things I'll be doing here (UK) on my own.  I did a speaking engagement last year and it was fun, it was really good, so I may squeeze one of those in before the year is up.
"You get a different insight into what the fans are thinking, as opposed to stopping you on the street, or just because you're both on Facebook together – don't even get me started on that! I'm here in London so often I'm not sure where I live any more!"
"When they turn the burner on – that's when I'll say I'm done!"
It's pretty evident in just one conversation that Earl Slick operates only at top speed.  What's a normal day in his life? "You know what I'm doing? I'm waiting until I leave again! I can't sit still too long, I really can't. This last couple of years, I've just been in road mode, and even when I'm home I'm planning my next trip."
No chance of retiring then? "What am I going to retire from – being myself? Because this is what I am. How do you retire from yourself…well, I guess you do – when it's all done! When they turn the burner on – that's when I'll say I'm done."
Words: Lucy Boulter
Earl Slick portrait (top of page): Scott Wallace Digital Designs
Earl standing with signature guitar (3rd image down) courtesy of: www.guitarfetish.com