The UK's favourite Acid house and Trip Hop DJ/producer is back in the game in a big way with his 2019 'In-The-Round' tour – and he delivered an electric performance in Birmingham last night.
The second of seven UK arena dates, the tour kicked off the night before at Wembley Arena in London, and after Brum, visits Cardiff, Glasgow, Manchester, Nottingham and Dublin.
The biggest capacity DJ event ever held at The SSE Arena, Wembley and the largest dance floor ever created at the Birmingham venue.
The place was rammed, with 9000+ in for the rave of their lives, at the 15,800 capacity venue which had sections of the seating screened off to create the perfect space for this sound and light spectacular.
The 55-year-old DJ Norman Quentin Cook, who we all know as Fatboy Slim and Zoe Ball's ex-old man, was doing this shizzle long before the likes of Guetta and Calvin were even thinking about it. Before that, he was in a band as bassist for Hull's favourite sons, The Housemartins.
But after he put his guitar away in its case for the last time, Mr Slim helped polarise the Big Beat industry in the 90s, and has continued to be a Globally respected DJ and mega-producer since then.
Best known for his pioneering smash hit album, "You've Come A Long Way, Baby", which dropped in October 1998, claiming top spot in the UK album charts and Top 40 (# 34) on the US chart.
That iconic album spawned some timeless bangers, such as the wonderful, "Praise You", "Gangster Trippin' ", "Rockafeller Skank" and "Right Here, Right Now", all of which were big hit singles.
The Birmingham gig kicked off with a decent warm-up from Cousn, the Bristol-based DJ duo of cousins Alfie and Billy Goffey. Followed by local girl Hannah Wants, aka House DJ and producer Hannah Alicia Smith. Born in Birmingham, she was once a footballer for Aston Villa and England.
She scored tonight with a cracking mix of house and techno beats and held the majority of the crowd in the main auditorium for most of her set, which is unusual for a support act in an arena gig.
The title of Fatboy Slim's "Boom F**cking Boom" released in 2017, summed up his impact tonight. He came to pack a punch and the punters came to party. No usual concert lay-out with people at the back and in the God's only being able to see ant-size people on stage, and having to watch the gig via screens.
With this in-the-round format, it really was an interactive experience for most, and Cooky was in his element, bouncing around his little empire. Sweating like a Labour party member watching the TV news this week!
Just him, his laptop on a metal trestle table and very little light on his face. Lots of laser-type lighting, strobes, smoke, glitter canons and pyrotechnics. A circular revolving stage in the middle of the hall, with a flying saucer-like overhead video screen which encircles the stage.
Showing animations, various video footage and a weird section; where Fatboy is shirtless in jeans, and the shots morph from him in his usual skin to being, shall we say, rather overweight! Put me off my supper!
Childish Gambino's appearance elicited roars from the crowd, but he was only on the overhead screens, with his "This Is America" excerpts, and not there in the flesh. Aptly his lyrics fitted tonight like a glove: "We just wanna party, Party just for you". Amen to that!
The star of the night takes to the stage to deafening screams usually reserved for boy bands and US Pop princesses, playing a 90-minute, relentlessly hi-energy set. He remixed famous dance tracks such as "Eat, Sleep, Rave, Repeat" which started the night's proceedings with class. The Deee-Lite smash "Groove Is In The Heart" and the Daft Punk cut, "One More Time", "Star 69 (What The F**k)" and "The Joker",  were all well received too.
He brought the night to a close with some of his more original tracks, such as "Rockafellar Skank", the brilliant "Right Here, Right Now" and of course the BIG one: "Praise You".
From the off, he had his crowd where he wanted them and everyone was fired up for the whole set. From track # 1: "Eat, Sleep, Rave, Repeat" to the final seconds of this storming set, the energy levels never dropped from Fatboy or from the fans.
The age-range of the audience ranged from those who raved on the acid house scene the first time round, to those from back in the day bringing their teenage kids along to see what tasty morsels this Cook would be dishing up.
He never took his eyes off of the audience surrounding him (except when changing tracks), creating a real personal connection despite the vast numbers in the house. Constantly clapping his hands and encouraging the audience with frantic hand gestures.
Performing into the cameras mounted to each side of his DJ decks, which may well have been for the live stream going out via YouTube.
For me, being right at the front, it felt like one massive Fresher's party or mega-club experience. One of the best nights out I have had in yonks…People of all ages coming together to embrace the 90's sound that we all nostalgically remember when we hear Fatboy Slim's tracks.
Perhaps a tad more fellas than ladies, but interestingly; ages ranging from 18 all the way up to people in their 50's. It made for a very comfortable and safe vibe, indeed.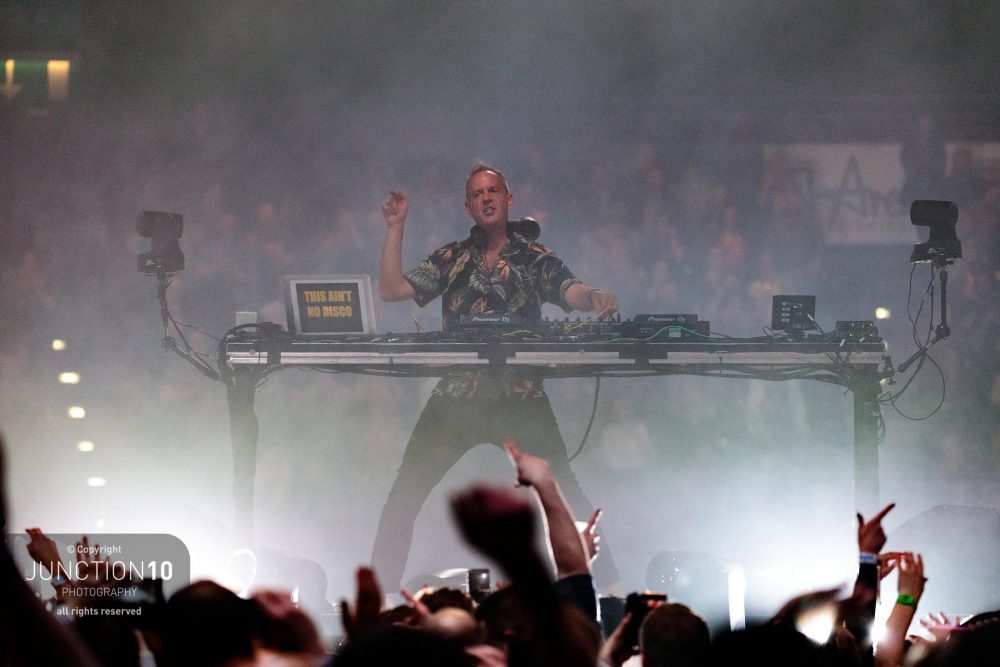 His energy was infectious. He has real stage presence; even in his dodgy loud trade-mark Hawaiian-type shirt. This was a master at work, and you can see it is a real labour of love for this bloke in his job. Knowing exactly what the audience wanted; consistent build-ups and impressive drops, and giving it to them all night.
Forget Brexit and the blasted Backstop, and all the doom and gloom on the news lately. Nothing else mattered tonight for any of us. There was a lot of love in that room.
Fatboy Slim's biggest tour to-date and the second city venue's biggest dance floor in its 28-year history, this was a mighty night and an utter triumph for the true Daddy of British DJs. One tiny note: I would have liked to have heard him sling in some more of his own originals.
Like "Gangster Tripping", "Fucking In Heaven" and "Love Island" from "You've Come A Long Way, Baby" were missed by me personally. Being as that classic album has just had its 20 year anniversary, I am positive I am not alone with that thought. Would also have been cool to hear Norman Cook's mix of the Cornershop hit, "Brimful Of Asha" too.
But…that said; it really was an outstanding and trippy performance that delivered a mix of nostalgic 90's rave culture, and a good old millennial-culture knees up. Best night you could have had – with your clothes on!
Cardiff, Manchester, Glasgow, Nottingham and Dublin fans are in for a real treat when the Fatboy Slim experience plugs in and powers up again.  He's come a long way, baby!
Words: Vicky Thompson
Photos: Jason Sheldon