As we have today (15th December 2018) reached a two-year milestone since we launched on this very date at the end of 2016,  it is an appropriate moment to look back at the "Best Of 2018" to give the artists, the producers and everyone else involved, a great big slap on the back for their magical musical efforts this past year.
The editor and contributors; writers and photographers, all put their heads together and came up with a definitive list of who's red hot this year, and who deserves all the hugs and kisses, metaphorically…
So we have now selected our Best Album, Best EP, Best Live Act, Best Festival, Best Male Artist, Best Female Artist, Best Band, Best New Artist, Best Live Album, Best Guitarist, Best Acoustic Artist, Best Book, Best Music Video, Best Producer, Best Song/Songwriters, Best interviewee…. and if that were not enough; we tip who we think will break through in the next year.
Plus, we applaud those who we voted: "Hot Contenders" in each category, who narrowly missed out on the main "Best Of" vote.
We also name one mega-artist who we all feel more than deserves the nod for "Lifetime Achievement" recognition.
We will be back on the case in 2019, to bring you yet more FREE and FRESH news, reviews and more. Plus we will be launching new Zones on the site, as we travel through the next 12 months of music magic and keep our ears to the ground and finger on the pulse, globally. Bet your sweet bippy on that.
www.musicrepublicmagazine.com   =   The perfect antidote for melophobia…..
Music Republic Magazine "Best Of 2018"
Best Album Of 2018: The Wandering Hearts: 'Wild Silence' (Decca)
Hot Contenders: The Cinelli Brothers: Babe Please Set Your Alarm', Vargas Blues Band: 'King Of Latin Blues', The Betterdays: 'Backlash', Culture Club: 'Life', Paul Carrack: 'These Days', Janelle Monae: 'Dirty Computer', Christine and the Queens: 'Chris', Paul McCartney: 'Egypt Station', Afterhere: 'Addict', Marianne Faithful: 'Negative Capability', Bob James: 'Espresso', Alpha Blondy: Human Race', The 1975: 'A Brief Inquiry Into Online Relationships', Greta Van Fleet: 'Anthem Of The Peaceful Army', Travis Scott: 'Astroworld', Post Malone: 'beerbongs & bentleys', Stone Temple Pilots: 'Stone Temple Pilots', A$AP Rocky: 'Testing', The Ting Tings: 'The Blacklight'.
Best EP of 2018: Sigrid: 'Raw' (Universal-Island Records)
Hot Contender: Kaleb McKane: 'Universe In Reverse'.
Best Live Act of 2018: Years & Years
Hot Contenders: Cinelli Brothers, Sigrid, The Wandering Hearts, 50 Cent, Boy George & Culture Club, Hollywood Vampires, Archie Faulks, Ash, Catherine McGrath, Wallis Bird, Danni Nicholls, The Rolling Stones.
Best Festival of 2018: Black Deer, Kent
Hot Contenders: The Long Road (Leicestershire), Cornbury (Oxfordshire).
Best Male Artist of 2018: Post Malone  
Hot Contenders: Stormzy, Alpha Blondy.
Best Female Artist of 2018: Sigrid
Hot Contenders: Jess Glynne, Janelle Monae, Kat Eaton, Tilly Valentine, Cerian.
Best Band of 2018:  The Wandering Hearts 
Hot Contenders:  The 1975, Years & Years, The Rolling Stones, The Cinelli Brothers, Greta Van Fleet, Stone Temple Pilots, Broken Witt Rebels.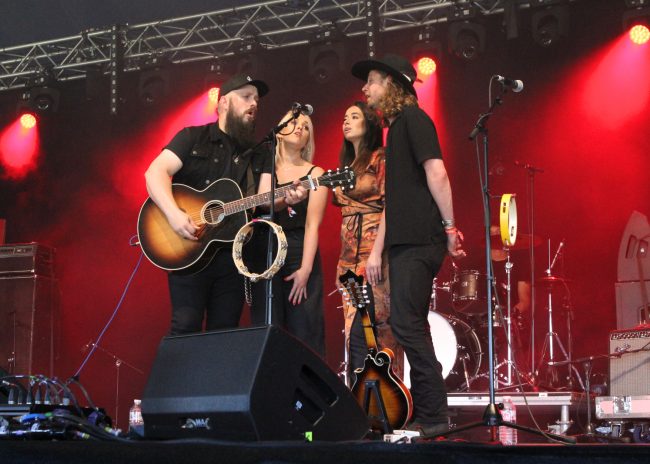 Best New Band/Artist of 2018: Larkin Poe
Hot Contenders: The Wandering Hearts, Kaleb McKane, Kat Eaton, Georgia Blackwell, Dee Ajayi, Mahalia, Tilly Valentine, Cerian.
Best Live Album of 2018: 'Concert For George': Various Artists (Craft Recordings
On November 29th, 2002, one year after the passing of George Harrison, Olivia Harrison and Eric Clapton organised a concert in his honour, at London's Royal Albert Hall. The evening featured George's songs and the music he loved, performed by artists including Eric Clapton, Joe Brown, Dhani Harrison, Jools Holland, Jeff Lynne, Paul McCartney, Monty Python, Tom Petty, Billy Preston, Ravi & Anoushka Shankar, Ringo Starr, Albert Lee and more.
'Concert For George' has been certified eight-times platinum since its initial release as a 2-DVD set in November 2003 and it earned a 2004 Grammy.
Now released (in February 2018) as 2CDs and 2DVDs in digipak w/slipcase and booklet. DVDs contain theatrical version and complete concert, including concert highlights, interviews with the performers, rehearsals and behind-the-scenes footage.
Best Guitarist of 2018: Marco Cinelli
Hot Contenders: Kaleb McKane, Robbie McIntosh, Joey Landreth.
Best Acoustic Artist of 2018: Archie Faulks
Hot Contenders: The Wandering Hearts, Tom Williams, Cerian.
Best Book of 2018: Stormzy: Rise Up: The #Merky Story So Far (Merky Books) Authors: Stormzy and Jude Yawson.
Best Music Video of 2018: Tilly Valentine: Coins
Hot Contenders: Ben Russell and the Charmers: Ocean, Alpha Blondy: Whole Lotta Love, Theia: Candy, The Cinelli Brothers: Back Door Man.
Best Producer of 2018: Pete Hammerton (for The Wandering Hearts album "Wild Silence")
Hot Contenders: Alpha Blondy (for his album "Human Race"), Marco Cinelli (for The Cinelli Brothers album 'Babe Please Set Your Alarm').
Best Song/Songwriter of 2018: Archie Faulks: It Rains
Hot Contenders: Coins: Tilly Valentine, Sigrid: Raw
Best Music Republic Magazine interviewee of 2018: The Ting Tings
Hot Contenders: Jimmy Cliff, Lethal Bizzle, Duane Eddy, Woody Woodmansey, Duke Fakir (Four Tops), Rita Coolidge, Graham Nash, Tom Walker aka Jonathan Pie.
Lifetime Achievement 2018: John Mayall OBE
There are not many artists – if any – who spearhead an entire genre back in the day, influence generations and are still out there touring, performing and releasing top quality albums some six decades after they first picked up a guitar and a microphone.
Our well-deserved 'Lifetime Achievement' Award goes to one such legend. Mr John Mayall OBE, the Godfather of British blues. At 85-years-old and after a recent severe bout of ill health and a hospital stay, John is fully recovered and ready to hit the road to promote his brand new album "Nobody Told Me", due for release in February 2019.
The Blues Hall of Fame member called upon a star-studded array of guests, for something like the 90th album of his career. Todd Rundgren, Little Steven Van Zandt of The E Street Band, Alex Lifeson from Rush, Joe Bonamassa, Larry McCray and Carolyn Wonderland.
Mayall's crack Chicago rhythm section of Greg Rzab on bass guitar and Jay Davenport on drums, along with Billy Watts (Lucinda Williams) on rhythm guitar and Mayall's regular horn section, moonlighting from their day job in The Late Show with Conan O'Brien's house band, join the blues master and his famous pals on the new record.
The album was produced by John Mayall and Forty Below Records founder Eric Corne, at The Foo Fighters' Studio 606. We have the new Mayall record here and it's a beauty…..Review coming soon…
John Mayall was born in Macclesfield, England in 1933 and he is a blues singer, guitarist, organist and songwriter, and the founder of the legendary John Mayall's Bluesbreakers, with an eye and an ear for discovering and encouraging blisteringly good guitarists, and taking them under his wing.
Among those he has had in his band across the years are Eric Clapton, Peter Green, Mick Taylor, Walter Trout, Coco Montoya and Buddy Whittington.
In 2005, the Queen honoured John with an OBE for his services to music, and now it is our turn. We salute you John Mayall and we look forward to meeting up with you at one of your London shows in April 2019.
Thank you for the music and your burning passion for the blues, for leading the way and opening the door to countless young blues musicians this past 60 years or so. Long may you continue doing what you love and what we love to hear you doing….. Music Republic Magazine 'Lifetime Achievement 2018': John Mayall OBE (He should be a Sir by now!)
Most likely to breakthrough "BIG" in 2019: Archie Faulks, Mahalia, Larkin Po
Ones To Watch in 2019:  Babyteeth, Larkin Po, Mahalia, Wandering Hearts, Kaleb McKane, Alpha Blondy, Twinnie, Kat Eaton, Javier Vargas, The Cinelli Brothers, Dan Owen, Tom Williams, Cerian, Tilly Valentine.
We predict….that Sigrid's debut album "Sucker Punch" – due for release on 1st March 2019 on Island Records – will be the biggest selling UK album release of 2019, do very well in USA too and will spawn at least three # 1 singles……A pint of Crème de menthe on it!!!
---
HAPPY SECOND BIRTHDAY TO US……..Roll Call Of Honour….
YOU know that things are pretty messed up when a space in a car park earns at least £2 an hour more than the minimum wage!!! The economic doom and gloom amid brutal austerity measures from the British Government, have put a right dampener on many people's lives this past year.
2018, has been a constant barrage of boring bilge about the Great British Break-Off, or Brexit as it is commonly known. On and on and on…banging on about backstops and bullshit promises of huge sums to the NHS etc etc etc
Well there's one thing that unites us all. One thing that keeps us all going. Keeps us motivated. Puts a smile on our fizzogs and a warm and fuzzy feeling in our hearts. One word; five letters. Begins with M and ends in C. No, not magic or manic, although…..
MUSIC….Yaaaayyyy…you got it. Well, 2018 has been a cracking year for great music from bands, solo artists; new ones and veterans. A brilliant mix of genres from rock to reggae, grime to pop, r&b to Americana and beyond.
This lot here at Music Republic Magazine live eat and breath music. We dream the bugger too.  We thrive on the daily bombardment of emails, calls and packages arriving at MRM HQ, and never knowing what we are going to hear and who we are going to discover next.
Our team of ace writers and photographers have played a blinder this past year, covering gigs and festivals the length and breadth of the UK and beyond. We have had some belting access to the big names and the rising stars; for concert and festival coverage and for interviews. Some hot exclusives too.
The hits on www.musicrepublicmagazine.com have risen massively over the two exciting years since we were born. We reached the milestone one million unique user hits a few months back and are a few hundred thousand beyond that now, and our readership grows speedily and globally every day.
The feedback we get from readers, music publicists, record labels, music management, bands and artists, tour promoters, festival promoters, venue management and others, is very, very welcomed and we are thrilled to say; it is mostly very, very encouraging and complimentary. PLEASE keep it coming.
We are always looking for new writers and photographers to join the contributor's team – based anywhere on the planet. So if you fancy it and have what it takes or know someone who does; please get in touch via the Contact form. Do it now!
So happy 2nd birthday to us. Huge thanks to the small but perfect formed team who bust a gut to bring you fresh produce every single day – we will take 25th December off folks, don't panic! – and to our discerning advertisers.
Our sincere thanks to all the artists, songwriters, producers, recording engineers, musicians, record labels, music PRs, pluggers, publicists, music management, promoters, venues, festivals and more, all over the world.
Who not only helped to bring great music to our attention, but of course, those who delivered that great music, great shows, great songs and great records; for us to share with our lovely readers. And the artists who gave us great interviews and photo shoots.
Big props too, must go to the writers, columnists, photographers, designers, website tech boffins and more, who have helped to deliver an array of top quality, five-star content for our first two years in action. More of the same please guys and girls….
Big thanks to Royal Mail and all the couriers who brave the elements every day to deliver stacks of CDs, vinyl, DVDs, books and more to MRM HQ, from around the world. Bravo.
But the biggest thanks goes to you dear readers, we greatly appreciate you have a big choice of where to pop your cursor and click to get your fix of music and comedy-related news, views and info.
But we think you are very wise visiting our wee music mag' and definitely want you to stick with us and keep coming back. If you fancy reading about a particular artist, new or old, or see us covering particular gigs and festivals – music and comedy – please tell us via the Contact form on the site.
We launched Music Republic Magazine on 15th December 2016 and since then, our mission has been to bring you lots of cracking interviews with a who's who of music stars and legends, and brand new artists and bands too.
We launched a brand new Comedy Zone with an 'Excess All Areas' chat with outrageous Canadian comedy star Tom Stade. We love Commander Tom at MRM and will be speaking to him again in 2019. Brace yourselves!
We have brought you loads and loads of album, EP, DVD and book reviews. Lots of news stories, loads of gig/festival reviews and photographs. Plenty of EXCLUSIVES for good measure…Some bumper competitions and plenty of brand new music videos. Much more too…
So, humongous thanks for a fantastic second year…
Lots of love
The Editor and all at Music Republic Magazine xxx
---
Photo credits:
Years & Years, Post Malone, Sigrid (white tee shirt live shot), Mahalia: Photos by Jason Sheldon
Archie Faulks (colour and black and white live shots), The Wandering Hearts (live shot): Photos by Alex Asprey
Marco Cinelli: Photo by Vincent Ardiet
The Ting Tings: Photo by Simon Redley