EXCLUSIVE
A decade ago, quirky Manchester boy/girl pop duo The Ting Tings came up with one of those unforgettable songs – "That's Not My Name" – that became a global smash and helped their debut album "We Started Nothing" sell more than four million copies.
Simon Redley met up with Katie and Jules to look back over the last 10 years since they blasted into orbit in 2008. To find out why they walked away from big bucks to go independent, and to discuss their brand new album.
It's a brutally honest interview…brace yourselves…. A story that needs to be told and should be read by all wannabe pop stars (careful what you wish for!); and so we make no apology for it being a lengthy read!
Some records are designed to be pure entertainment; a hooky tune and a few lyrics that fit, but not meant to make a dramatic statement or change the world. Others are more thought out than that; a personal expression from the band or artist.
Then there are those albums that are a kind of audio diary and journal of where that song writer (s) is at in their life at that very epoch. Some find that kind of project cathartic and therapeutic. Cheaper than a shrink!
For those artists and song writers who treat their job as an art form, and not a conveyor belt of nonsense. No interest in chasing the cash, the fame, the fortune, the flash lifestyle and the commercial success that the music biz 'suits' around them drool over; they almost all have one thing in common.
Refusing to repeat the writing of the same songs and recording same sounding singles/albums, just because they may have hit upon a lucky break back in the day when they came up with something that captured the collective attention of a lot of record buyers.
Bowie, The Beatles, The Stones…Just a few who didn't ever stick to a formula. Quo; oh, we will forget that last example!
The suits think of the "kerching" of the cash register. The artist who has integrity, doesn't. They strive to make music that they are 100% happy with giving to the world, and not cow tow to the money men who want more of the same. They are usually artists who treat that record like the aforementioned journal or diary. Full of emotion and often, pain.
So, when you spill your guts, it must be bloody soul destroying to see negative reviews; where some spotty child who has just started shaving, or some old booze-addled, past-it, hack rattles out some big words and spiteful phrases, just to show they can write. No thought of the hurt it may cause. Case in point: The Ting Tings latest, their fourth album, "The Black Light", first for four years.
Don't get me wrong, there are many who have raved about this new record. But they are mainly the loyal fans, and those people just discovering the band and do not know their history, and may not know the golden egg they laid a decade ago.
But it seems, most critics – and the record labels – all want Katie White and Jules De Martino to come up with another "That's Not My Name" and another "We Started Nothing". Their killer second single "That's Not My Name" in 2008 is just one of those rare songs that smacks you in the gob when you hear it for the first time. What I call a traffic stopper.
The lyric, the voice, the tango-style groove, the aggression, the power, the attitude, the energy. The whole thing is awesome, "up yours", punk-pop with that indie thing going on too. It sold a few million globally and is still adding to the pair's bank balance 10 years later, being picked up for soundtracks on TV, movies and adverts.
Their debut album in 2008, "We Started Nothing", won them the coveted Ivor Novello award for Best Album. It first came out on a local label in Manchester where the pair were based, and cost £500 to make.
When the buzz began from live appearances, Columbia signed them, and the record and the single were re-released. Both went to number one in the UK chart, and hit the charts in many countries, including the USA who loved them. That album sold a staggering four-and-a-half million units. They were Grammy nominated for "Best New Band", and do not forget; this is just two people on record and on stage.
It was a four year wait for that "difficult second album", from the Ting Tings. "Sounds From Nowheresville" in 2012. Then "Super Critical" in 2014 and now "The Black Light" in October 2018.
So, here I am in Autumn 2018, sat with the pair – singer and guitarist (and other instruments!) Katie White (35) and drummer (and other instruments!) and producer Julian De Martino (Jules) who is 49 – in their secure and luxury HQ in rural Essex, a stone's throw from London's East End.
There's a part-built studio in one room, a black backdrop set up in the main room, where an electronic drum kit and lots of guitar and loops pedals are set up, while they prepare for a tour next year to plug the new album.
Jules is sat in the kitchen-diner behind a laptop working on business stuff. Katie next to him, has her laptop in front of her, but the lid is down. She's been working on new video clips she recorded last night in this very room, to promote "The Black Light" on their social media.
Tea with the Ting Tings…
I am stood the other side of the island thing, sipping a decaff' tea Katie kindly made me. We cover a hell of a lot of ground in this circa hour and half chat, and while we were shooting the photos..
One of those times where I transcribe the tape and wonder where the hell to start, and what to take as the main angle. A lot of good stuff here. Both of them really opened up and bared their souls. Brutal honesty, no showbiz bullshit or stock PR lines.
So, do I hark back to my days as a tabloid news and showbiz journalist, and focus on the "juicy" angles that came out during our chat; from their decade of the music business and travels all over the world. Their overnight success and rags to riches story?
The bailiffs taking their gear away one minute and global stardom; selling four-and-a-half million albums and smash hit singles, the next. 'A-list' red carpet stuff and limos. First Class air travel to dozens of countries, playing to thousands of fans.
Katie ending up in hospital in the USA, seriously ill from exhaustion and a chronic condition she still has, but the music business 'suits' just wanting her to get back out there to earn them all more $$$.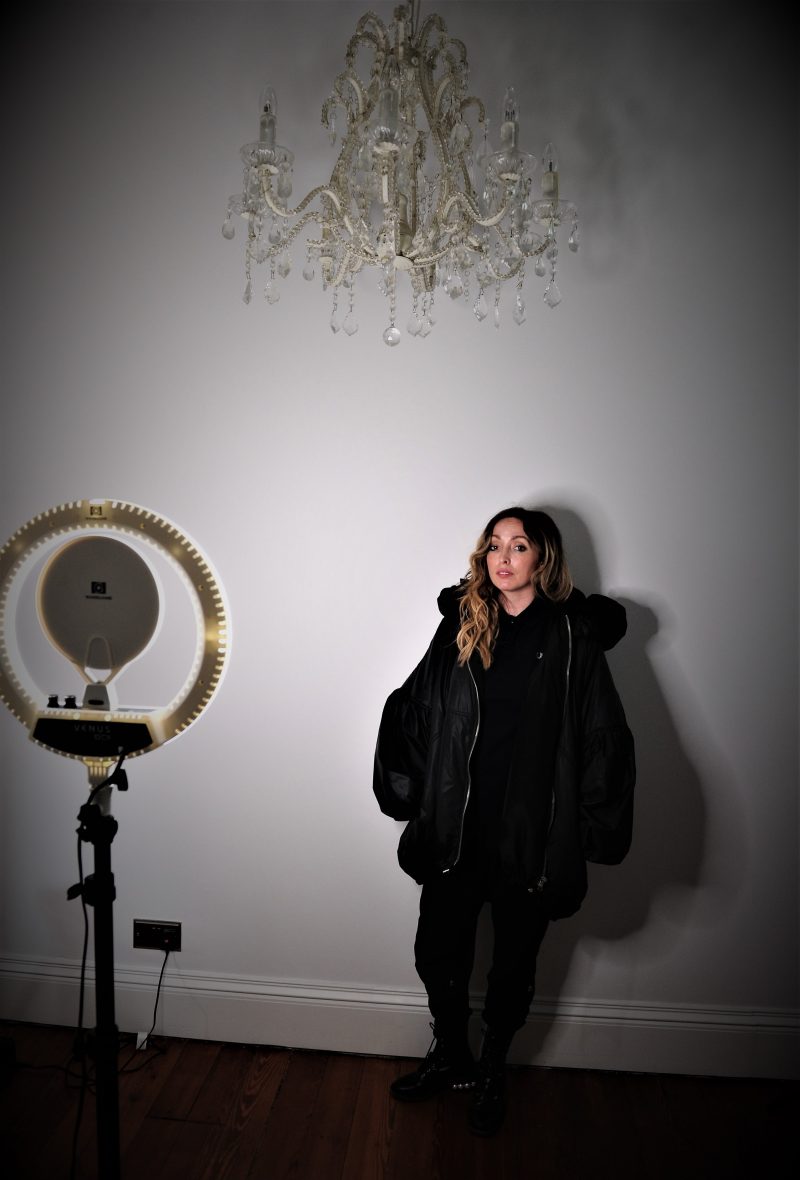 But no. I'll start with what we first spoke about. The new album and why the title "The Black Light". The other potentially headline grabbing stuff can wait until later in the piece. Katie opens the batting. "The title comes from a period in our life where we were writing the album between Spain and Los Angeles, and we got like cabin fever, severe anxiety; me especially.
"I think we'd spent so long on tour in this bubble and we just kept going, didn't stop. 'Let's live in Berlin for a year'. 'Let's tour for three years and let's live in Ibiza for six months.' Then, 'Let's tour and let's go to America'…
"And one time it stopped, and all the shit that happens in your real life, from families, relationships, friendships, all those things; I think we'd like buried them because we were on tour. So, all this tidal wave of, like, 'oh shit, that relationship's really fucked up', hit us. 'Oh God, I feel really bad about this'.
"All those emotions came to the top. We called it the 'The Black Light' because it was almost this black UV light that shone on our lives after 10 years, and had shown up all the things and those emotions we weren't really dealing with. I suppose you can lose yourself in your work. We did that, and we did that brilliantly. We just kept saying, 'Oh, real life's a bit weird, but let's just keep going and going and going".
Are they or aren't they?
So how do you separate the private life as a couple, to the business and being The Ting Tings? Katie again: "Well, we never actually say we are a couple, and I think that's the most important thing. We have never discussed our personal life, and whether we are, or we aren't. Nobody ever gets into that world.
"In an interview, we wouldn't say we are a couple, we just say we'd rather not discuss it and that just seems to separate whether we are or aren't. It doesn't invade our lives the same. Is that too cryptic?". Katie laughs. No comment!
Jules chips in: "There are just the two of us and that's the hardest part.  If we fight, and we have a major disagreement, it's over. It's a simple as that. Two people splitting up; as a band, emotional, a relationship; it's done.
"So, we were always aware right from the beginning of performing publicly, if we fell out because of what was going on around us, and we let that affect us and we started arguing, then the band would be over. We are both quite strong-willed people about what we want and what we wanna do, so we always said that's number one; just don't fall out.
"It doesn't matter what is going on. We leave the crew and everyone, and we lock ourselves away and always sort it out between ourselves. We don't need a manager in between us. This business is great, but everybody's got a bloody agenda. If we can't sort this out, no one can.
"A mediator means you are just shelving stuff. Manager wants you to get on, do the gig, go do interviews, and really you are putting everything away for another day when it is gonna hit you fucking harder. Sometimes we have actually blocked the dressing room door with furniture; after walking off stage with a beef because we've got something brewing.
"We have actually done a gig with a beef and Katie's actually turned around in front of 50,00 people, and said to me on the drums, 'You fucking idiot', and people don't know we just beefed before we got on stage.
"You can see it starts to get out of hand and it starts to involve everybody. Everybody's got an opinion, so we go to the dressing room, lock the door, get it sorted out. Doesn't matter how much we scream and shout, we get it sorted out. Then we let people back in.
"But we very rarely discuss our kind of breakdown moments or our disagreements in public or even with our crew. If we can't sort it out it is just gonna get worse. That's how we have dealt with it all the time. Your relationship, as two people working together 24/7 in most cases; you can imagine how taxing that can get, just like any marriage really".
The pair first met when Katie was a teenager and her Father paid for some recording sessions that Jules produced, and then reconnected a few years later to make music together. They moved in to Islington Mill Studios (The Mill) in Salford, a funky creative space and collective/commune vibe, a year and a half before the Ting Tings really got moving.
They were both in the band Dear Eskiimo, signed to Mercury, and had enough money to rent some creative space at The Mill and set up camp there for about a year. But the deal ended without any records released, and they were disillusioned with the music business and were scrambling to pay the rent. That band split and Jules and Katie started The Ting Tings.
They began holding house concerts in their sitting room, and 10 and 20 people became a rammed 60+ and sat crossed legged on the floor, were various VIP record label bosses and A&R men.
Their first double-A single "That's Not My Name/Great DJ" was jointly released by the band and local label, Switchflicker Records. With their second single "Fruit Machine", they were on heavy rotation on British radio, including BBC6 Music and others. October 2007 they toured UK universities with Reverend and the Makers, and  signed to Columbia Records.
So, back to our chat. The new record is far less poppy and the PR blurb says it is a "new sonic direction for the duo". So, what's the main difference between the chart stuff and what you are best known for, and these eight tracks on "Blacklight"?
Jules takes this one: "It wasn't conceptual, but the band at the beginning was always going to be one album. We were doing a lot of art, we were pretty smashed every night and experimenting with loads of situations we were in.
"When that first album came out, we were blown away by the reaction. We did it together with a local label for £500. A year later, that record was successful commercially. So that first year, we were already finding underground success; XFM were starting to play us, 6Music, doing shows in our front room.
"So, there was a really exciting first year and we were still able to get smashed off our faces. We didn't have any money, but there was action going on around us and people taking note. We ran our own label, badly, printed the records in Germany cheaply, really excited about it and learned from it. Surrounded by lots of artists at The Mill and really involved in art. I studied Fine Art and Katie got absorbed by it when living at The Mill.
One album and we quit!
"We made up this fantasy world that we'd do one album, put this album out and then we'd disband and find something new to do. Something creative. At the end of that first three years of touring, and that first record's amazing success; the hits, selling four-and-half-million albums, of course, it's a completely different kettle of fish than when you are selling 500 records and saying, we do one album and call it a day.
"At the end of that, it's harder to stop The Ting Tings and to do something else, because you've got all these opportunities to see countries you've never seen before, so we decided to do a second album.
"But we decided not to make the same record ever again. So, if you look at the history of the band, people don't register it. They just think we've gone weird and a bit loony. Every single record is completely different.
"That's been on purpose, because every time we sit in a studio, if we hear 'That's Not My Name', or thought of it or anything sounded like it, we just didn't want to do that again. Every time something started to sound like it; a shouty vocal like the first record, post-punk or whatever you want to call it, we'd go, no, no, we are doing it again.
"So, we moved to Berlin at the start of the second record, had no friends, started a whole new thing, a whole new life, which was really hard. It was minus 25 degrees, the worst winter in Berlin for years.
"We had worked really hard for three and half years, not seen family and I remember Katie sitting there and saying, why have we not just taken a holiday and enjoyed a bit of our success. But we didn't, we went straight to Berlin and started to carve out this new space, in an old café in East Berlin.
"We thought it'd be amazing; all the greats have done it. Bowie… follow in their footsteps. It started producing a different sound on the record and we thought great, we have achieved that, and not stuck in that world where the first album has been really good to us and so we are going to be good to it. The third record was in Ibiza, when we teamed up with Andy Taylor from Duran, who co-produced that record.
"That brings us to L.A. as we always said we'd make a record in L.A. So, we did some there and in Spain, to finish the record. As you can see, we are not shying away from the fact that some of our fans go, it's not the same, you change so much each time. But that is on purpose; it's not because we can't play the guitar like we did on the first record or do it how we did it then; we choose not to."
Katie has sat quietly taking all this in and pops up with: "It's an indicator of where we are in our lives. I couldn't write 'That's Not My Name' at 35-years- old, I wouldn't be in that state of mind. I was 22 when we wrote that. At 35, I want to write something that's a bit more meaty for me. 'That's Not My Name' was meaty for me as a 22-year-old, finding my feet as a woman and getting into punk bands and feminist punk bands. I really got into all that.
"I grew up listening to the Spice Girls and somehow found bands like Le Tigre and The Gossip. I am 35 now and listen to all kinds of music. You get more baggage by the time you are 35, so you write about it. We still come up with catchy, poppy stuff, but they do not make the album. The lyrics are not profound, or they do not mean much".
Jules: "Every album that we have made, to us at least, means a lot. That's always important. We can listen to any one of our records, we still feel every one of those albums represents the best we could have done, and in the most honest way we could have done it.
"That first record, we are so proud of. It's cheeky, fun, full of prime colours, that was us then. That was where we were. It was not like we were trying to have a hit, a pop hit just to cash in on something".
The incredible fact is, the smash global hit and big money maker "That's Not My Name" was already written when the bailiffs were removing their belongings!
Katie remembers: "We didn't expect it. We wrote 'That's Not My Name', drove to Spain for two weeks off, around Christmas, Jules went to see his family, and then he was on such a downer because we'd been dropped (four or five months before that) by Mercury Records in our old band.
We are terrible song writers…
"We wrote 'That's Not My Name' quite quickly after being dropped. Jules was going, 'this song's fucking shit, we are useless, we are terrible song writers', and we are sat there with 'That's Not My Name', and no one had heard it yet.
"It used to give me goose bumps. It's so hard to judge your own work and depends on what frame of mind you are in, when you are listening to it. I think it is reflective of our state of mind then. For us to put ourselves out there again and get reviews, good or bad, and go through that pain, it has to mean something to us, every time".
So, after all that "overnight" global success, was there a deliberate mission to swerve mainstream, major success, with the brave move to independent and their own label. Rejecting major label offers and all the machinery that would be behind them now, as compared to the DIY approach?
Jules responds: "I do not think it's the success. We are really privileged people; we had a record that just keeps going. That first record just doesn't stop getting synchs (licensed for soundtracks) all over the world, and getting played.
"Our lawyer once said to us, you just made one of those records, it happens every now and again. It is very easy for us to say, yes of course we swerved the majors, of course we didn't want to be part of that crap machine. That's an easy answer and that's the truth. It's shit. It's a crock of shit. But, it's easy to say that when you've had a hit record, because you are able to swerve a lot more and you can be a bit picky. That's the truth of it.
"So, the answer to that question is, it's totally deliberate. On our third record we were in L.A. and we were offered two big record deals. They were jumping over that third record and the money was substantial.
"$2m+ and we walked away from both those deals because we had already made our minds up; this was not what we wanted to do. It was not a personal attack, but some of the people got angry that we walked away, and the way we dealt with things. Because they can't take no for an answer. It was us saying to ourselves, we can do this, we can write music, survive in music and put a smile on our face, and not be disappointed all the time with things going on around us.
"It's disappointing when you're dealt with in a way you feel you are better than that. We are not a machine, we are artists. We write when we can. We try to play our instruments as good as we can, when we can.
"It's an emotional moment. You cannot push a button and expect another successful story of that first album, just by pushing a button. It does not work with me and Katie. We don't have six writers, we don't have 10 producers".
We talk further about the pressures of being red hot and in demand, and the conveyor belt the record label and management want you to strap into, and do as you are told to sell more "product".
Katie tells me about the call when they were told they needed to appear on The Extra Factor, the sister show to Simon Cowell's fame-making TV talent show The X Factor. Not to perform, but as guests to chat about the contestants.
They said a very fast, no thanks. "We were told, 'don't blame us if your album doesn't chart very well this week'. If our fucking careers are hinged on Extra Factor, we'd rather not, thank you very much!
"Got no issue with the programme, but it is just not us or what we do. We came from a very independent background and we wrote a song called 'That's Not My Name', which went worldwide.
"We signed to a major label, so you can't complain about it when you are in it. But what we can do when we come out of it three years later, we can evaluate it and go, 'ohh, that part of it didn't feel very good. Learn from it and go, 'so do we still feel good about our creativity.
"Of course, it is lovely lots of people hear our music, but I am not sure I'd want to sit on that conveyor belt again, even if we had written a song that we felt could cross over. It didn't make me feel good after three years of doing it".
At this juncture, both of them want to stress they really do not want to come across as "bitter and whining" and "against people who do that, do well and enjoy doing it". Well, they didn't come across like that to me in the room with them, and the focal point of this article is not about their gripes and how knackered they got.
It is a rare insight and lid-lifting of a 10-year roller coaster ride of two ordinary and talented people from Manchester (Jules was born in London), who became global music stars and sold a shit load of records in just three years, and a number that most artists cannot get close to across a 50-year career.
The warts and all, no holds barred story of how they coped with that fame, and how you kind of sell your soul to the devil in the music business when you sign those contracts and bank the dough. Jim Morrison had it right: "No one here gets out alive!" So it is fairly easy to see why they kick and scream to stay away from that stuff again, and why they rejected big money deals to go DIY and get their lives back under control.
Katie tells me: "We are just happy with our little corner of the world now and to put our music out. If it connects with 10 people great, if it connects with 10,000, great; it's just our little cottage industry…"
So, was the "overnight success" and the mahoosive chart success, huge record sales of "We Started Nothing", hit singles and the global profile, easy or hard to deal with at the time? "For me more than Jules, because of my age when it took off. I had an issue a couple of years ago where so much of my identity was wrapped up in what I did; the thought of never doing it again, I would feel like the rug had been pulled out.
"Where Jules is very at ease with himself, I am very at ease in my band and can't really function outside of it very well. I had to really address that. Can't put my whole self-confidence and self-worth, just on the band. I think it was my age that did that. I was 22 and had to work to find my identify and my confidence outside of it".
Her partner in crime added: "The first album was so successful, we toured for five or six solid years. Even though we had two records out, that first record was still growing. Five years on and we'd go and play to 80,000 people and play those hits, and they'd go nuts.
"That felt good, don't get me wrong, it was an amazing feeling. The second album came out, it did OK, but nowhere near like the first one. But we were going into our own world and saying, we need to protect ourselves from this, this is getting out of control.
"For the third album, we became more independent and we learned a lot. This one, we have really got it down to do what we want to do. For the third album, we were going through the transition and Katie found that very hard".
How? "I found it very hard to function in normal life and wanted to be constantly on the road. I think a lot of bands that tour and even in the Army, in a big bunch of people, and then you are off and go back to normal life. You think, hey, I am just sitting in watching TV tonight…."
They moved to Spain to make this latest album. Built a cool, state of the art studio in a basement of an old café, invested serious cash and three months, and when they walked in to the newly finished studio for the first time, it looked great. But, they both got this "fucking feeling; like dread".
"Pressure", says Katie. Jules continues: "Even though it was comfortable, it was uncomfortable. We just didn't want to be there, and we'd leave and say; let's have a couple of days off. What are we gonna write? What are we gonna do?
We have fucked it…
"We forced ourselves to go there, but every note, everything we played was straight through to the bone like a cold winter's day. It really got to us. We got worried, we started thinking we have fucked it.
"We have gone past that point. We don't want to put a record out. I couldn't even listen to my massive record collection anymore. I was thinking, I don't want to do this anymore. How about being a lorry driver, that would be great…..or a bus driver……I had all these mad thoughts". Fares please!
Katie recalls that time: "We went upstairs and didn't set foot in the studio again. I had my iPhone and my little guitar, and this whole album was written on them. My Martin guitar, a mini one, one of my first guitars and lyrics written on my phone".
"Yeah. Katie had her knees up in front of the fire; it was cold in Spain then, playing her guitar and she'd written all this poetry, and I didn't even know", says Jules.
Katie gives me further background to how she wrote the songs for "The Black Light". "I'd gone through this really panic-attacky, anxious phase and I think I was in fight or flight mode. I'd bash out the lyrics to a whole song in two minutes. It used to take me weeks. But they all came flying out".
Now it is at this point, at about 45 minutes into our chat that there was a first for me, in my four decade media career. Someone throwing up during an interview. I know I ain't much to look at, and my questions might not always go down well, but retching and vomiting has not happened before.
But fear not Ting Tings fans. I hadn't made Katie or Jules, Tom Dick. It was a third party in the room. Katie's fur baby, Mucho, after a snack on grass. That's the green variety in the local woods, not that illegal stuff by the way. Mucho and his mate Poco are both rescue dogs Katie and Jules brought back from Spain.
I am still interested in going back to before their careers went ballistic and big-time. Tell me about the pre' "That's Not My Name" era. Katie kicks off. "We toured the UK as a support band to some US EMO band for £50 a night. Squashed us and our gear into a little Mini Cooper and did eight shows.
"There were hardly any two-piece bands out there, and in the first 20 seconds of us starting playing, we knew the audience was on our side. We'd been in bands before where you have to really win the audience over.
"I'd only been playing guitar for about eight weeks at that point. Jules was drumming and me out front singing and playing guitar". Today they have a crew, but back then, they would both get the gear out of the car, and Jules would set it up and then change his tee shirt, and they'd go on stage and "hit it really hard".
So after they were signed by Columbia Records, the momentum started building as different countries picked up on the debut album and that killer cut "That's Not My Name". Katie looks back at that time: "We were blooming in the UK….and we'd get a call saying college radio in America has taken up the single, and you need to tour there. So, we'd tour America for three months.
"Japan's just found you, they really like it, go to Japan. Then Australia, then South America… so we never actually felt successful in any of the countries, because we'd always go to the countries that we weren't known in, build it there, then leave".
Jules continues: "You had these bands turning up in limos and we'd be in transit vans, because every new country we went to, we were starting out. We were out of the UK after that hit record for three solid years, give or take a few shows here".
Katie's Mum: "You are everywhere – you do my head in!"
Katie's next comment makes me laugh out loud. "My Mum would go, 'you are everywhere, in fact you do my head in! You are on in every shop, on Bargain Hunt in the background'. It was everywhere.
"But it got so saturated and so marketed, nobody knew what we were. Nobody knew anything about us, just this song that kept getting played constantly to the point of driving some people nuts.
"We come from a real art, independent background and it just didn't feel like that after three years. In France or The States, we were like a big-ish indie type band, and in South America; but in the UK, our audience was from two-year-olds to Grandmas who liked us.
"It's not looking at a band for longevity. It's 'lets really get everything we can out of this', and then we are left to pick up the pieces'. So, we have really fought for that these last two albums…."
Katie tells me about how ill she got during their whirlwind few years, but the music biz machine didn't want her to press "pause" and she ended up in hospital. "I'd had exhaustion on tour, where my hair was falling out, because I was so malnourished and run down. Because we were so severely jet-lagged for three years. We learned to fall asleep stood up.
"Jules would be asleep five minutes before a show, jet-lagged, and someone had to wake him up, he'd neck Tequila and go on stage. You can only do that for so long. I remember lying in bed and we had another day of promo, and I am thinking, I just can't get out of bed. I am so frail, so unwell and nobody gave a shit. I even got hospitalised.
"Coming out of hospital in the States and it was, 'if you can just do this radio thing….' I had stomach problems which are ongoing now, because I was so exhausted my body started attacking itself. Three days in hospital.
"We had a huge promo run in America and they were saying, you need to go see a specialist about this. It is a chronic condition you have to learn to live with. And we are picking up phone calls: 'oh, they are never going to play your record again if you don't do this and be nice to them. One point I am thinking, stop the world I want to get off".
…she's down to a ridiculous weight, like six and half stone; down to bones…
Jules takes up the story: "Katie had a temperature, and we were dosing her up like you would with the flu, but four days later it was getting worse. Rather than seeing this person crumbling and picking her up like a parent would do to a child, I am living the moment. Swigging Tequila and wanting to kill with that show in front of 50,000 people in Mexico or wherever. So I was not great.
"But when the person you put this altogether with and who you love, falls down physically, you go fuck; are you alright. And you pick her up and she's down to a ridiculous weight, like six and half stone, down to bones, (Katie says it was because her body was not absorbing any food or nutrients), I realised I just didn't see this coming".
This was back in 2012. Katie adds: "I fully understand a lot was set up to do, radio promo etc, but hang on, I am not well. I just want to go home. That's when you feel, oh, hold on, this is a business".
"The tour was cancelled, and the doctors in the hospital ordered Katie to go home, but she had to wait two days because she was too ill to fly. We got on a flight to Manchester; it was that serious," Jules recalled.
So, after a decade of this shit; the highs and the lows and the enormous pressures, how did they feel today? Katie: "Wiser and calmer, and able to analyse things a lot more clearly". Jules: We realised there is a lot more to life. You miss out on so much more, but we have found a balance.
"Playing in front of fans and the public is the most exhilarating thing, and it doesn't get any more honest than that. It is the only place we can honestly say that the music industry is real. To play to 10, to 10,000 or to 100,000. It doesn't matter….."
We adjourn to another part of the apartment for me to shoot a few photos, and then it's overcoats on to venture outside for a few frames. But I know my time is up when Katie begins to pat her tummy and pulls a face. "You OK," I ask. "Yeah, but I am hungry. I really want a McDonald's!" Jules and I share the same look of disapproval for her choice of cuisine, but who are we to argue!
Final words go to Katie and Jules summing up their feelings about how precious their independence and creative freedom is today, as artists who refuse to trade on past glories, or plough the same musical furrow that others often expect them to.
"We make strange choices, sometimes good, sometimes bad. But 10 years have passed since our first album and we are at ease with the way we are. Even oddly proud."
Proud. So they should be. I am very happy it's Ting Tings time again, and that IS their name….(Katie got her Filet-O-Fish at Maccie D's, by the way! Wonder if they got her name right?)
"The Black Light"  by  The Ting Tings is out now on Finca Records
https://thetingtings.com/   https://www.facebook.com/thetingtings
Words and Photos: By Simon Redley