US rock legends Metallica announced a European tour early today (Monday 24th September) on Twitter – around the same time as a press conference was being held at Slane Castle near Dublin to confirm a date had been contracted at that famed open air venue next summer.
Metallica will join a glittering array of rock and roll bands and artists who have performed at the historic venue since they began promoting concerts there in 1981, when they fly in to rock the ramparts on Saturday 8th June 2019 as part of their "Worldwired" tour.
Those 25 summer dates across 20 countries next year will include Etihad Stadium, Manchester on 18th June and Twickenham Stadium, London on 20th June. The European leg of the tour kicks off in Portugal on 1st May.
The nine-time Grammy winners will perform a two-and-a-half hour set and support on the tour will be from Sweden's Ghost, Metallica's Lars Ulrich's favourite new band, and Norway's Bokassa. There will be up to six acts on the bill for the Irish date, with more names to be announced.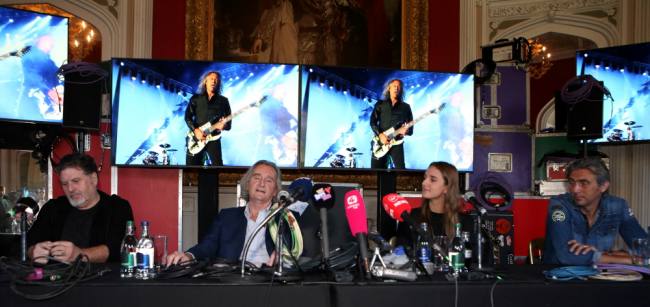 Slane Castle owner Lord Henry Mountcharles and his children Alex and Tamara were joined by music promoter Denis Desmond, boss of Irish company MCD Productions who are staging the concert, at today's press conference at the castle in County Meath, circa 25 minutes North of Dublin.
Metallica are high on Lord Mountcharles' bucket-list of acts still to appear at the castle, set in 1,500 acres and which has a capacity of around 80,000 people, having attracted a real who's who of the world's biggest bands and artists to the venue across four decades.
Thin Lizzy were first to grace the stage at the castle in 1981, and since then a royal rock and roll cast list includes Coldplay, Guns N' Roses, Queen, Red Hot Chilli Peppers, the Rolling Stones, Bruce Springsteen, Robbie Williams, Madonna and U2.
Bono and his band mates played two sold out gigs in 2001, and they recorded their hit album "Unforgettable Fire" in the drawing room of the castle; along with shooting a video for "Pride". Most years the venue hosts just one concert, but in 2013 both Bon Jovi and Eminem headlined separate shows that year.
Metallica have a love of Thin Lizzy, having covered "Whiskey In The Jar" back in 1998, for which they received numerous awards, and co-incidentally, 1981 was the same year when Metallica formed and Lizzy were christening Slane as a major concert venue – with a band called U2 on support!
To enable Metallica to play their first show in Ireland in a decade, they shifted previous commitments around to accommodate the Slane date. In a video message from the band, played at today's press conference, they said they were "psyched" to be playing Ireland again.
Lord Mountcharles told the assembled media that for any act to be considered as the headliner for a Slane Castle concert, they need to be a "stand- out live act, and Metallica tick all the boxes in that respect". Promising a "big, brash production in terms of staging".
Metallica have been the really big one missing from the Slane Castle history across the years, Lord Mountcharles said today.
He revealed he has tried to get them to appear there for several years, without success. The band are known to limit their live shows to no more than 50 per year, worldwide. "I am expecting this one to really top the barometer".
The Los Angeles based four-piece of James Hetfield, Robert Trujillo, Lars Ulrich and Kirk Hammett have sold in excess of 125 million albums, and cemented their place in the world's rock history books.
Words: Ian Shipley
Slane Castle press conference photos: Ian Shipley
Metallica photos: Jason Sheldon