A monthly column from US-based session musician, songwriter, producer and one time Rolling Stone magazine writer, Jon Tiven. Lifting the lid off of the business of making music…
---
Last week, a stampede of artists descended on Nashville to celebrate the past year of Americana Music, and to not answer the question: What Is Americana?
As far as I can tell, it's an embrace of multiple genres that do not necessarily fit into the typical radio formats (Hip-hop, Rock, Country, R&B, etc).
But there is overlap (particularly with Country), and the honourees of the annual awards are not always American (Van Morrison and Richard Thompson, the most recent examples).
Many years ago, there was a radio format called 'Triple A', and a lot of the artists that seemed to fit into that format then are Americana now.  It could be called, "Anything But Hip-Hop or Metal," but I think the shorter appellation is probably handier!
When I first moved to Nashville in 2002, it was the dawn of Americana as an organisation, and the joke at the time was that it was the only genre that had more artists than fans.
Now, it's big business and Americana Week reminds me of nothing more than the golden days of New York City's New Music Seminar. So, to try to completely type it as a musical genre is to sort of ignore that it is an umbrella for non-mainstream artists.
Crazy week in Nashville…
When it comes to marketing those who don't fit into traditional categories, it's your go-to genre. It's nice to see the folks behind the Americana organisation embrace the blues and British rockers, but it doesn't make it any easier for people to put their finger on what Americana is or isn't. In any case, it's a crazy week in Nashville and I watched the awards show on TV and went to a few parties and showcases.
The musical onslaught is heavy duty even for a music town like Nashville, and with a badge you can slip into any club in town and catch a handful of acts per night, if you've got the energy for it. My main takeaways were not anything stupendous, but I'll share them with you anyway.
The focus of the whole thing is the awards show, and this year they had the Milk Carton Kids host the show, instead of perennial favourite Jim Lauderdale. The host for the show sets the tone, and Jim always brought to his job the respect and friendliness that distinguishes Nashville.
I did enjoy the song about Americana which the Milk Carton Kids wrote and performed, which was as true as it was entertaining, but as hosts for the show, IMHO they subtracted more than added.
Their sense of humour – which may work in the context of their own act – seemed to be at the expense of the artists the ceremony is supposed to honour.  It set the tone as "contemporary ironic", so that when Tyler Childers came up to accept his award as "Best New Artist" and delivered an ungracious speech – dissing both the Americana Association and its fans – one could only wonder whether this was scripted and ill-judged comedy or sincerity.
It was nice to see Buddy Guy honoured. He is a great talent and a lovely guy (plus, he cut two of my songs, "Midnight Train" and "Heavy Love").
Jason Isbell seems to be able to win every award he's up for, and he's found tremendous success against great odds; so kudos to him – another good guy.
Irma Thomas knocked it out of the park with her performance of "Time Is On My Side," she's obviously deserving of a lot more attention than she gets from the Grammy's.
"The attempt at inclusiveness is healthy, and I hope that we get some better music out of it now that there seems to be greater support systems for niche artists as part of Americana".
What were my personal memorable moments of Americana Week? I always enjoy seeing Cedric Burnside, who is a very exciting drummer, singer and performer. I only wish he had a better context for displaying his talents, as the duo format with him singing only half the time, doesn't do him justice.
I got to hear Jim Lauderdale at Atomic Booking's party and that was probably the best musical event of the week. Thanks Jim. Ran into a bunch of friends at a few other parties and made some new ones. What more could one ask for?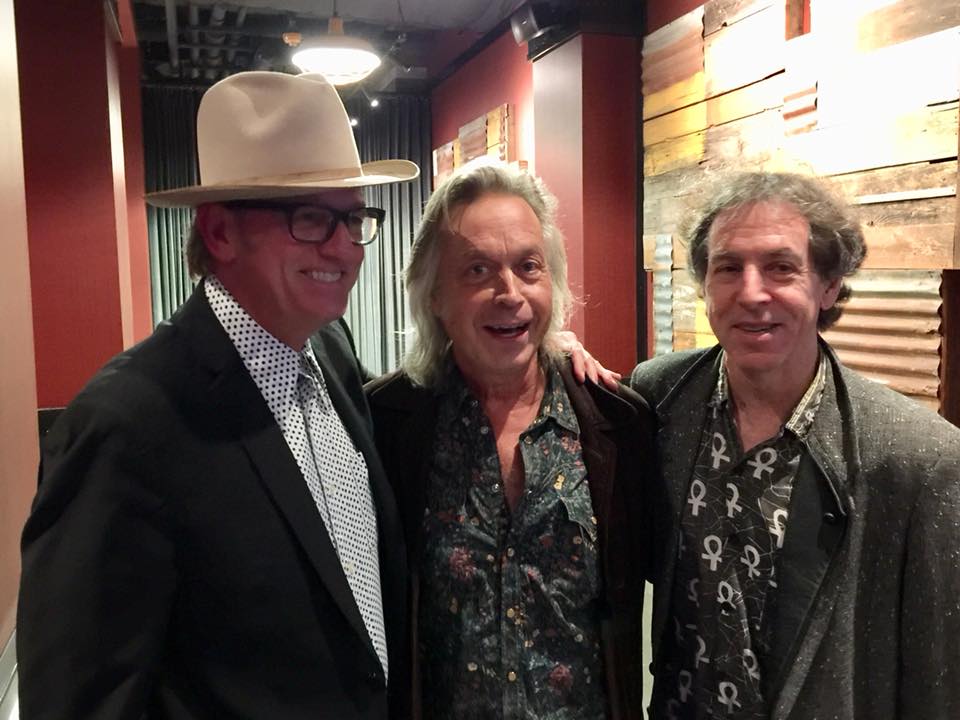 I would have made it out to more stuff, but the week before I managed to nail down a record deal for an artist I've been producing for several years, and I had to stay home and remix our single.
R&B pioneer Willie Jones and me…
The artist, Willie Jones, was "the first person to sing r&b in Detroit," according to Bettye LaVette, who introduced the two of us. Willie is a fantastic soul singer, and at age 81 still has all his "notes." He had a group in the 50s called The Royal Jokers that everyone in Motor City came down to see and said, "I can do that." And they did (Berry Gordy, Marvin Gaye, et al), finding great success while Willie and the Royal Jokers languished as a singles act on Atlantic.
Bettye insisted on singing a duet with Willie on Steve Cropper's "Dedicated" album (which I produced with Steve), and Willie and I became fast friends in the process. We made one long playing record shortly thereafter called "Fire In My Soul", released on Shout/Cherry Red a few years ago, but have been waiting for an opportunity to make a follow-up.
Some folks approached Willie about being in their documentary, and when he discovered they had a label out of Chicago called Pravda, one thing led to another. We have finished mixing our single, which may be an EP if we can fit all three songs on vinyl, and I can report it is absolutely stunning. More details to come, but it should be out late this year or early next.
As for my Marty Brown record that I've written about previously in this column, it's currently being mixed and should make its way into the world early 2019 on Plowboy Records. Fortunate it has taken as long as it has, because we've continued writing and recording and the track list continues to change in search of perfection. We're close. More on that soon…
So until next time, be good to yourself…
Jon Tiven, Chuck Mead & Jim Lauderdale photo credit: Cary Baker
Very first picture: Buddy Guy with Sally and Jon Tiven