To say that post-hardcore band At The Drive-In have had a tumultuous relationship would be something of an understatement.
Formed in 1994 in Texas, the band had a high turnover of members, but ultimately settled as a five-piece, featuring Cedric Bixler-Zavala on vocals, Jim Ward and Omar Rodriguez-Lopez on guitars, Paul Hinojos on bass and Tony Hajjar on drums.
They released a string of EPs before their debut album, "Relationship of Command" in 2000, arguably the high-point of their career. The band proceeded to break up in 2001 due to musical differences, drug habits and exhaustion, to name a few factors. The individual members all involved in other projects, the two most notable of which being The Mars Volta and Sparta.
They reunited briefly in 2012, for a performance at the American music festival Coachella, only to be somewhat upstaged by a hologram of Tupac. Their reform and 2017 release of their fourth album, "Inter Alia" (stylised as "in•ter a•li•a") comes at the expense of lead guitarist, Jim Ward, whose space has been filled by Sparta guitarist, Keeley Davis.
ATD-I returned to the U.K. recently, supporting Royal Blood on their stadium tour. Tonight, they are supported by Le Butcherettes, a garage-punk turned goth trio, and Death From Above, a rock duo.
The openers, Mexican outfit Le Butcherettes, despite playing to a half full room and only occupying a quarter of the stage, crafted the vibe for the night. Lead singer, known by stage-name Teri Gender Bender, donned a guitar, keyboard and mic whilst convulsing throughout her performance. Her stage presence and fully-red outfit, including red high heels, was mesmerising.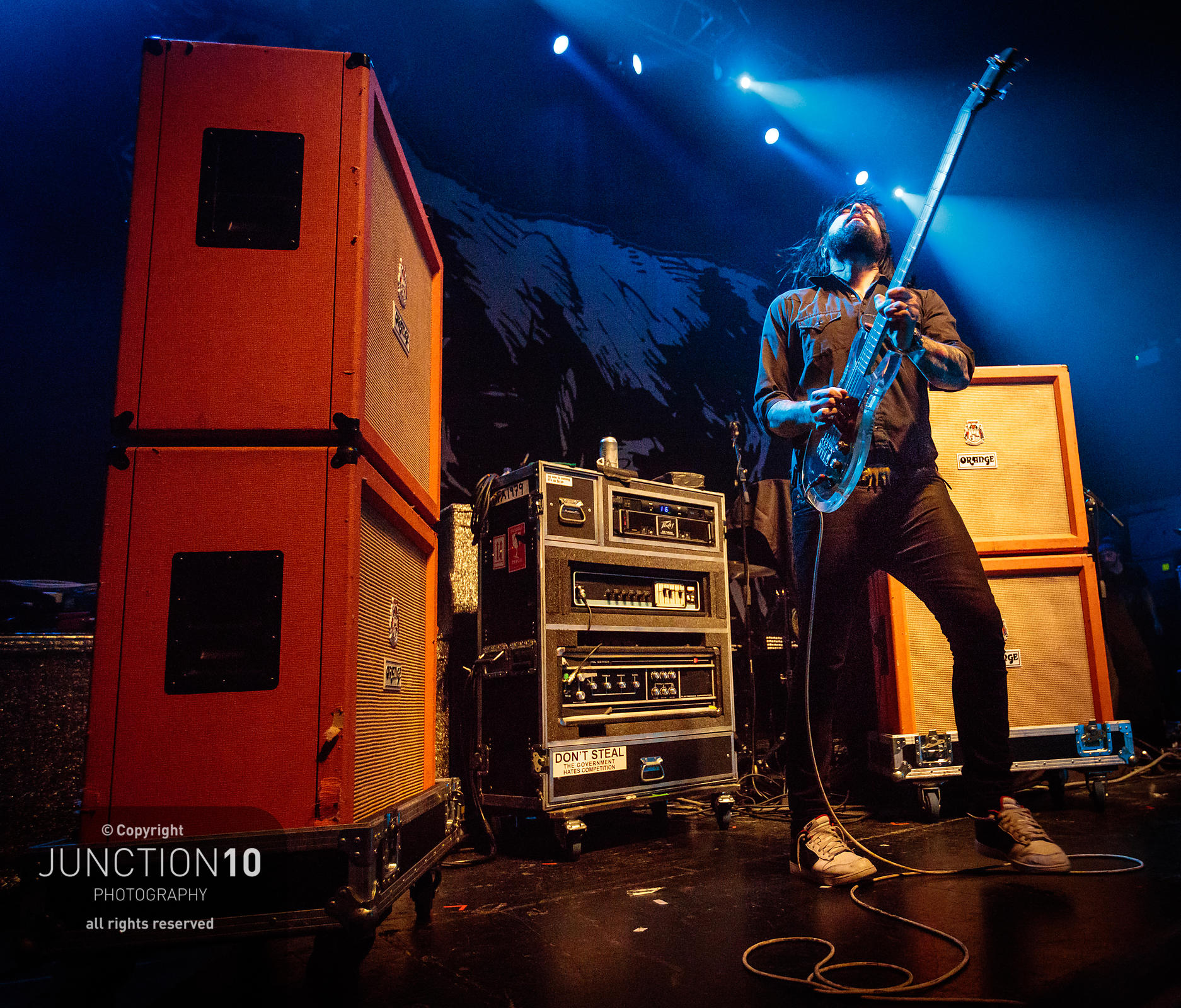 The following band, Death From Above, were not so much. The Canadians put on a great performance and really got the crowd going, but they didn't stand out. They are easily comparable to other bands: a dash of Royal Blood here, a pinch of Don Broco and a sprinkling of KoRn. While they take these musical styles and form something of their own, it just gets lost in the heap of other young rock bands.
When waiting for ATD-I, who did not grace the stage until 9:35pm, I took an opportunity to survey the full-house crowd from the relative safety of the balcony.
I had assumed that the audience would be mostly older people, based not only on the fact that the band has just come off a seventeen-year hiatus, but also as tickets were forty-odd quid. Forty! It crossed my mind that the band are reuniting just to profit from nostalgia… and honestly, I don't blame them.
It does say something that the first crowd member I spotted was a balding, middle-aged man in a white shirt, possibly having just come from work, jumping around enthusiastically and spilling half of his expensive pint on the floor.
Additionally, the guy sat next to me recalls a very specific memory of lending a school friend his vinyl copy of "The Wall", and it being returned scratched. At 21, I was easily the youngest person in the room.
However, the show was, without a doubt, the most energetic I have been to in months. Bixler-Zavala has enough energy to carry the entire room on his shoulders, but in this room, he did not need to.
The band exploded on to an industrial-inspired stage, opening with "Arcarsenal" and "No Wolf Like The Present" – which also happen to be the opening tracks of "Relationship of Command" and "Inter Alia", respectively.
Immediately, the crowd go wild, mirroring the energy of the band. Rumour had it that recent ATD-I performances had been lack lustre, but whoever said that clearly did not see the same show that I did.
Within the first few minutes, Bixler-Zavala had jumped off the drum kit, spun the microphone around his head and used the mic lead to hook unsuspecting photographers in the pit. It is safe to say, they all then took a step back. At one point, Bixler-Zavala was holding the mic stand horizontally over his head, thrusting it into the air, as if he were about to throw it into the crowd.
It is difficult to pick a high-point of the set, as the audience responded well to every song. The setlist featured classics, such as "One Armed Scissor", 'slow' songs (or as far as ATD-I can do slow), such as "Napoleon Solo", and new songs "Amid Ethics" from their latest release, the "Diamante" EP which they dropped in January this year,  and "Governed By Contagions", the lead single off "Inter Alia", which closed the show.
Of course, they came back and played "Pattern Against User" as an encore too. It is a good job that the audience knew all of the lyrics, as Bixler-Zavala's erratic and energetic performances mean you can catch a few words per verse, and the chorus, but only if you're lucky.
The venue for this show was changed last minute, having originally been at the larger capacity  O2 Academy down the road. I assume it is likely to have been moved because it did not sell enough tickets, which is a crying shame.
They may have been gone for seventeen years, but it was fully worth the wait. History has shown this band's relationship to be tempestuous, so grab a ticket to the remaining U.K. shows and experience the madness for yourself, before it's too late.
By Maddie Flower
Photos: Jason Sheldon