The straight-talking monthly column on all things country, Americana, roots and acoustic…
It was quite a surprise when Garth Brooks was crowned the CMA's 2017 Entertainer of the Year. A majority of the new younger country music fans in the UK hardly knew about him. That became obvious by many of the social media comments that followed the recent annual CMA Awards.
Unlike the younger country fans in America, many of these new UK 'converts' to country music know little about the stars of yesteryear, not having grown up listening to the music in the same way that their American counterparts have.
I'm not in any way suggesting that Garth Brooks is a has-been. Far from it. Though it has been 20 years since he was regularly scoring top 10 singles, and 10 years since he made it to the top of the country charts with the aptly titled "More Than A Memory".
Over the past couple of years, he has undertaken, "Garth Brooks: The World Tour", performing more than 400 shows across North America. As I write this, the tour will continue into 2018,, with shows anticipated in Europe, Australia, South America and more as it rolls on to become the longest and highest grossing concert tour of all time.
It really shouldn't have been that much of a surprise then, that despite the stiff competition from such current country superstars as Eric Church, Keith Urban, Luke Bryan and Chris Stapleton, that Garth Brooks won his sixth CMA Entertainer of the Year Award in November 2017 (he had previously won in 1991, 1992, 1997, 1998 and 2016).
 much-maligned 
In addition to his record-breaking concert tours, he remains the biggest selling recording artist in North America, with album sales exceeding 140 million. and climbing year-on-year. Yet he remains a much-maligned country music performer. Some years ago, Texas singer Dale Watson referred to Brooks as 'the anti-Christ', singer-songwriter Tom Russell has been equally scathing, alongside numerous journalists and music critics on both sides of the Atlantic.
More recently a UK country music magazine, in a feature entitled 'Who Killed Country Music?', put the blame squarely on Garth's shoulders, naming him their prime suspect. In the mid-1990s, ol' Garth was blamed for the rise of the so-called 'Hat Acts', a derogatory term used to describe the numerous Stetson-wearing country singers who emerged in the wake of country music record sales reaching a new high across America, as the genre outsold virtually all other musical styles.
The critical detractors, who in the main didn't like or understand country music, used the term like confetti at a wedding; lumping such bona fide talented guys as Mark Chesnutt, Tracy Byrd, Tracy Lawrence, Clay Walker and Kenny Chesney into the mix – overlooking the fact that George Strait, almost ten years before Garth Brooks came along, had made it fashionable for country singers to wear a Stetson.
You do sometimes wonder if some of these' Garth bashers' are just a little jealous of his success. When it comes down to the bottom line, Garth Brooks introduced more people in America to the various strains of country music – cowboy balladry, honky-tonk, bluegrass, Cajun, traditional country, folk-country, story ballads – than just about any performer that I can think of.
From the very beginning of his career, Garth Brooks crossed swords with industry moguls who misunderstood his clearly defined focus to succeed; media personnel who misread his ambition, for greed. Finally, many traditional country music fans blamed him for country music supposedly losing direction because of his success.
The truth of the matter is that Brooks followed in the footsteps of so many great country acts, in blending the popular music of the previous generation with the then current country styles. In the 1950s/60s, country performers like Jim Reeves, Marty Robbins and Patsy Cline were influenced by the likes of Bing Crosby, Frank Sinatra and Kay Starr. Brooks carried on that tradition with his sound: a mix of the 1970s singer-songwriters (James Taylor, Dan Fogelberg), rock groups (Journey, Kansas) and honky-tonk country (George Strait and George Jones).
From the outset of his career, the Oklahoma-born singer showed himself to be different than your average country music performer. Most of them would stand centre stage, guitar hanging round their neck and statically sing their songs. Not Garth Brooks…
 …like some demented acrobat
Known for manic highs, he would sometimes throw guitars across the stage and even danced down table-tops in honky-tonks, kicking beer bottles all over the place on his way. When he moved into the large auditoriums and massive stadiums, he became even more of an eccentric performer, swinging down on rope ladders like some demented acrobat, dancing in front of walls of fire and running around the stage like some lost Olympic athlete, as he took his audiences on a continual wave of energy in true rock, rather than country tradition.
Much more than just a country music phenomenon, the key to his record-setting success lies within the personality and talent of Garth Brooks. He brought daring individualism and a love of music, ranging from working class blues and honky-tonk to bluegrass and arena rock, to the musical table. His easy-going, approachable charisma matched only by his fearless willingness to take chances and step outside the lines.
It is possibly Garth's total belief in himself, his assuredness that what he is doing is right for him and his fans, that rubs people up the wrong way. But he has always had this great belief in himself, his music and his ambitions in life, as he told me in one of his very first interviews: "If you believe in what you're doing, have confidence in yourself, then that springs beauty in your looks. It's the same with music – if you're confident in it, then you can sell it."
He has certainly sold his music and for that matter, Garth Brooks, if not entirely to the world, then certainly to the American public. A lot of thought was put into the whole Garth Brooks' career development and most of the input came from the star himself.
He has a degree in advertising and after graduation from Oklahoma State University, he opted for a career in advertising, adapting his original music to jingles, which were used on radio and television. That background gave him a rare insight into what people would want to listen to, how to market his music and himself, and this paid off in rich dividends. He thought long and hard about what he would want to hear if he was out in the audience, and packaged it all into an electrifying show.
marketing genius…
One of the best live performers of the modern age, it makes you wonder what the folks in hillbilly heaven would have thought if they saw this high-tech cowboy soar and scream. Brooks says he always keeps in mind what he learned during his bar-playing days in the mid-1980s in Oklahoma. "The thing I learned is that numbers matter not. If it's one person or one million, it's all about the same thing: How do you affect one person. The greatest compliment I get is when someone says to me: 'I felt like you were playing just for me".
It was that showmanship that played such an integral role in transforming Garth Brooks, an above-average country singer, into an all-consuming superstar. It also brought on board the Garth detractors. Usually they have been from the Americana and traditional country camps.
So why has this man, who has done so much for country music, suffered such criticism? What exactly is the beef? Garth Brooks is just a man. A talented, driven one. Is he megalomania-cal? Could you be in his shoes without an ego? He is a marketing genius. But why is it that we want to accept talent, but not ambition? Is that talent any less real?
Instead of being pissed off that he set the bar higher, we should send him a 'thank you' note for expanding country music's field of possibilities. He remains an exceptional talent who always seems to have an audience in the palm of his hand from the get-go. A mere look from the man to a particular section of the audience will draw maniacal screams, and when the whole room is cheering it is literally painfully loud.
What Garth gives an audience is moments – splendid moments…
Garth Brooks' accomplishment propelled the entire country music industry to new sales heights in the 1990s, proving forever that country music could sell albums on a par with pop, rock, and other genres. This has continued to this day with major acts like the Dixie Chicks, Kenny Chesney, Carrie Underwood, Taylor Swift, Rascal Flatts and Lady Antebellum coming along in his wake and achieving the kind of multi-platinum success unheard of in country music pre-Garth Brooks.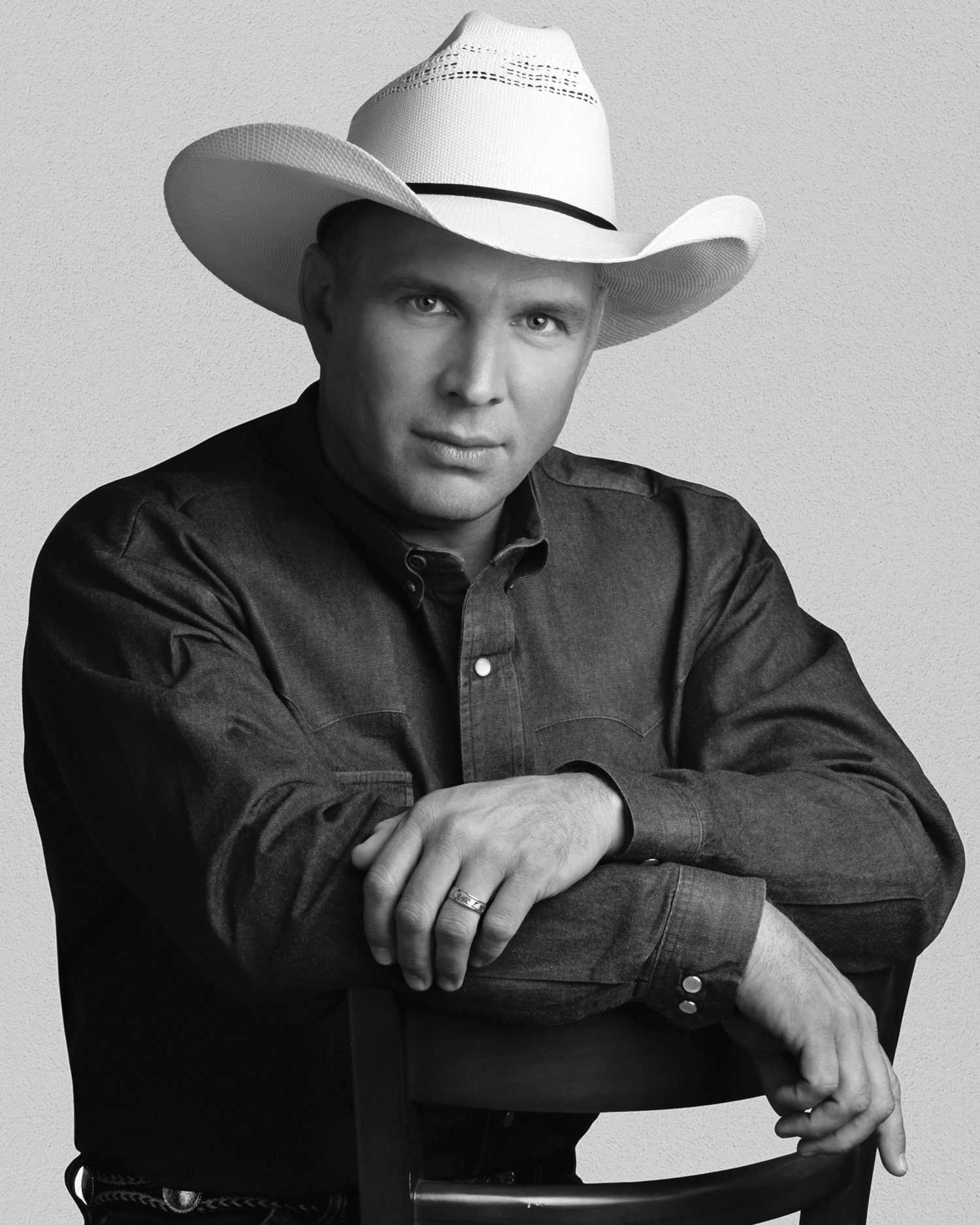 If eyes really are the window to the soul, then there was little wonder that this man became the biggest selling solo artist in the history of popular music. There was a fire, a sense of fun, determination and a light that shone – and you knew you were in the presence of a creative energy fully-realised. With Garth Brooks, every little thing he does and says is very carefully thought out and pre-planned.
Even 15 years out of the spotlight, while he spent time at home raising his children, doesn't appear to have diminished his fan-base, nor, I might add, those detractors. Garth Brooks competes to win, not just to take part. He thrives on breaking box-office records. He needs to be the biggest-selling recording artist of all time.
He lives to make music. Like him or loathe him, Garth Brooks has probably made a bigger impact on country music than any other performer, with the possible exception of Hank Williams.
Apart from a couple of small missteps, I'm more than happy to hang my hat in the "Like Him" camp.
By Alan Cackett
---