Following the release of her fifth studio album, "Then Up" and subsequent successful UK tour earlier this year, highly acclaimed singer-songwriter Lisbee Stainton has lined up a run of acoustic shows for November 2017.
Starting at Bristol's Louisiana venue on 1st November, Lisbee will then play The John Peel Centre in Stowmarket (4th), The Live Rooms in Chester (5th), The Slaughtered Lamb in London (6th) and Talking Heads in Southampton (7th).
She will be joined on stage by fellow guitarist Jack Rutter, who first performed with Lisbee when they played together in folk star Seth Lakeman's band.
Now based in London, Hampshire-born Lisbee Stainton's s career originally started in 2007, when she became the first unsigned artist to play London's O2 Arena. Soon after, BBC 6Music's Tom Robinson discovered Lisbee's song "Red", and his support subsequently led to Lisbee's music being playlisted by BBC Radio 2.
The young artist has released five studio albums: (Firefly)' (2006), 'Girl on an Unmade Bed '(2010),'Go' (2011),'Word Games' (2014) and "Then Up" in April this year, 2017.
She has toured with notable artists such as Joan Armatrading, Paul Brady, Gretchen Peters, Paul Carrack and Seth Lakeman – the latter being so moved by Stainton's live performances that he invited her to join his band in 2012. They have played on each other's albums too.
Looking ahead to her November tour dates, Lisbee said, "I had so much fun touring the new album 'Then Up' in May, so I can't wait to play these dates. Jack Rutter and I work really well together on stage, and the new songs were definitely written to be played live, so it's a wonderful feeling to have the songs come alive around us.
"Performing in such intimate venues also allows for us to meet most of the audience, adding a personal dimension to each show. We'll see you there."
STOP PRESS:
A brand new live album: "Lisbee LIVE", will be issued as a very limited edition CD run of just 300 copies, which can only be bought at her forthcoming live dates. The album will be available to stream from the 20th October, before it is "officially" released in digital download format, in February 2018.
Lisbee talks about the release:
"I put together this 'Lisbee LIVE' album because I wanted to do something a bit different. I felt that to capture a selection of songs I've written, both old and new, in a very stripped back, exposed and almost vulnerable manner, would allow them not only to be heard in a similar way to how I approach performing my headline solo shows, but also to be heard as they were written. 
"Therefore, listeners could perhaps hear them and discover them in a way they had never heard them before. I named the album 'Lisbee LIVE', partly for the simplicity of the approach to its creation, but also as a small nudge and a wink to those of my fans who participate in my monthly informal (and slightly chaotic) online gigs that I do on my Facebook page – these also, are called 'Lisbee LIVE'.  
"The 300 physical copies will be sold exclusively at live shows, with a view to giving my audience the opportunity to essentially 'take the gig home' at the end of the night; a show souvenir, if you will! 
"Nine of the eleven tracks on the album are previously released songs from my previous albums, and two of the songs are new and unheard. 'Undertow' is a song I co-wrote with Tom Robinson that was intended to be a part of my last album, 'Then Up', but sadly it didn't make the track listing. Which in hindsight was lucky, because I think it fits wonderfully as a part of 'Lisbee LIVE'.
"The final song, 'One Or Both Of Us', is a brand new solo write, previously unreleased. Every song was recorded in one take and what you're hearing is quite simply, just me and my guitar." 
Music Republic Magazine caught up with the lovely Lisbee for a Q&A session – An insight into her fast rising career and the background to her latest album and the autobiographical self-penned songs on it.
When you were just 17-years-old, you became the first unsigned act to play at the O2 Arena. How did that feel?
It was mind-blowing! I was sat playing solo in the centre of the arena and all around me were people, as far as the eye could see and drifting off into the darkness, with just some tiny swaying lights right at the back. The noise that 15,000 people can make is… indescribable.
BBC DJ Tom Robinson discovered your music via MySpace, before championing it on air. How did it feel to suddenly be playlisted by the likes of BBC Radio 2?
Listening to the radio and hearing your own music being played is like an out of body experience. Tom's support, and the subsequent playlists, played a big part in landing a major European tour with Joan Armatrading – which itself led to my first headline tour.
Tom is still very supportive of my music; he played a track from my new album called 'The Dance Upon Nothing' the week before my new album 'Then Up' was released. If he's reading this: Thanks Tom!
Your music sits in between several genres, so how would you describe it?
I guess my music sits somewhere between Folk and Pop, realistically. If asked, I'll usually summarise it as 'Polk' music… As a songwriter, I try not to focus too heavily on any one subject, for fear of becoming repetitive, but I do have subjects or themes that I find myself returning to.
London and its history is something I can't seem to leave alone, metaphors surrounding plant life and the natural world (I blame my Horticulturist mother!) and there always remains a certain level of intrespectiveness that follows personal experiences I might have. I guess I'm a storyteller; it feels like an important part of my job. 
"Then Up" is your fifth studio release in ten years. What have you learned as your albums – and your career – have progressed?
I think that's quite a difficult thing to summarise, considering that those five albums span at least ten years of my life. When I graduated from Goldsmiths and went straight on tour for the first time, supporting Joan Armatrading (quite a learning experience!), I was 21, I had just released 'Girl on an Unmade Bed' and I had no idea what I was doing (in life or my career) or how to even look like I knew, to be honest.
Now, I've toured far more extensively, been lucky enough to work with some incredible artists/musicians/people, I'm 28… and I still have no idea what I'm doing at any given time.
I think I'm probably better at faking it now though, so that's useful! Every album is a different experience, just as every year of your life is, I guess – I find that they tend to provide a sort of freeze-frame of an artist at that particular point in time.
You produced "Then Up" yourself, so how did this affect the recording process and the end result?
I've enjoyed working with all of my albums' respective producers, but the difference with self-producing is that the end result is about as close as you'll get to hearing my intentions and musical influences, completely undiluted at this particular point in time. I find that rather exciting.
There are two distinct themes running through "Then Up". What is the story behind them?
The first theme surrounds the end of 2104, when it became clear that I had been suffering from anxiety for some time, manifesting itself in the form of a particularly difficult bout of stage fright that stayed with me pretty much until the beginning of 2016.
Unknown to me, at least on a conscious level, this experience and the events leading up to it, and my life since then have almost exclusively moulded the shape of this album. Throughout the writing process I was distinctly aware of trying to explain and digest my experiences of the past couple of years in the most coherent, accepting and explorative manner as I could.
In many ways, a number of the songs were written almost as markers or reminders of what I was learning, which I hope resonates with the listener in a broad and inclusive sense and with any luck, doesn't come across as being too solipsistic.
The second theme within the album is one simply of storytelling. I strongly believe that all art, no matter the medium, is about telling a story. Humans are innate storytellers and song writing is a channel through which those stories can be expressed or communicated in a different way. In that regard, the Folk genre certainly had an influence on 'Then Up'.
'Then Up' comes across as positive and uplifting. Was it a conscious decision to create such a musical juxtaposition against some of the album's heavier subject matter?
I think it was deliberate, but perhaps at the time of writing I wasn't sitting there thinking, 'blimey, I've got to make this sound more positive!' to myself. With some of the songs, I was certainly trying to deal with experiences or emotions that felt very heavy or loaded to me, and were also often things that I was finding it hard to express or get perspective on from any other angle aside from through songwriting
'Burn Out' was definitely one of those songs, amongst a few others. At the time, the song I'm writing often begins as a bit of a therapeutic exercise (unintended to reach anyone's ears but my own), then after some time it molded into a narrative form, with an element of a sort of 'pep-talk' to myself, followed lastly by editing to make the song perhaps relatable or resonant for the listener.
After all, we all go through similar things – it's learning how to express and relate to them that can be difficult. I was often writing songs to urge myself forwards and 'upwards', and 'Then Up' embraces that sentiment whole-heartedly, both in terms of the songwriting and production: it's all driven to urge you forward.
What's your favourite track on the album, and why? 
The track that I'm most proud of has to be, 'The Dance Upon Nothing'. I wrote it using words and phrases from a dialect called the 'Thieves Cant', which existed as a sort of language of the criminal underworld in 17th Century London.
The song's narrative is about getting hanged in 17thC London (very jolly!), and I spent about two weeks fully engrossed in the dialect and having an incredibly geeky and wonderful time forging the song. The real joy came when we got to recording: the song exploded to life. It's a proper little living song creature – I'm chuffed to bits with it.
It is well documented that you played in Seth Lakeman's band for several years. Is it true that you learned how to play the banjo just so you could be in his band?
Yes! Playing the guitar helped, of course, but I had to give myself a crash course in banjo playing just weeks before the tour. I can now play the banjo!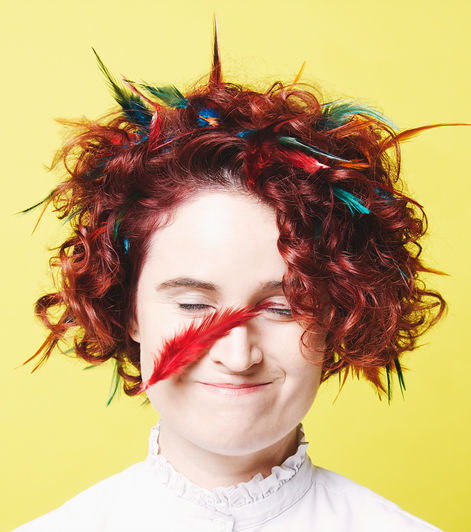 Do any of the musicians from your time in Seth's band appear on 'Then Up'?
They do, but then again, everyone I worked with on the album are people who I've worked with before in some capacity. Be it through live work, studio or through another artist. Liam Ross was my chief engineer at Monnow Valley Studios – he engineered my album 'Word Games'- and not only do we get on like a house on fire (far too many pranks and whisky-drinking sessions occurred!), but he's also phenomenally talented.
Musicians on the album include the percussive powerhouse, Cormac Byrne, whom I became friends with and played in Seth's band with during the four years I sang backing vocals and played banjo and harmonium for him.
Similarly, I asked Jack Rutter to play some stringed things (guitar, bouzouki, banjo, mandolin etc.) for the album – again, we met through playing with Seth, but Jack is also one of my favourite musicians to play with. The way he hears things is totally different to me, and I love what he comes out with.
Pete Randall played all the bass parts on the album; he's ridiculous – I've played with him since we were both students in SE London and he's always been something special. At the moment he plays with Adele… go figure!
Lastly, my two brilliant co-writers for five of the album tracks, Eleanor McEvoy and Charlie Dore, were very much involved in adding their voices and talents to the mix, as well as some indispensable advice – I admire them both hugely.
Everyone involved brought enthusiasm and a genuine joy for what we were making, into the studio. Over all, that combination made for a highly entertaining and enjoyable process and I feel a huge amount of gratitude towards all of them.
You play a very unusual 8-string guitar. How come?
If asked – and nine times out of ten, my guitar is the first thing people ask me about after a show – I'll say that it makes everything I play sound much harder than it is, which makes me look rather good, as a musician! To be honest, it's become so much a part of my playing, my writing, an extension of myself, that I find myself viewing it more as a living, breathing little creature than just an instrument I can play. I think it's glorious – I'm lucky to have it.
---