Fresh off the back of two sold out and triumphant performances at London's iconic Royal Albert Hall, Tony Bennett brings his 90th birthday celebrations to Symphony Hall in Birmingham, a venue he says is his favourite from a 67-year career.
Tony Bennett is nothing short of a legend. He has won 19 Grammy Awards, sold in excess of 10 million records in the last decade alone, performed for the Queen and no less than 11 U.S. Presidents, collaborating with many big stars including Duke Ellington; Barbra Streisand; Aretha Franklin; Sir Paul McCartney, Elton John, Amy Winehouse and more recently, Lady Gaga. Frank Sinatra was a close friend of Tony's, and tonight Old Blue Eyes is heard introducing his pal, on a recording where he calls him "the best singer in the world".
There's no support act on this five-date UK tour. Instead, his quartet – Gray Sargent on electric guitar, Marshall Wood on double bass, Billy Stritch on piano and Harold Jones on drums – take the first 20 minutes or so to showcase their talent, playing through classic jazz tunes such as "Cheek to Cheek" and "I Won't Dance".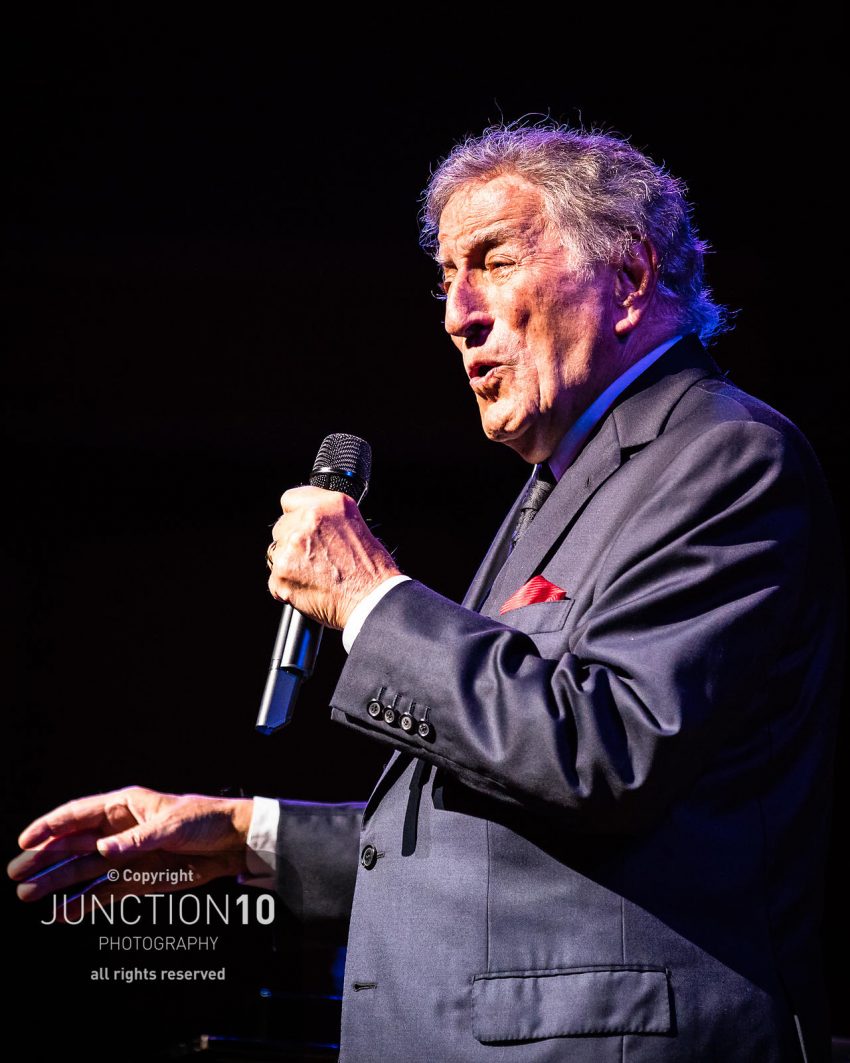 Bennett himself strides onto the stage to a standing ovation, the first of seven during the night. He kicks off with "Watch What Happens". Playing to the crowd all night, dancing during "They All Laughed", beginning "This Is All I Ask", by flashing the audience a knowing smile and singing: "As I approach the prime of my life…", to the audience's chuckles.
I wanted to resist being another reviewer emphasising his age, to be honest, but for a man who turns 91 in exactly one month's time on 3rd August 2017, he sounds and looks incredible. Granted, at times his voice is perhaps not quite as strong as it once was, (but bearing in mind he has just had the flu virus, which saw him cancel his Dublin show) and he prompts laughter when he reveals he had forgotten the words to a song he recorded back in 1958, "It Amazes Me".
But it is impossible not to be utterly captivated by the jazz giant and his timeless music.
During the 90-minute set, (plus the quartet's own stint) I was transported away from the concrete centre of Birmingham and into the Upper East side of New York City. The music, the setting, even the clothes that Tony and his band members were wearing, exuded elegance and class. Bennett's set was very versatile; in one song, I was sat in a rooftop bar, the next, I could be dancing in an underground jazz club. Through music, I was taken to a time and a world I will probably never experience for myself, and I was made to feel very welcome.
The overarching theme of the night is love, as it can be in many songs, regardless of artist or genre. The key difference is that Bennett's lyrics are not cliched, they feel real; I see couples move slightly closer together, interlock their fingers and exchange small glances during the sweeter songs, such as "I'm Old Fashioned". There is something about Bennett's charm and authenticity that coaxes you into believing his every word. Last night he made me feel nostalgic for a period of time that I never actually experienced.
In a strange turn of events, I am seated next to TV star Bradley Walsh, who turns out to be something of a 'Super-fan', a friend of Mr Bennett's. He knows I am reviewing the show and nudges me at several points, to tell me how incredible Bennett is – not that I need to be influenced or reminded – I wholeheartedly agree.
I really would struggle to pick out any songs that that did not fare so well. The set itself was a whopping 27 songs long, and Tony enjoyed loud applause and hearty cheers after every single one. "I Left My Heart in San Francisco", which many consider his signature tune, was arguably met with the most excitement, followed by "Rags to Riches" and "But Beautiful". It is one of the only gigs I've attended where I have not been able to stop smiling – and I was definitely not alone.
For me though, the most spine-tingling moment was with the closing song, "Fly Me To The Moon", which he began with the microphone and then laid it on the black Grand piano and let the world class acoustics of the wonderful Symphony Hall work their magic, with some stunning mike-less a Capella vocals, which reached the very upper tiers of the auditorium. I never imagined sharing such an intimate moment with just over 2000 other people, but Bennett made everyone and everything else fall away. The room was so silent, you could have heard the proverbial pin drop.
Almost two hours later, he leaves the stage to a standing ovation, one so powerful he comes back, leaves, and comes back again to wave goodbye. Everyone was in high spirits, which was increased by the arrival on stage of Symphony Hall's head of programming Chris Proctor, who joined the star to present him with a surprise gift; a framed picture of the auditorium.
Plus, the announcement that a seat has been named after him: Seat T10 (T for Tony and 10 commemorating Tony Bennett's 10th performance at the venue since it opened in 1991). A metal plaque on the back of the seat marks the spot. The first time any artist has been granted this honour at the venue. Twice tonight Tony told us this was the best venue he played anywhere, calling it "the finest concert hall in the world", with utter sincerity.
Last night, on a return to the venue he last visited in September 2014, Tony Bennett more than proved why Frank Sinatra thought of him as the greatest singer in the world; his glorious voice reverberated around the hall, thrilling every last man and woman and more than justifying the £65+ ticket prices. Little chat between songs, but that was good news as we got more time for the man's sublime vocal skills.
There have been rumours that this is his farewell tour, which, as he is on the cusp of turning 91, would be understandable if true. But I for one, will be keeping my fingers crossed that Anthony Dominick Benedetto decides to give the U.K. another whirl before embarking on a (much deserved) retirement. He more than earned the title "Legend", tonight.
Words: Maddie Flower
Photos: Jason Sheldon