Manchester alt-rock outfit Mohawk Radio are really making waves out there. The band's powerhouse singer Mia Page tells Music Republic Magazine about her mission to become a full-time 'bad ass rock chick'.
Storm Doris fucked my garden fence up last week and tossed my wheelie bin across the street. Up to 80 MPH winds lashed the UK. The slag. Well, I am here to warn you good folk of Hurricane Mia. She's powerful, loud and will tear your ears off with her mighty roar. But it's all good.
No, I've not been drinking. I'm talking about the force that is "bad ass rock chick" Mia Page, the Bermudan lass who moved to Manchester in 2012 – just because she liked Oasis and The Stone Roses. I kid you not. Almost as soon as her feet touched Manc' soil, Mia answered an advert for a singer and hooked up with some well-known local players for a meet in a coffee bar and then a rehearsal.
These guys knew they'd struck gold as soon as she opened her gob and stripped the paint off the walls. "Mia, you are hired. Everyone else, please go home." Think Cher meets Carol Decker and that gal from Evanessence, then turn up the volume to a Spinal Tap 11 – and add Dobley! Perhaps a dollop of Joan Jett's aggression and attitude there too.
Mia and her newfound friends formed Mohawk Radio and began gigging to build a loyal fan base.  They made their first EP in 2014 and gained airplay, got better gigs and increased the fanbase. After winning a prestigious national competition and being invited to play for the US Ambassador at his private residence in London and playing dates in the US including SXSW in Texas, they were invited by the Bermudan President to perform for him and his VIP guests at a dinner party in New Orleans. They have also entertained the Man City fans at the Etihad stadium twice before a game.
That mutha of a voice!
So, with lots of gigging experience under their belts and a batch of hot new songs written by Mia and the boys, they were chomping at the bit to go back to the recording studio and make magic. Which is just what they did by hooking up with heavyweight engineer and producer Clint Murphy, who has worked with Manic Street Preachers, Kimbra, Melanie C, 50 Cent and many more. The result is the five-track musical Molotov cocktail that is "Shoot From The Hip". It is quite something. The songs are there, the production values faultless. The musicianship exemplary, but………That mutha of a voice hits you like a Japanese bullet train coming head on.
The first single, "Eyes Wide Shut," kicks things off and you know you have been well and truly Mohawked within seconds. There's a bit of a clue to Mia's onstage persona on the front cover; where she's leathered up, wearing Tom Cruise's Top Gun style aviator shades, long dark hair swept across her face and slinging a rifle across each shoulder. Don't mess with Miss Mia!
Dangerous Diva or Pussy cat? "I've always wanted to be a bad-ass rock chick. The boys say I have the biggest balls in the band. I do not disagree with that. I am kind-a like Hell on Wheels on stage, but more Mary Poppins in my normal life. I love to take care of the boys and I really care a lot about them, and the people that are involved in the project. I put water in their bag when we are on tour and Aspirin, make coffee and sandwiches for them…" Any thoughts of her holding wild after-show parties and drinking the night away with the chaps is not on the agenda though. Mia doesn't drink; "I can't handle it."
Funny thing is; Mia's main influences as a singer and fronting a band are both men; Freddie Mercury and Robert Plant. She feels there is room for a larger than life character with a big voice fronting a band today. And she has staked her claim with "Shoot From The Hip," and the band's take-no-prisoners shows thus far. The word is getting out there; they just sold out a headline show at Manchester's famed Deaf Institute, and were turning folk away.
Does Mia see herself as the same kind of larger than life character as 'Percy' Plant and Queen legend Freddie? (As I ask her this on the 'phone, a dog barks loudly in the background and Mia has to go sort him out. "Oh, that's just Freddie my dog, named after Freddie Mercury." How spooky the dog knew who we were talking about!!!) "I do. Yeah I do, 100%. While I have the female sexual prowess so to speak, I think they were more androgenous, and I feel that way about myself and the way I portray my character as lead singer of Mohawk Radio.
"There hasn't been a band with a kind of Freddie or Robert-fronted, charismatic, really big, really brash, massive voice – but yet can pare it back – for a good while now. There hasn't really been a band like that for a long time. While we are a modern rock band, we are kind of harking back to the golden years of rock and roll".
So how does this new EP compare or differ from their first EP "Halfway To Heaven"? "The recording quality – no disrespect intended to anyone – and how we have developed as a band. We were lucky enough to go in with Clint Murphy this time. We were ready for stepping up to that level. The writing was stronger. It is evolution. Where we come from and where we are now; I guess it is a natural progression of a band.
"They didn't understand me for the first four months (Mia laughs), they didn't understand a word I was saying! There's chemistry now as a band and as people. Working with Clint was a step up the ladder by ten rungs. Oh my God, it is incredible. He is the fifth member of the band and really pushed us.  He's like a match that ignites the flame; he's so creative. We really clicked with him. Clint wrote with us on 'Eyes Wide Shut' too". That cut is the band's – and mine – favourite track.
"We kick ass"
What do they want this EP to say about their band? "That we kick ass". They really do, but there is light and shade too away from the big rocking numbers; with "Ready To Love", to they show they can pull back and that Mia can also dial it down and sing with control, just as well as her innate powerhouse vocal.
Mia's performing background is in musical theatre, since she was a young girl. Her Dad was a touring musician on the road with the likes of Bryan Adams and Heart, as their opening act. She was actually born on tour, so Mia will tell you she has been doing music since she was "in the womb"! She also rejected it for a while as a youngster.
But the pull was there in her blood, and she went back for another fix.  She returned to music in her early 20s in her native Bermuda, and then in Toronto where she went to University, studying Media and Communications with a minor in Philosophy.  After Uni', she formed her own band for a year and called it Mohawk Radio, after a pair of comedy star pals' hit comedy show featured a long-running  sketch called Radio Mohawk.
After clearing all her student loans, Mia had a desire to move to the UK, but to Manchester in particular. "I love Oasis and the Stone Roses and most Northern music. The whole of the UK has got a grip on the music industry and has always been cool to me. Those musical heroes of mine from up North are rock Gods to me, and so it was a natural fit to come to the UK. I had a friend from Uni who lived there and I came to visit her, and thought it was pretty cool. Both my sisters live in London and my brother lives in Edinburgh, but London was too full on for me. I love the North, and its rough around the edges vibe, which appeals to me and my personality".
So, in late 2012 she made the move, when she was 25. She formed the band with the guys from the advert, and kept the wolves from the door temping at creative agencies in-between band duties.  Drummer Dave Quinn is a professional welder, makes his own drums and has his own drum company.  Bassist Conor Marsh is an Astro Physics student at Manchester Uni. Guitar man James Gregory is a buyer at a construction firm.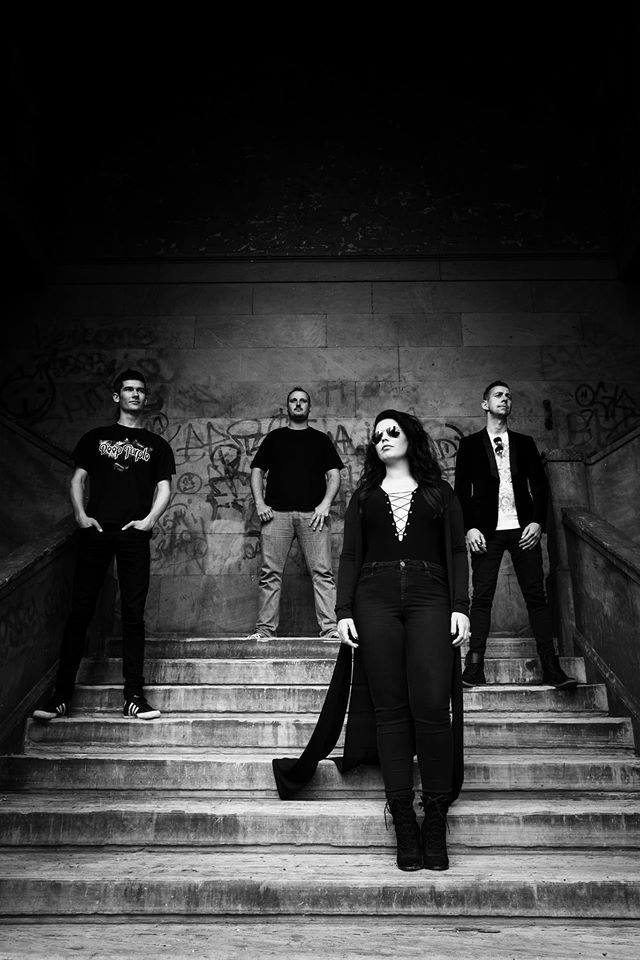 Does a desire to be famous drive and motivate Mia? "I don't feel like I want to be famous. I just would like to be able to make a living off of our music and be able to connect with people by storytelling and rocking out. Yes, it would be nice to have recognition and accolades, but what does being famous even mean anymore? There's people who just shake their arse on TV and they're famous. Robert Plant, Zeppelin; they're famous". So, summing up then; Fuck fame, you just wanna rock out and be a bad ass rock chick. Have I got that right?
In 2015 the band went in for a contest called "Parliament Rocks The House" which was politicians making a noise about protection of artist's rights and copyright. The national attention this got attracted hundreds of eager bands to enter, but there was only one victor, and that was Mohawk Radio. Bravo.
"Oh, it's a girl!"
We discuss being "a girl" in this male dominated business, and if it is an advantage or disadvantage. "Sometimes people think I am gonna be a Diva, which is fine, because when you meet me it is obvious I am not. I don't know if sexuality has much to do with it. In some ways, it encourages people to come to the shows, which is great. Sometimes you hear, 'oh it is a girl', when they see us come on to the stage. But I have also had instances where I have been asked to leave from backstage, because they thought I was some band member's girlfriend". Ouch! I hope she's given those two guns back, the next time anyone starts that shit again.
The first thing that hits you from the first few bars of the opening cut on this EP, the single "On Your Knees," is the utter aggression and sheer wall of power from this incendiary band. Then there's THAT voice that tears at your spleen. Not so much an instrument, as a weapon of mass distraction!
But the material is as strong as the pipes and the playing too. It is retro, but not at all dated. But Mohawk Radio is not just a singer with a big voice and backing band. There is palpable chemistry here and with all four of them still in their 20s, there's enough energy to power a whole wall of Marshall amps.
The phrase 'shoot from the hip' is defined as: "To be brutally honest, to tell it like it is, to pull no punches." Just about sums up Mia and the chaps nicely, methinks. They're coming…brace yourself!
By Simon Redley