After the highs of Friday, day two has a lot to live up to. I was still trying to get used to the idea that, for an event based around acts that have been going 30+ years, the audience was so young. Is this the fight back from the homogenized dross that the modern music industry is offering?
Are the young music fans digging down to find the jewels of the past, when bands played live to build an audience with hard work, talent and dogged determination?
The festival's promoters HRH have worked hard to get as many quality acts as possible on to the line-up. For the fans, it poses a dilemma with some headline acts clashing on the two stages. My own modus operandi was to catch a few songs from every band on the two day bill.
14:00 to 14:50: "Savage"  Stage 2
Savage are best remembered for "Let it Loose," a song covered by Metallica. A family band with Chris Bradley and Andy Dawson, joined by Kris Bradley, Chris's son and Andy's nephew on guitar, and Mark Nelson on drums.
It quickly becomes obvious that nepotism was not the reason for Kris's addition to the band. A scorching guitarist really adding to the sound, bringing a fresh, modern edge to the material – as well as owning the stage with his axe hero shapes.  Another strong set keeping the standard of this festival incredibly high.
14:00 to 15:00: "Chariot" Stage 1
Chariot once opened Reading rock festival and toured with the likes of Manowar and Exodus. Unlike many of the bands at this festival, they were not a thrash-infused band, more a straight, no frills British metal act playing rough and ready songs.
Full of melody, following strong song structures embellished with flair and passion, and from this performance, nothing has changed. A real crowd pleasing turn from these seasoned professionals. Pete Franklin on vocals and rhythm guitar, John Smith on bass, Jeff Braithwaite on drums and Paul Lane on lead guitar.
15:10 TO 16:00: "Quartz" Stage 2
Originally formed in 1974 with the name "Bandy Legs," changing it to Quartz when they were signed to Jet Records in '76. They had some pretty famous friends; Toni Iommi produced their first record, Brian May helping out with some guitar on the track "Circles." They toured with Black Sabbath, AC/DC and Iron Maiden to name a few.
So I was really looking forward to seeing them. Time has not been quite as kind to Quartz as some of the other bands at this event.  David Garner on vocals, Mick Hopkins on guitar, Geoff Nicholls on guitar and keyboard and Derek Arnold on bass.
This is how I imagine most people think a NWOBHM festival looks and sounds: "Old men playing pub rock.
15:20 to 16:20: "Tokyo Blade"  Stage 1
 Tokyo Blade have 23 previous members. The current version has four original members and is by far the best line-up I have seen. They hit the stage and played the hell out of it; really rocking with some sublime playing. Brilliant vocals from Alan Marsh.
Seeing the real Tokyo Blade has to be a real highlight of the day for me.  The band very nearly made the big time and from tonight's performance, it is clear that it was a crying shame that lady luck didn't shine on them, as they are a cut above.
Andy Boulton on lead guitar, John Wiggins on rhythm guitar, Andy Wrighton on bass, Steve Pierce on drums, Alan Marsh on lead vocals.
16:20 to 17:20: "Tytan"  Stage 2
Tytan, formed by the living legend that is Kevin Riddles, the foundation stone of not one but two of the NWOBHM best bands; he was also part of "Angel Witch," the greatest band never to make it big.
Tytan, famous for their strong melodic songs, were a band whose members went on to greater success, with bands such as AC/DC and Lion. Back in 2012, Kevin reformed the band and has been touring ever since. Now 34-years since their debut "Rough Justice," a follow-up album, "Justice Served" is in the can and ready for release in March 2017.
The "new" Tytan is, I'm happy to say; just as powerful and melodic as the original line-up. A fine set of young musicians proving that NWOBHM is very much alive and still growing. Not a music of the past but for today and the future as well.
The new material is of an equally high standard to their classic tracks. Tom Barna on guitar and vocals, Kev Riddles on bass, Dave Strange on guitar, Andy Thompson on keyboards and James Wise on drums.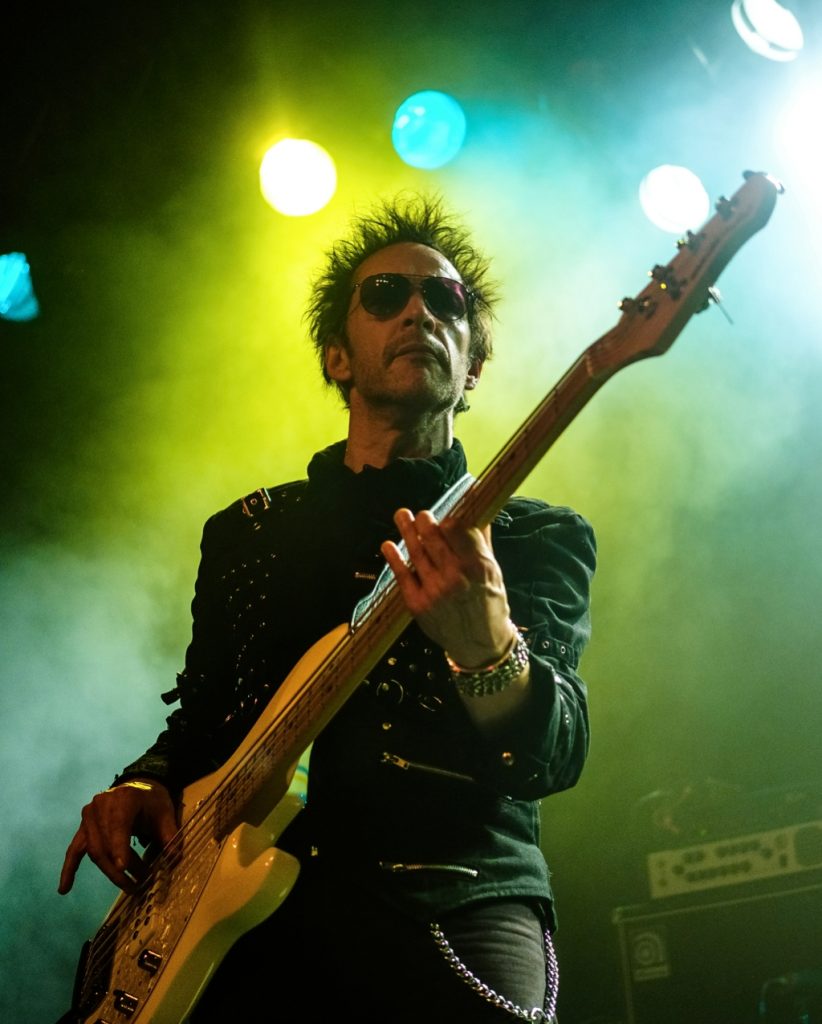 16:40 to 17:40: "Demon"  Stage 1
Demon are considered by some to be one of the most important NWOBHM bands ever. They mix metal with Prog' and they brought a welcome change of pace to the proceedings. A well balanced set of thoughtful and engaging songs from across their catalogue.
This is a band used to a big stage, whereas some of the day's bands are more at home in smaller, sweaty clubs. Demon's broad, sweeping compositions need the space, to be appreciated.
Dave Hill talked about how after coming off of their hugely successful "Unexpected Guest" tour, they all had to sign on at the 'dole' office, which gave rise to their political Prog' metal classic, "The Plague".
Gone are the big stage theatrics of yesterday, to be replaced with solid musicianship free of gimmicks; letting the music do the talking. Demon is: Dave Hill – lead vocals, Ray Walmsley on bass, Karl Waye on keyboards, Neil Ogden on drums and percussion, David Cotterill and Paul Hume on guitars.
19:40 to 18:40: "Trespass"  Stage 2            .
Trespass now with only Mark Sutcliffe an original member. The band's trademark dual guitars used to make them stand out from the crowd, but they were lacking any real fire today. Mark's vocals often slipping off key.
The standard of this two day festival has been so high, unfortunately it made Trespass sound decidedly ordinary. Mark Sutcliffe is joined by Jason Roberts on drums, Danny B on bass and Joe Fawcett on guitar.
18:00 to 18:50: "Grim Reaper" Stage 1
Grim Reaper's Steve Grimmet is a phenomenal vocalist, having sold over one million albums in his career. The real deal.  The band he has put together under the Grim Reaper banner is without doubt, the biggest surprise of the weekend.
They were brilliant, as was the big man. Their style of doom-laden rock is not my usual taste, but I was converted as this well-oiled machine stormed the stage.
The final stroke of genius was a tribute to Ronnie James Dio; a blinding version of "Don't Talk To Strangers," with full audience participation. Grim Reaper's a hard act to follow. Steve Grimmett, Ian Nash on guitars, Martin Trail on bass and Paul White on drums.
19:00 -20:00: "Stampede" Stage 2
So how do you follow Grim Reaper? With the best crafted songs of the weekend is how! Reuben Archer may well be the wrong side of 70-years-old, but man can he sing.
A band so skilled at performing his fabulous songs, he can't go wrong. Beautiful song after song came flooding from the stage. A master class in how this should be done. I was so enraptured I went straight down to the record stall and bought a copy of The Stampede Official Bootleg Live album on CD, which features many of the songs they performed tonight.
Reuben I salute you and your note perfect performance, the last set of the day on stage two.  Reuben was ably assisted by Chris Clowsley, Rob Wolverson, Colin Bond and Steve Greystone.
19:10 to 20:10: "Chrome Molly"  Stage 1 
I first saw Chrome Molly sharing a headline tour with Baby Tuckoo back in 1985. Nothing to write home about; just middle of the road rockers with dodgy lyrics about women. So, 31 years later, has anything changed?
Afraid not. The band – Steve Hawkins, John Foottit, Andy Barrott, Nic Wastell and Greg Ellis – have aged well and can still play and sing as well as they did back in the day; but it is just nothing special.  I, like many of the audience, left early to squeeze back into the packed stage two to catch the rest of Stampede's set.
20:30 to 21:30: "Vardis"  Stage 1
Steve Zodiac, Joe Clancy and Martin Connolly are Vardis – 100 mile an hour boogie merchants who hit the stage like a hurricane. Refreshing, metal-edged, bluesy boogie.
When you look at the bands that inspired them, you can see what an exciting proposition they are as a live act. Names such as T. Rex, Cream, Hendrix, ZZ Top, Jeff Beck, The Kinks, Queen, The Rolling Stones, Chuck Berry, Little Richard, Elvis, Champion Jack Dupree and Robert Johnson.
They take all the best bits from those famous artists, weld them together into water -tight songs and play the shit out of them. Another major highlight of the festival.
21:45 to 23:00: "Venom Inc"  Stage 1
Venom Inc is two parts Venom with a Demolition Man added! In these days of two versions of the same band, it's very confusing.
I have to hold my hands up and say; I have never liked Venom. Too much noise and Devil nonsense for me. Tonight Venom Inc hit the stage to guitar problems, so we waited patiently as the road crew fixed the problem. Then like the gates of hell opening, they fired up a wall of sound that shook the 02 Academy to its foundations.
I was in awe at the power of this three piece, and the audience loved it.  Apart from one guy who threw a pint of cider at Mantas, hitting him full in the face.  Mantas didn't even flinch or miss a note; that was impressive.
He did however, single out the guy from the stage and give him what can only be described as the stare of death!  While I wouldn't say I was a convert, Venom Inc impressed me greatly. They are: The Demolition Man – vocals & bass, Mantas on guitar and Abaddon on drums.
23:15 to 00:30: "Girlschool"  Stage 1 
Girlschool absolutely knock it out of the park, fresh from supporting Saxon on their latest tour. Hit after hit from their back catalogue. "Hit and Run" and "Race With The Devil" my personal favourites.
Kim McAuliffe paid personal tributes to "Philthy" Phil and Lemmy, as they played "Take It All Away."  The packed venue loved every second the girls were on stage.
Kim McAuliffe on lead vocals and guitar, Enid Williams on bass and vocals, lead guitarist Jackie Chambers and drummer Denise Dufort.
After Girlschool close down the live music in fine style, just time for one of the promoters to announce that the NWOBHM Xmas Rocka was always meant to be a one off, but due to the incredible success of this event – 3,500 people there today and just under 3,000 yesterday – it would be back next year. Great news.
The event's promoter Jonni Davis told Music Republic Magazine: "This year is a very special one for us. It marks the 10th anniversary of Hard Rock Hell. Although we are 10 years down the line, it only feels like yesterday that we started our rock 'n' roll shenanigans."
'HRH NWOBHM' came about in response to demand from the fans. "We've always featured a few bands from this genre, but putting the current line-up together on stage, for probably the first time in 40 years, is genius and way overdue. These bands played a big part in our lives as we've grown up and it's a chance to revisit our roots.
"These band have made a massive impact on the state of Heavy Metal worldwide. Just walking around the venue this weekend speaking to fans, we just knew this event was a no brainer. The events was supposed to be a one-off, but we've been inundated with requests from industry and fans alike, many travelling from as far as Australia and LA. We've just announced the line-up for 2017 and we're already nearly sold out. I think we can safely say this weekend was a huge success and we'll be back to dish out more in 2017. The Wave's a-surging."
2nd and 3rd December 2017, 02 Academy, Sheffield. The Xmas Rocka. 15 acts have just been announced: Raven, Diamond Head, Praying Mantis, Avenger, Lionheart, Airrace, Mick Underwood's Glory Road, Holocaust, Gaskin, Salem, Traitors Gate, Blackmayne, Toledo Steel, Tysondog and Seventh Son. Already close to a sell-out we are told.
Words & Photos: Andy Pickard
[soliloquy id="1930″]