A close to sell-out main hall; 'The Jim Marshall Auditorium' saw blues roots band BabaJack kick-start their set with "Backdoor", a rocking 'cut to the chase' opener written by BabaJack lead singer Becky Tate and guitarist/harmonica player Trevor Steger.
Having set the tone, BabaJack continued with a sizzling spread of songs from past and present albums, as well some new and as yet unrecorded songs.
Whether it's new or old, well-known or not, BabaJack perform their material with a tight-knit consistency and originality that ensures that all songs get 'the BabaJack treatment'.
The uniqueness of their acoustic blues sound comes from their unconventional approach to instrumentation, while still drawing on their influences from the roots of the traditional blues of Lead Belly, Son House and Sonny Terry.
Trevor Steger plays some off the shelf acoustic and electric guitars, and a variety of home-made 'wine box' guitars; although he says that a couple of them are made out of old cigar boxes. He plays harmonica (on the rack) and guitar at the same time, with equal finesse.
Red-headed Becky Tate's rich, powerful voice can deliver songs in a blues style, at full-throttle when needed, but with none of the harshness that is so often associated with blues singers. She demonstrates this quality on "Coming Home", a favourite song of Becky's, another co-written with Trevor which featured on their first album "The Maker", and on their 2013 album "Running Man".
In the second half of the song, Becky sits astride a Cajon percussion box, adding another dynamic to the drumming of American musician Tosh Murase, who joined BabaJack along with bassist Adam Bertenshaw in 2013. Before then, Becky and Trevor were a formidable duo. Their hour-long double header set tonight, featured "Daddy's Gone", another song from their debut album, written by Trevor in Zimbabwe, when his eldest son was born. It features Trevor on slide guitar.
"Gallows Pole", the traditional English folk song made famous by Led Zeppelin, is featured on BabaJack's 2012 release, "Rooster", and tonight we heard Trevor solo on one of his trademark wine box guitars. A rousing encore of "Skin and Bone," enabled Trevor to deliver a blistering solo on his wine box axe.
The roots outfit sharing the double headline billing tonight with the Laurence Jones Band, which has up until very recently been in the format of a 'power trio' – Roger Inniss on bass and Phil Wilson on drums and backing vocals. Now a four-piece, with the addition of keyboard player Bennett Holland, who is adding more colour to an already vivid sound.
Laurence Jones is not just a talented young guitarist. Still only 24, he interprets the blues stylishly and with an original edge. He has a fine voice – not a belter, but a work in progress developing nicely, and a tone that complements his 'clean' guitar sound. His own song, "Need No Reason," rocked along as their opening number, with the slower ballad, "Got No Place To Go", another Jones-penned song, from his summer 2016 release "Take Me High," following on.
"Can't Keep Living Like This", has Laurence and bass player Roger Inniss trading off each other and going 'head to head', literally, some of their visual stage antics to keep not only the ears entertained but also the eyes.  "Lie This Time", a new tune, is as LJ tells us: "A song to dance to, but you can still dance in your seats". Yes, this gig was an unusual one for this band; as the close to capacity, 300-strong crowd was all seated. For this song, Laurence solos on his baby blue Fender Strat' and then introduces the band.
"Something's Changed", another track from the latest album, produced by the legendary Mike Vernon, spotlights a bass solo from Roger Inniss, in which he sends his festive greetings musically to the audience with a few bars of "Jingle Bells", inciting smiles from the band and the audience.
They segue into the 1973 Bob Marley song, "I Shot The Sheriff", recorded by Eric Clapton in 1974 on his album "461 Ocean Boulevard." Then we got J.J. Cale's ever-green classic "Cocaine", the audience participation number of the night; Laurence commanding the audience to sing, which they did to a man, and in fine voice.
He slowed down the pace with the laid back ballad, "Thunder In The Sky", the title track to his first solo album, released in 2011. For this he solos long and hard, and drains every piece of every note and sound from his Telecaster guitar, as he steps to the edge of the stage to throw some guitar hero shapes.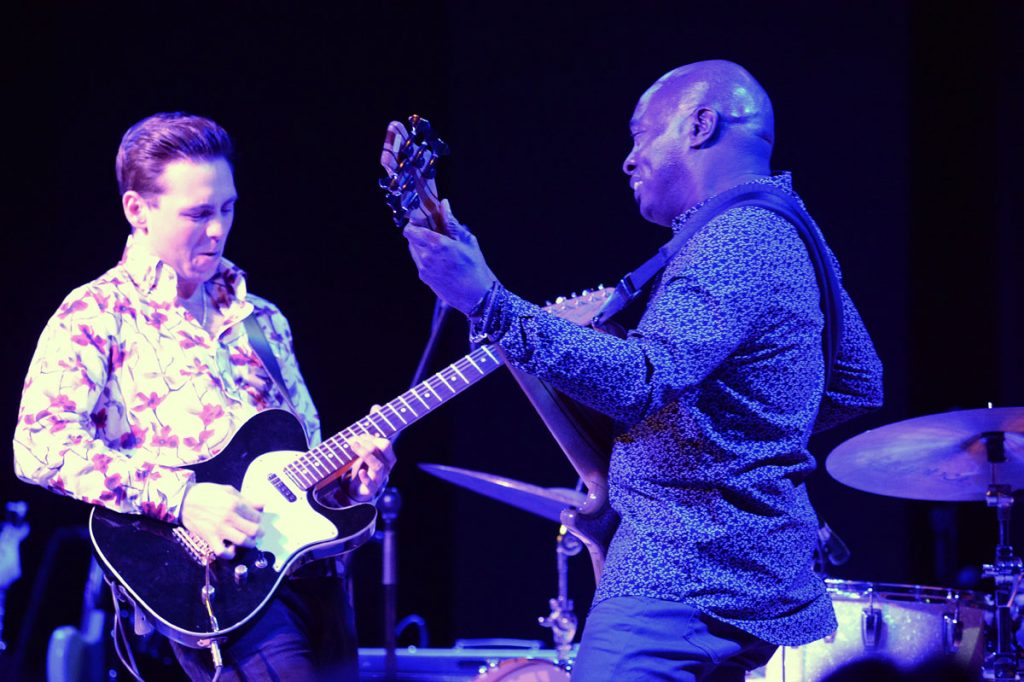 The current single, "I Will",  which won mainstream airplay on BBC Radio 2, another song from "Take Me High," features keyboard player Bennett Holland, and drummer Phil Wilson on backing vocals. The cut sounding like a decent Clapton track, but Laurence wrote this one.
The next two featured special guest Toby Lee, an 11-year old prodigy who was taken under Laurence's wing a while back when he produced young Toby's five-track EP. Laurence introduced Toby by telling the crowd: "Walter Trout told me to keep the blues torch going, and that's what Toby's doing."
Together Toby and LJ duelled their way through "My Eyes Keep Me In Trouble", and the classic 1930's blues standard "Every Day I Have The Blues", which was first recorded by its co-writer "Pinetop" Sparks in '35 but made famous by BB King and another Grammy Hall of Fame version by Count Basie. Master Lee is currently wowing audiences in the West End stage musical, "School of Rock." Must be a night off!
After Toby left the stage, "Fall From The Sky," was Laurence's  official get-off number. But this crowd loudly demanded more. We are treated to the song most associated with Rory Gallagher, "Bullfrog Blues", after Mr Jones and his boys walk back on stage to rapturous applause from an audience all now on their feet – some with their dancing shoes on; Laurence generously inviting Toby back on to join them on this final song of their superb set.
"It's Kid's Stuff, This Blues Mallarkey…"
In just a few years, Laurence Jones has shown he cares about his music and his fans, and he more than proved that at his final gig of the year. It is no surprise that Laurence Jones has won the coveted British Blues 'Young Artist Of The Year' and Guitarist Of The Year' Awards for three consecutive years – 2014, 2015 and 2016.  This year, Laurence and his band have played 196 shows across 14 countries and next year they have a major headline tour of the UK lined up.
Maybe this venue should erect one of those blue plaques, to read: "Wednesday 21st December 2016. The Laurence Jones Band kept the blues torch burning brightly here at The Stables!" A lot more to come from this talented young guy.
Words and Photos: Geoff Carverhill